The Latinos Who Died in Orlando
Many of the victims in Sunday's nightclub shooting were Hispanics from Puerto Rico and elsewhere. Now, their community is rallying to offer resources to their families.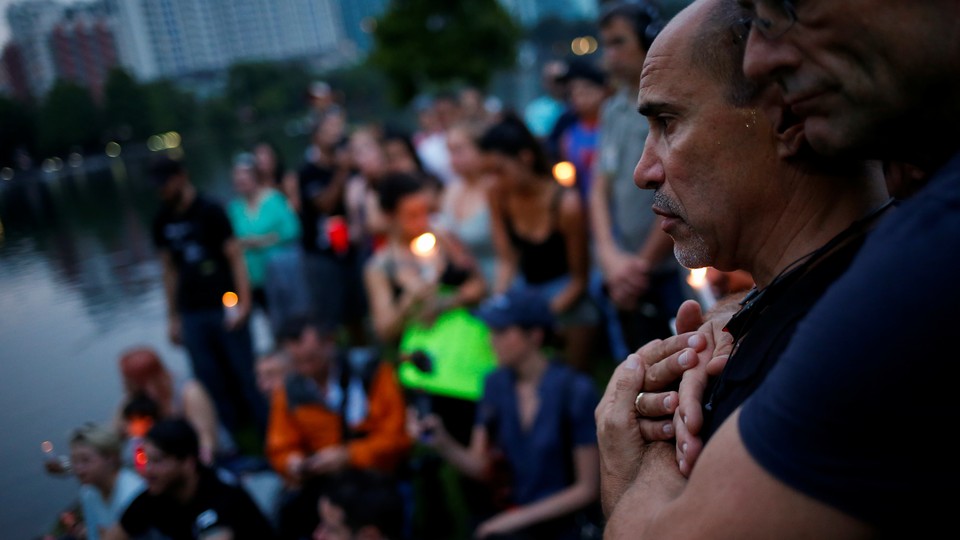 Eric Ivan Ortiz-Rivera. Martin Benitez Torres. Gilberto Ramon Silva Menendez. Juan P. Rivera Velazquez. These men were four of the victims of the attack in Orlando on Sunday. They are also four of the many Latinos who were in Pulse, the gay night club, for its Latin night when the shooting began. "More than half of the victims" were of Puerto Rican descent, Reuters reports.
As Americans mourn the 49 murdered and 53 injured victims, the Latino community in central Florida is trying to figure out what to do next. Victims' families need grief counseling and support services. Some may have an uncertain immigration status or may not speak English. And bodies, eventually, may need to be shipped back to people's homes in other countries and territories. All of that requires connections, time, and money, which might not be available to many of these families in Florida, a state where the average Hispanic person's income is under $21,000 per year.
Over the last two days, more than 20 Hispanic organizations have formed a coalition called "Somos Orlando," which is offering assistance to the victims' families and information for people who want to volunteer. Their website lists information about Spanish and English counseling from organizations like the Hispanic Family Counseling Center and locations where people can give blood. They also held a press conference Monday to offer support to the LGBT community and to "bring attention to the fact that the media has largely ignored the fact that it is an overwhelmingly Latino population that was impacted," said Zoe Colon, the director of Florida and Southeast Operations at the Hispanic Federation, one of the organizations involved in the group.
While Florida has one of the largest Latino populations in the country, the Latino community in central Florida is relatively new, Colon said. Orlando, which is located in Orange County, has seen a spike in its Hispanic population over the last two decades. According to the Pew Research Center, Latinos made up 10 percent of the county's population in 1990. In 2011, they accounted for 27 percent.
Many are Puerto Rican. The group's numbers in Florida have increased by 110 percent since 2010. According to a study released by the Center for Puerto Rican Studies, Orlando and its surrounding cities are "the metropolitan area that received the most relocating Puerto Ricans." For some, coming to the United States is a way out of a territory facing a nearly $2 billion debt payment. "There's been loss of quality of life in Puerto Rico in the last 10 years," said Daliah Lugo, a co-founder and secretary of the board of the Puerto Rican Initiative, an organization based in Orlando that provides resources for newcomers. Lugo, who grew up in the United States, moved to Puerto Rico after college but returned to the United States in 2011. "With the situation getting tighter and tighter, you're seeing a lot more street crime. People feel unsafe," she said.
While the United States offers a bit more stability, Puerto Ricans and Latinos in central Florida still face a number of challenges—ones that make it complicated for shooting victims and their families to access resources. Colon said she has come across at least two families in which the relative affected by the shooting is undocumented. "A lot of families have not come forward because they are afraid, but we are hearing more and more of the need to support immigrant families," she said. "We think they may be eligible for victims services and even U visas," a special status offered to victims of crimes who work in cooperation with government investigations. The Orange County Bar Association is currently working with other local legal groups and government agencies to coordinate pro-bono legal services from local attorneys.
"A lot of us still have families that don't deal very well with the fact that we're part of the gay and transgender community."
Even though many groups have come out to show solidarity with the LGBT community after the shootings, this kind of tragedy is particularly difficult because of the lack of acceptance for LGBT people among some Latinos. "Unfortunately, a lot of us still have families that don't deal very well with the fact that we're part of the gay and transgender community," said Susanna Taddei, a spokesperson for the Spanish-speaking community at Equality Florida, an LGBT advocacy organization. "In a lot of cases, even if [victims' families] knew that their children were gay, it doesn't mean that it was 100 percent accepted. So we're going to need to work a little bit harder with those families that, unfortunately, are going to have another issue to deal with."
"For traditional families, who are first-generation in this country, there's a lot of competing values, not just around sexuality, but around gender roles," said Colon. "I think a lot of it has do with how different our cultures [are] in terms of embracing more Americanized values and being more open around sexuality."
An estimated 1.4 million Hispanic adults in the United States identify as lesbian, gay, bisexual, or transgender, according to a 2013 report by the UCLA Williams Institute. Many live in predominantly Hispanic communities. While a 2015 survey released by the Pew Research Center revealed that a majority of Hispanics support same-sex marriage, the norms and beliefs among Latinos vary widely. Taddei added that most South Americans are raised Catholic, and many immigrants hold traditional views of sexuality.
It's entirely possible that some families will learn their son or daughter was gay because of the Pulse shootings. Latino families may also find the grieving process in the United States unfamiliar. "Americans are more open about everything. They're more used to, for example, the vigils, grieving in communities that we don't normally do, so we're going to pay special attention to that," Taddei said.
In the coming weeks and months, these organizations will largely be concentrated on supporting the immediate needs of victims and their families—"in the near term, it's helping them get back to life, whether it goes toward meals or transportation or rent," said Jared Nordlund, a senior strategist for an affiliate of the National Council of La Raza in Orlando. But the community will also face long-term challenges—like Florida's rising HIV/AIDS rate.
And they'll need money. While other major Latino hubs have large networks of Hispanic organizations with multimillion-dollar budgets, "we're severely under-resourced here," said Colon. "It's been a challenge even to provide basic human services." Somos Orlando isn't currently doing any fundraising, but Equality Florida started a GoFundMe page shortly after the attack that has raised more than $3 million for the families of the victims.
In the horror of the Pulse shootings—scrambling to pull together resources, trying to reach as many victims and families as possible—the Orlando Latino community is finding unity. "This is going to be something that we don't forget," said Nordlund. "We'll use this as a rallying moment to make sure we're bringing our community together as one."