The Extraordinarily Common Violence Against LGBT People in America
The attack on a gay club in Orlando on Sunday is not an isolated crime.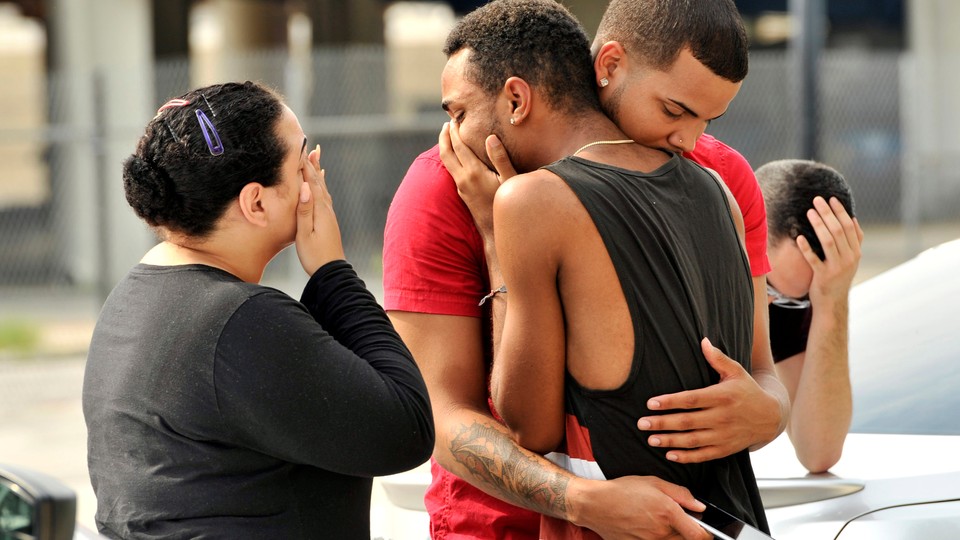 The attack at a gay club in Orlando, Florida, on Sunday is the worst mass-shooting in U.S. history. The father of Omar Mateen, the alleged shooter, said his son may have been motivated by anger toward the LGBT community; other reports suggest he may have pledged allegiance to ISIS in advance of the attacks.
No matter what, he picked a gay club. He carried out his attack during Pride month, on a weekend when cities across the country, from Washington, D.C. to Detroit to Los Angeles, are hosting celebrations and parades. This is an unprecedented shooting attack in scale and violence, but not in kind. It is an extraordinary example of an extremely common kind of violence in the United States: hate-motivated attacks on LGBT people.
In a 2011 analysis of FBI hate-crime statistics, the Southern Poverty Law Center found that "LGBT people are more than twice as likely to be the target of a violent hate-crime than Jews or black people," said Mark Potok, a senior fellow at the center. Because the population of LGBT Americans is relatively small, and the number of hate crimes against that group is significant, LGBT individuals face a higher risk than other groups of being the victim of an attack. "They are more than four times as likely as Muslims, and almost 14 times as likely as Latinos," Potok added. Sexual orientation motivated roughly 20 percent of hate crimes in 2013, according to the FBI; the only factor that accounted for more was race.
The vast majority of those crimes are not carried out by Muslim extremists, Potok said. "It's a mix of white supremacists and their ilk and people who would be considered relatively normal members of society," Potok said. "The majority of attacks on gay people do not come from people who are members of organized hate groups."
This is not the first time someone has targeted a gay club with violence in the United States. In 2014, for example, Musab Masmari was convicted of setting fire to a Seattle bar on New Year's Eve. There were 750 people inside, although no one was hurt or killed. While these kinds of large-scale attacks are horrifying, they do not account for most of the violence against LGBT people, which often takes place in people's homes, on highways and streets, or even in schools.
Discriminatory attitudes toward LGBT people are still common, despite advances in LGBT rights over the past several years. "LGBT people have been vilified for as long as any of us can remember, and vilified in a particularly nasty way," said Potok. "They're described as perverts, as people who seduce children, as people who engage in horrible, unnatural practices. There's all kinds of hatred in this country, but it's rare to have a group described in such incredibly demeaning terms."
This kind of attitude is not only held by one particular group, religious or otherwise. In 2014, a majority of Americans said they believed gay sex is morally unacceptable, and 14 percent of Americans said they believed AIDS might be God's punishment for immoral sexual behavior, according to the Public Religion Research Institute. There is of course no causal relationship between disapproval of homosexuality and mass murder. But anti-LGBT sentiments and rhetoric, which are not uncommon, are part of the broader U.S. social context in which more than half of LGBT-identified people say they're concerned about being the victim of a hate crime.
The Pride movement itself has its origins in this kind of discrimination and violence. The first parades were held 46 years ago in commemoration of the 1969 Stonewall riots, in which LGBT people protested a police raid of a Greenwich Village bar, the Stonewall Inn. At the first gay-pride parade in New York, "There were no floats, no music, no boys in briefs," wrote Fred Sergeant in a 2010 article for The Village Voice. "The cops turned their backs on us to convey their disdain, but the masses of people kept carrying signs and banners, chanting and waving to surprised onlookers."
In the years since then, Pride events have spread across the country. Cities celebrate their LGBT citizens with parades and festivals, and gay bars and clubs often hold events like the one at Pulse, the Orlando bar where the shooting took place. They're often happy, celebratory events—safe spaces for people to express their identities and sexuality—that have evolved a long way from their origins in solemn protest.
But this year, the spirit of an earlier era, in which LGBT people were even less accepted than they are today, returns. The Human Rights Campaign, an LGBT-rights advocacy group, will march in silence at Sunday's Pride parade in Los Angeles to mourn the victims of the shootings in Orlando. The moment marks not just Sunday's violence, but that which is yet to come. In the 10-year period between 2004 and 2014, the share of hate crimes based on sexual orientation increased. Perhaps that trend will not continue. But Potok wasn't confident.
"I very much dread what is coming next," he said.