The Edge: Bernie Isn't Jumping Out of a Plane
Reports that the Vermont senator would skydive into a campaign event turned out to be wishful thinking.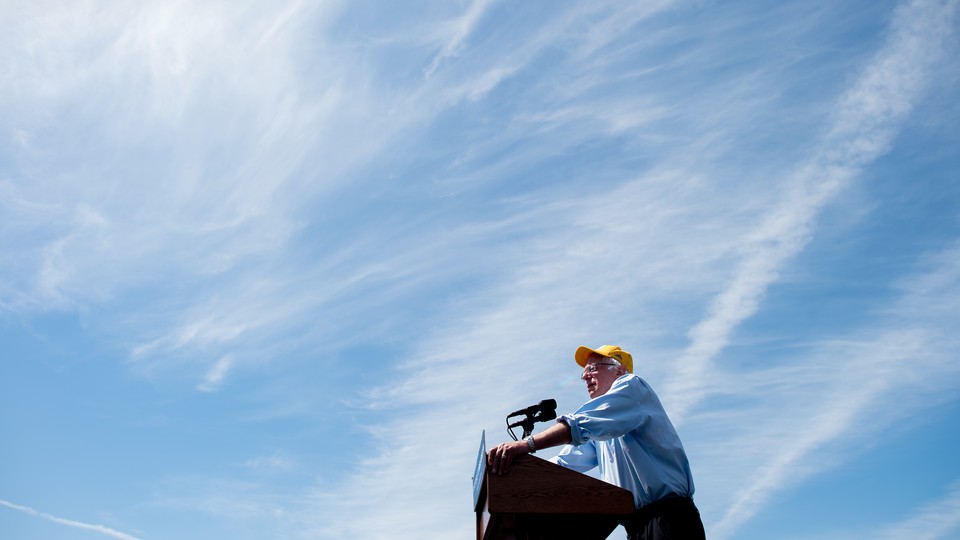 Today in One Paragraph
The U.S. Labor Department released a disappointing May jobs report. President Obama commuted the sentences of 42 inmates. Search and rescue teams are looking for survivors from a fatal Army truck crash in Texas as a result of the rising flood waters. Chicago officials released a trove of information, including police dashcam footage, on incidents of police violence against civilians. And Donald Trump was rebuked by members of his party for suggesting a judge shouldn't oversee a trial due to his ethnicity.
---
Top News
A Weak Jobs Report. The Labor Department announced that the economy added 38,000 jobs in May, falling short of predictions and likely affecting the Federal Reserve's decision on whether to raise interest rates this summer. The unemployment rate dropped to 4.7 percent. (Jeff Cox, CNBC)
Obama Grants Clemency. President Obama commuted the sentences of 42 prisoners, nearly half of them sentenced to life. They will be released between October of this year and June 2017. The commutations bring the president's total to 348, more than the preceding seven presidents combined. (Jordan Fabian,The Hill)
An Occurrence at Owl Creek. Search and rescue teams are still looking for four service members who went missing on Thursday when a truck overturned after being caught in the flooded stream near Fort Hood, in Texas. "Due to the quick action of some other Soldiers that were training, we were able to rescue three Soldiers who are in stable condition at Carl R. Darnall Army Medical Center and will potentially be released later today," said Major General John Uberti in a statement. (Alexander Smith and Erik Ortiz, NBC News)
A Move Towards Transparency. Chicago's Independent Police Review Authority released dashcam video, as well as surveillance footage and audio related to a series of incidents involving police shooting or injuring civilians. The move is part of a plan to release materials within 60 days of an incident. (Annie Sweeney, Jeremy Gorner, and Jason Meisner, The Chicago Tribune)
Ryan vs. Trump. The Republican front-runner faced pushback from House Speaker Paul Ryan over his comments that Judge Gonzalo Curiel, shouldn't hear the case over Trump University's alleged fraud because his Mexican heritage is "an inherent conflict of interest." A day after endorsing Trump, Ryan said in a WISN radio interview that the presumptive nominee's comments was "out of left field for my mind," adding that, "it's reasoning I don't relate to." (Louis Nelson, Politico)
The Weekend in One Paragraph. On Saturday, U.S. Virgin Islands Democrats will caucus and on Sunday, Puerto Rico will holds its Democratic primary.
Follow stories throughout the day with our new Politics & Policy page. And keep on top of the campaign with our 2016 Distilled election dashboard.
---
Top Read
"Thursday's violence erupted in a left-leaning part of the country that likes to think of itself as unusually tolerant. And yet, would its residents feel safe wearing a Trump 2016 t-shirt around San Francisco or Oakland or San Jose? People in the Bay Area regularly—and often rightly—urge other parts of the country that are intolerant toward different people in different ways to engage in introspection and improve their community." The Atlantic's Conor Friedersdorf on how anti-Trump violence at a rally in San Jose is an attack on democracy.
---
Top Lines
Trump's General Problem. Slate's Jamelle Bouie argues that the Trumpian tactics that proved so effective in the Republican primary won't stand to benefit him moving forward. Here's why.
Use It or Lose It, Ohio. The Buckeye State is purging any voter who hasn't cast a ballot in the last six years from its registration rolls, effectively kicking tens of thousands of registered voters off its books—and it's likely to blindside many Ohioans when they show up to vote and are turned away in 2016. (David A. Graham, The Atlantic)
How Accurate Are Polls on Hispanic Voters? For a host of reasons including the language polling is conducted in, lower voter turnout among Hispanic Americans than among white or black Americans, and bad polling practices like small sample size, the accuracy of the information is hotly disputed. (Steven Shepard, Politico)
---
Top View
Where's the Bern? Check out this map to see where Bernie Sanders's money comes from, down to the zip code. (Seema Mehta, Anthony Pesce, Maloy Moore and Christine Zhang, LA Times)
Not Skydiving. Bernie Sanders will not be jumping out of a plane into a rally tonight despite earlier speculation. But here's our take on how it would've looked if he had. (The Atlantic)
We want to hear from you! We're reimagining what The Edge can be, and would love to receive your complaints, compliments, and suggestions. Tell us what you'd like to find in your inbox by sending a message to newsletters@theatlantic.com.
-Written by Nicholas Clairmont (@NickClairmont1)