The Edge: With or Without EU
In a historic vote, the United Kingdom decided to leave the European Union.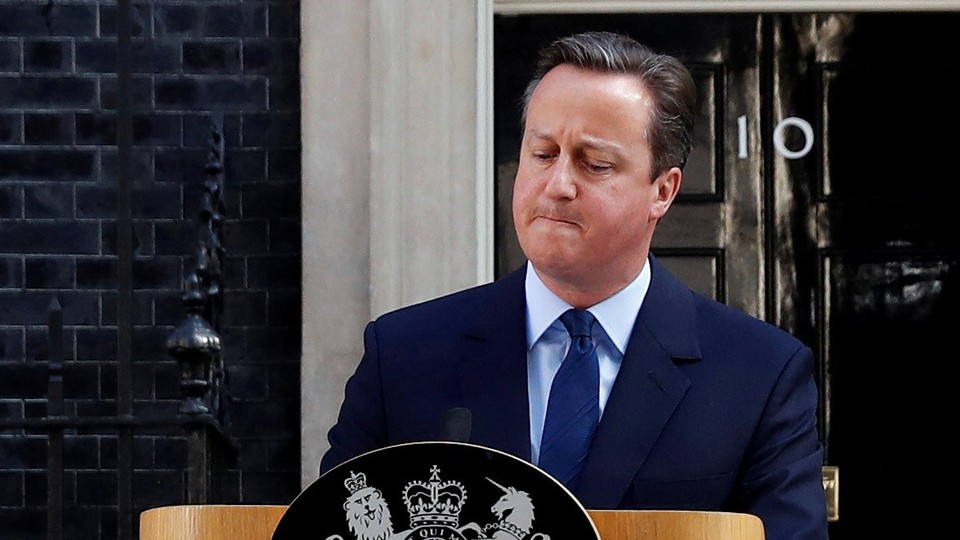 Today in One Paragraph
The United Kingdom voted to leave the European Union, shocking world leaders and throwing financial markets into turmoil. Bernie Sanders said he'd vote for Hillary Clinton in November. President Obama designated Stonewall Inn as the first LGBT national monument. The Pentagon will reportedly repeal a ban on transgender service members. And floods in West Virginia killed 14 people.
---
Top News
The Great Brexit. Voters in the United Kingdom decided to break from the European Union by a 52-percent-to-48-percent margin. The historic vote prompted Prime Minister David Cameron to announce his intent to resign by October, rocked the stock market, and elicited a flurry of responses from world leaders, including President Obama who said he respects the U.K.'s decision. Meanwhile, Donald Trump, who is on a two-day visit in Scotland, celebrated the result, and Hillary Clinton issued a statement saying that the United State's response should be to ensure that economic fallout "does not hurt working families in America." Here's what happens next. (The Atlantic staff)
Bernie's With Her? The Democratic presidential candidate said in an interview on MSNBC's Morning Joe that he'd vote for Hillary Clinton in November. "Yes. Yes, I think the issue right here is I am going to do everything I can to defeat Donald Trump," Sanders said. In a later interview with CBS, Sanders said he wants to endorse her before the convention, but added that he still hasn't "heard her say the things that need to be said." (Carrie Dann and Danny Freeman, NBC News)
A New U.S. Landmark. President Obama named the Stonewall Inn, the sight of a riot in June 1969 that sparked the modern gay rights movement, a national monument. "The riots became protests. The protests became a movement. The movement ultimately became an integral part of America." Obama said. (Scott Horsley, NPR)
Rethinking Transgender Service. The Defense Department is expected to lift a ban on transgender service members after a year of deliberations, according to Pentagon officials. "Nothing has been set in stone on this," one official said. The repeal is expected to take place on July 1. (Tom Vanden Brook, USA Today)
Historic Flooding in West Virginia. Fourteen people have died as a result of massive flooding in West Virginia, where up to 10 inches of rain fell within eight hours in parts of the state, according to the National Weather Service. The flood is a "one-in-a-thousand-year event," the weather service said. The state's governor, Earl Ray Tomblin, declared a state of emergency in 44 of West Virginia's 55 counties. (Doug Stanglin and Doyle Rice, USA Today)
The Weekend in One Paragraph. Donald Trump will be in Scotland until Saturday, and Hillary Clinton will attend the United States Conference of Mayors in Indiana on Sunday.
Follow stories throughout the day with our new Politics & Policy page. And keep on top of the campaign with our 2016 Distilled election dashboard.
---
Top Read
"To date this year, Republicans have gained nearly 1,500 registered voters in Cambria County as Democrats abandoned their party for the other side. That trend is playing out statewide, where switches have boosted GOP rolls by a net of nearly 50,000 voters. And in the primary this spring, Clinton not only lost to Sanders; she lost to herself, taking home 64 percent fewer votes than she did eight years ago. A county once hers now simply wasn't." Politico's Keith O'Brien on how voters in the rust belt could help Donald Trump win the election.
---
Top Lines
Trump's Reboot. The presumptive Republican nominee's campaign is showing signs that it's changing course to become more "presidential." But will Donald Trump follow suit? (Molly Ball, The Atlantic)
Brexit and America. There are several parallels between Britain's "leave" campaign and Donald Trump's pitch for the United States, including an emphasis on immigration and a distrust in politicians. (Chris Cillizza, The Washington Post)
Obama: Good for Business. In an interview with Bloomberg, the President Obama discusses the ideal minimum wage, Wall Street, and his optimism for the U.S.economy.
---
Top View
How Britain Voted. More than 17 million people voted to leave the European Union in Thursday's Brexit vote, with 16 million choosing to remain. This map breaks down the votes across Britain. (Gregor Aisch, Adam Pearce, and Karl Russell, The New York Times)
Next week, The Edge will become The Atlantic's Politics & Policy Daily. We've taken the feedback you've sent over the past few months, and used it to rebuild the newsletter so that it has all the things you've loved about The Edge, and more besides. So check your inbox next week, and let us know what you think: newsletters@theatlantic.com.
-Written by Elaine Godfrey (@elainejgodfrey)