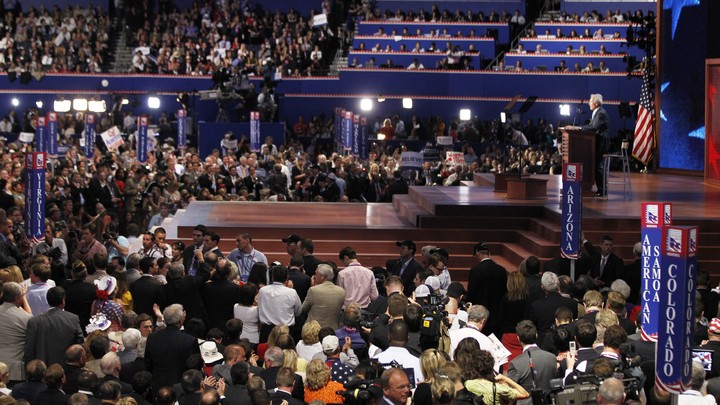 Today in 5 Lines
The U.S. Supreme Court struck down Texas abortion restrictions in a 5-3 decision, and unanimously voted to overturn former Virginia Governor Bob McDonnell's federal corruption conviction. Elizabeth Warren hit the campaign trail with Hillary Clinton. The ratings agency Standard & Poor's downgraded the United Kingdom's high credit rating, days after the country's historic referendum. At least 23 people are dead after severe flooding in West Virginia. And in a survey of more than 50 prominent political leaders, Politico reports that very few are interested in speaking at the July Republican convention in Cleveland.
---
Today on The Atlantic
The Burden on Providers. In Whole Woman's Health v. Hellerstedt, the U.S. Supreme Court ruled against laws that would have shut down several Texas abortion clinics. But for abortion providers in conservative areas around the state, keeping the clinics open is only part of the battle. (Olga Khazan)

The Million-Man Question. About 10 million men without a college degree are unemployed in the United States, raising a series of questions: Where did they go? What explains their disappearance from the labor force? And perhaps most importantly, what would bring them back? (Derek Thompson)

Should the Brexit Vote Have Happened? Despite what critics say, democracy isn't the reason the United Kingdom is splitting from the European Union; rather, British leaders failed to take the referendum seriously. (Uri Friedman)
Follow stories throughout the day with our Politics & Policy portal.
---
Snapshot
---
What We're Reading
'I, Snowbot.' Edward Snowden, the former government contractor who revealed thousands of classified documents from the National Security Agency in 2013, is back in the U.S.—well, as a robot. (Andrew Rice, New York Magazine)
On Nationalism. The Brexit vote is considered an expression of nationalism, which some argue is synonymous with ignorance. But nationalism can also be patriotism—a positive, powerful force. (Elliott Abrams, National Review)
The N.R.A.'s Identity Crisis. There is a growing divide between the leaders of the National Rifle Association and its members—one that could radically change the organization's course. (Sarah Ellison, Vanity Fair)
Trump's Warm-Up Act. Here's how Steven Miller, an idiosyncratic Capitol Hill staffer aligned with many political fringe figures, became a key member of Donald Trump's presidential campaign. (Julia Ioffe, Politico)
What Bernie's Won. The Vermont senator's appointees to the Democratic platform drafting committee have succeeded in making the party's platform more progressive than it was in 2012, complete with changes to positions on minimum wage, social security, immigration, and criminal-justice reform. (David Weigel, The Washington Post)
---
Visualized
Abortion Status. The Supreme Court struck down several restrictions on Texas abortion clinics on Monday. See what the ruling means for abortion access across the country in these maps. (Ford Fessenden, The New York Times)
---
Question of the Week
Last week, Britain voted to break with the European Union—a decision known as "Brexit." If the United States were to leave the United Nations, as Sarah Palin suggested, what would that exit's nickname be?
Send your answers to hello@theatlantic.com, and our favorites will be featured in Friday's Politics & Policy Daily.
-Written by Elaine Godfrey (@elainejgodfrey)
We want to hear what you think about this article. Submit a letter to the editor or write to letters@theatlantic.com.
Elaine Godfrey
is a staff writer at
The Atlantic
, where she covers politics.