The Edge: Trump: You're Fired! No, Really, You're Actually Fired
Corey Lewandowski will no longer work for the Trump campaign.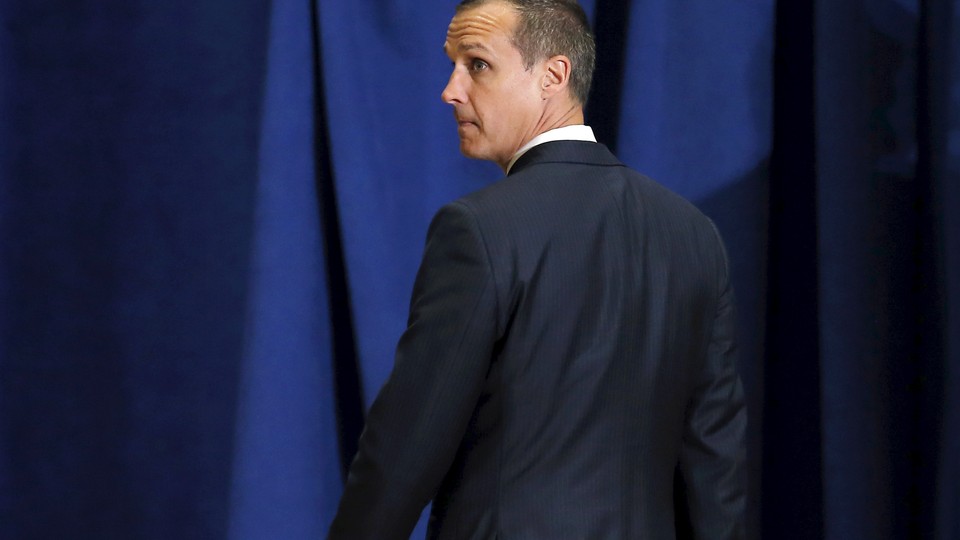 Today in One Paragraph
Donald Trump fired his campaign manager, Corey Lewandowski. The FBI released a complete transcript of Orlando shooter Omar Mateen's 911 calls. The U.S. Supreme Court declined to hear a challenge to a Connecticut gun law. The probe into New York Mayor Bill de Blasio snared three high-ranking NYPD officers for corruption. President Obama endorsed former Florida Governor Charlie Crist in his race for a seat in Congress. And the United Nations announced that more than 65 million people were uprooted from their homes in 2015.
---
Top News
Lewandowski Out. Donald Trump parted ways with campaign manager Corey Lewandowski, who worked with the campaign since its launch last year. It's unclear why Lewandowski was fired, but reports have cited a pivot to the general election as well as discontent with Lewandowski among people close to Trump as possible reasons. In an interview with CNN, Lewandowski stood by Trump, "I had a nice conversation with Mr. Trump and I said to him, 'It's been an honor and a privilege to be a part of this,' and I mean that from the bottom of my heart." (New York Times; CNN)
The Orlando Transcripts. The FBI released transcripts between Omar Mateen and a 911 dispatcher during the June 12 rampage at an Orlando nightclub that left 49 people dead. The agency originally left out pledges to ISIS and glorification of past terrorists. After criticism against the decision to censor the full transcripts mounted—Paul Ryan called it "preposterous"—the agency released an unredacted version. (Julian Hattem, The Hill)
SCOTUS Steers Clear of Second Amendment Case. The Supreme Court refused to hear a case challenging the constitutionality of a Connecticut law passed in the wake of the Sandy Hook shooting that bans some semiautomatic weapons and large capacity magazines. (Ariane de Vogue, CNN)
Corruption in the Ranks. Three high-ranking officers from the New York Police Department, including a deputy chief, were arrested following an investigation into Mayor Bill de Blasio's campaign fundraising. They stand accused of offering official services in exchange for gifts and favors from New York businessmen, one of whom was also arrested. (William K. Rashbaum and Joseph Goldstein, The New York Times)
Obama Backs Crist. The president endorsed Charlie Crist, the former governor of Florida and ex-Republican, who is running for the 13th Congressional District. "Governor Charlie Crist has always put people above politics—and we need more of that in Washington," Obama said in a statement. (Nora Kelly, The Atlantic)
Refugee Crisis. The United Nations High Commissioner for Refugees released a report that found more than 65 million were displaced last year by conflict and persecution. To put it in context, that figure is higher than the entire population of France. (Jamey Keaten, AP)
Tomorrow in One Paragraph: Hillary Clinton will hold a campaign event in Virginia and give a speech on the economy in Columbus, Ohio.
Follow stories throughout the day with our new Politics & Policy page. And keep on top of the campaign with our 2016 Distilled election dashboard.
---
Top Read
"Hawking golf resorts one day, Mexican-border walls the next, could Hicks have guessed what her job would become? The gig she signed up for called simply for the ceaseless execution of one man's whims. And she did it with such aplomb that maybe she didn't notice that while the directive never changed, the stakes sure had." GQ's Olivia Nuzzi profiles Hope Hicks, the seemingly mild-mannered "27-year-old accidental press secretary for Donald Trump."
---
Top Lines
Taking Trump to Task. Former Secretary of State Madeleine Albright argues in Time that Trump's response to the shooting in Orlando—using the news as a cudgel to attack immigrants and their defenders with—stunts U.S. progress in the fight against terror.
Showdown in the Senate. The Senate is prepared to vote on four gun-control bills, prompted by the mass-shooting in Orlando, on Monday afternoon. But the proposals, which are similar to ones taken up in the past, will likely be rejected. Here's why. (Burgess Everett and Seung Min Kim, Politico)
Forgetting the Fourth Amendment. In a powerfully written dissent, Justice Sonia Sotomayor argues strongly against the Court's decision to treat some evidence found in illegal stops as admissible: "By legitimizing the conduct that produces this double consciousness, this case tells everyone, white and black, guilty and innocent, that an officer can verify your legal status at any time. It says that your body is subject to invasion while courts excuse the violation of your rights. It implies that you are not a citizen of a democracy but the subject of a carceral state, just waiting to be cataloged." (Mark Joseph Stern, Slate)
The Sasse-iest Senator. Ben Sasse, the freshman senator from Nebraska, is the only congressional Republican to explicitly and unwaveringly reject supporting Donald Trump. It's a risky move, but it could come with reward: If Trump flames out in 2016 and the moment looks as infamous in retrospect as many are predicting, his brave stance could be the basis for a star political career. (Ben Terris, The Washington Post)
---
Top View
A Man, A Plan, A Canal Expansion. The Wall Street Journal visualizes how the newly expanded expansion to the Panama Canal, set to open on June 26, will make Pacific-Atlantic trade easier and more efficient.
Next week, The Edge will become The Atlantic's Politics & Policy Daily. We've taken the feedback you've sent over the past few months, and used it to rebuild the newsletter so that it has all the things you've loved about The Edge, and more besides. So check your inbox next week, and let us know what you think: newsletters@theatlantic.com.
-Written by Nicholas Clairmont (@nickclairmont1)