The Edge: Trump to NRA—Get Your Calendars Out
The presumptive Republican nominee said he plans to meet with the gun lobby to discuss a proposal meant to prevent suspected terrorists from buying guns.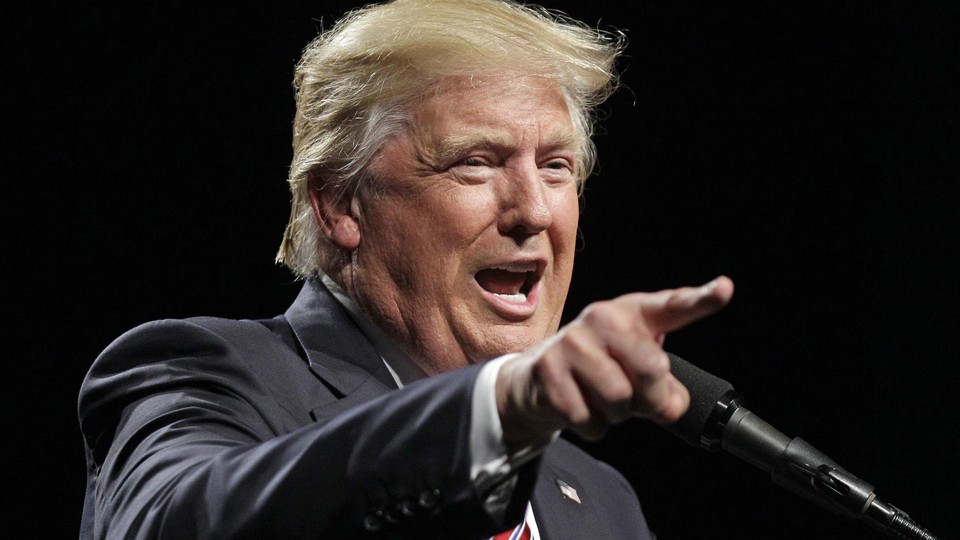 Today in One Paragraph
The FBI is investigating the wife of the gunman who killed 49 people in an Orlando nightclub. Donald Trump said he plans to meet with the National Rifle Association to discuss a "no fly, no-buy" proposal. Senate Democrats are putting  pressure on Republicans to tighten gun regulations through an amendment. And the U.S. Federal Reserve decided not to raise interest rates this month.
---
Top News
Questions for Mateen's Wife. U.S. investigators said they have questioned Noor Salman, who, according to a law enforcement official, may have known about her husband's plans before the attack on the gay nightclub in Orlando. She could face criminal charges. (Letitia Stein and Julia Edwards, Reuters)
NRA to Trump—We'll Pencil You In. The presumptive Republican nominee announced over Twitter that he plans to meet with officials from the NRA to discuss preventing people on the FBI's terror watch list from purchasing firearms. In a statement, Chris W. Cox, the director of the NRA's Institute for Legislative Action, responded, saying that the group's position hasn't changed and that terrorists "should not be allowed to purchase or possess firearms, period." (Halimah Abdullah, NBC News)
A Filibuster on Guns. Democratic Senator Chris Murphy began a talking filibuster on the Senate floor in an attempt to force Republicans to approve legislation that would require universal background checks and prevent suspected terrorists from purchasing firearms. Democrats hope to attach these two ideas as amendments onto a spending bill that's currently in consideration. Republican Senator John Cornyn said imposing the "no-fly, no-buy" ban is a lot more "nuanced" than it appears: "We're trying," he said. (Burgess Everett and Seung Min Kim, Politico)
No Rate Hike—Yet. The Federal Reserve said in a statement that it will keep interest rates unchanged due to uncertainty in the U.S. jobs market and global economic development. The statement said it needs to see more certain job growth before it raises interest rates. Economists predict that a rate hike could be implemented in July. (Martin Crutsinger, Associated Press)
Tomorrow in One Paragraph. President Obama will visit Orlando, Florida, to pay tribute to the victims of Sunday's mass shooting. Donald Trump will campaign in Texas, and Bernie Sanders is expected to address his supporters on a live video stream at 8:30 p.m. ET.
Follow stories throughout the day with our new Politics & Policy page. And keep on top of the campaign with our 2016 Distilled election dashboard.
---
Top Read
"The fundamental difference between Obama and Trump on issues related to Islamist extremism (apart from the obvious, such as that, unlike Trump, Obama a) has killed Islamist terrorists; b) regularly studies the problem and allows himself to be briefed by serious people about the problem; and c) is not racist or temperamentally unsuitable for national leadership) is that Trump apparently believes that two civilizations are in conflict." The Atlantic's Jeffrey Goldberg on what President Obama thinks about "radical Islam."
---
Top Lines
Focus Your Sights. Here's a look at the top 10 American gunmakers, who, combined, produce more than 8 million firearms per year. (Josh Harkinson, Mother Jones)
The Split. From economic motivations to distrust in the party, writers and academics offer 19 key reasons why Democrats will remain divided between Bernie Sanders and Hillary Clinton in 2016. (New Republic)
A Ritual Reaction. Liberal and conservative Americans all responded to Sunday's massacre in Orlando with tired, comfortable excuses, because they are afraid of confronting the challenge before the country. (Jonah Goldberg, The National Review)
---
Top View
Around the World in 50 States. This map compares the GDP of every U.S. state with those of other countries around the world. (Elena Holodny, Business Insider)
We want to hear from you! We're reimagining what The Edge can be, and would love to receive your complaints, compliments, and suggestions. Tell us what you'd like to find in your inbox by sending a message to newsletters@theatlantic.com.
-Written by Elaine Godfrey (@elainejgodfrey)