The Edge: Trump and Clinton Work on That Whole Party Unity Thing
The two presumptive nominees exchanged pointed attacks during campaign events.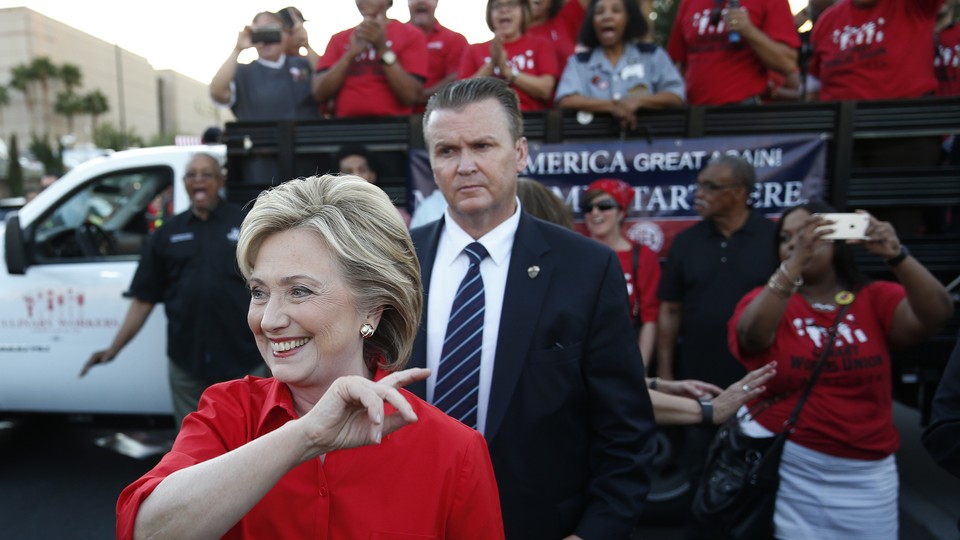 Today in One Paragraph
In a pointed attack against Donald Trump, Hillary Clinton said the real-estate mogul would "take America backward" during her first speech since becoming the Democratic presumptive nominee. Gawker media company filed for bankruptcy. The U.S. Department of Transportation approved six airlines to make scheduled flights to Cuba. And a funeral procession for Muhammad Ali was held in Louisville, Kentucky.
---
Top News
Gearing Up for the General. Donald Trump criticized Hillary Clinton for refusing to use the phrase "radical Islamic terrorism" during a speech at a Christian evangelical conference, while Clinton said that Trump's comment about punishing women who receive abortions shows he's "someone who doesn't hold women in high regard" during a speech in front of the Planned Parenthood Action Committee. (Associated Press; New York Times)
Gawker for Sale. The media company filed for Chapter 11 bankruptcy in the wake of an invasion-of-privacy lawsuit from wrestler Hulk Hogan, which resulted in a $140 million judgment against Gawker. The company has started the bidding process to sell all seven of its brands and assets, and Ziff Davis, a tech publishing company, has put down an opening bid. (Tom Kludt and Brian Stelter, CNN)
Flights to Cuba. The Department of Transportation gave the go-ahead for six US airlines to begin making the first direct, roundtrip flights between the U.S. and Cuba in five decades starting as early as this fall. Flights will leave from Miami, Chicago, Ft. Lauderdale, Philadelphia, and Minneapolis though travel strictly for the purpose of tourism and leisure is still restricted. (Camila Domonoske, NPR)
Remembering Ali. The funeral for the boxer Muhammad Ali was held in Louisville, Kentucky, and he was buried at Cave Hill Cemetery. Fifteen thousand people attended the service. (Julia Jacobo and Michael Edison Hayden, ABC News)
The Weekend in One Paragraph. Donald Trump will hold rallies in Florida and Pennsylvania.
Follow stories throughout the day with our new Politics & Policy page. And keep on top of the campaign with our 2016 Distilled election dashboard.
---
Top Read
"It almost seems like he can't stand to take a stand on anything: Trump endorsed urgent climate action when the liberal CEOs came calling; now he rejects the overwhelming scientific consensus on climate change because, you know, he's running as a Republican, and on climate change, Republican politicians long ago stopped having to correspond to reality." The Atlantic's Robinson Meyer on how the presumptive Republican nominee flip-flopped on climate change.
---
Top Lines
What Trump Has Right. The presumptive Republican nominee has said that electing Hillary Clinton would be no different than electing President Obama for a third term. And he's right—except for three major areas. (Max Ehrenfreund, The Washington Post)
Unlikely Friends. Politico's John Bresnahan describes the unique bond between Senator Orrin Hatch, a conservative, Mormon Utah Republican, and Muhammad Ali, the Muslim, African-American boxer.
To Be or Not To Be VP. Many say that the Massachusetts senator would be more effective staying in Congress than serving as Hillary Clinton's running mate. But here's how Warren could bring excitement to the race—and why Democrats wouldn't suffer for it. (Paul Waldman, The Week)
---
Top View
What's Your Type? With demographic divisions a bigger factor than ever in the 2016 race, check out this New York Times graphic to find out how people like you vote. (Nate Cohn and Amanda Cox)
Oh, Yeah. President Obama joined Jimmy Fallon on The Tonight Show on Thursday. Watch this short video to see the president "slow jam" the news. (Ken Meyer, Mediaite)
We want to hear from you! We're reimagining what The Edge can be, and would love to receive your complaints, compliments, and suggestions. Tell us what you'd like to find in your inbox by sending a message to newsletters@theatlantic.com.
-Written by Elaine Godfrey (@elainejgodfrey)