The Edge: 'This Is a Devastating Attack on All Americans'
President Obama delivered remarks on the Orlando attack after meeting with counterterrorism officials.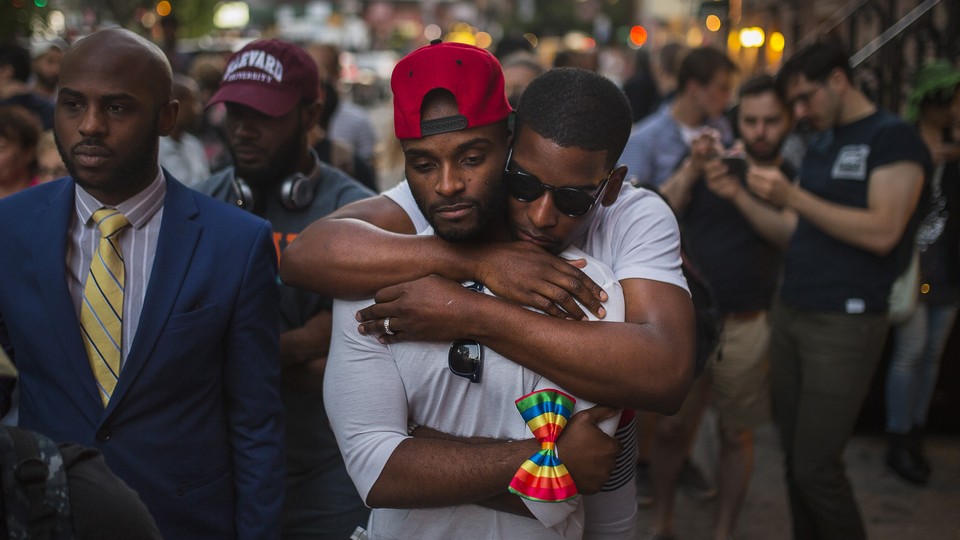 Today in One Paragraph
President Obama said the nightclub shooting in Orlando appeared to be a case of "homegrown extremism" during remarks from the White House. Democrats in the Senate are pushing for a vote on a proposal that would restrict people on government watch lists from purchasing guns. The U.S. Supreme Court rejected Puerto Rico's plan attempt to restructure its $70 billion debt. And Microsoft announced it was purchasing the professional social networking site LinkedIn.
---
Top News
Update on the Orlando Nightclub Attack. President Obama said it appears that Omar Mateen, the man who fatally shot 49 people in a gay nightclub on Sunday "was inspired by various extremist information" on the internet, and the FBI Director James Comey said they are investigating Mateen's motivation. ISIS claimed responsibility for the attack, although it remains unclear whether he was associated with the group. Meanwhile, Donald Trump appeared to suggest in an interview on Fox News that the president was involved in the massacre: "Look, we're led by a man that either is not tough, not smart, or he's got something else in mind," Trump said. The presumptive GOP nominee also called for increased mosque surveillance, while Hillary Clinton said it was "not a day for politics"—before suggesting tighter gun-safety regulations. (The Atlantic)
On the Hill. Senate Democrats are trying to force a vote that would restrict access to guns for people suspected of ties to terrorism and people on watch lists. The same proposal was voted down in December, but proponents, like Senator Chuck Schumer, hope that it will find more success in the wake of the Orlando massacre. (Alan Fram, AP)
No Relief for Puerto Rico. In a 5-2 ruling, the U.S. Supreme Court cut off one of the last paths for the territory to dig itself out of its massive fiscal crisis, leaving it in the hands of Congress. Puerto Rico has to pay back a nearly $2 million debt payment by July 1. (Lawrence Hurley, Reuters)
Sold. Microsoft announced it's buying LinkedIn for $26.2 billion, according to a tweet from the tech company's CEO Satya Nadella, who introduced the deal as conjoining the "world's leading professional cloud + world's leading professional network." LinkedIn's stock has already risen 48 percent. (Issie Lapowsky, Wired)
Tomorrow in One Paragraph. Democrats in Washington D.C. will head the polls for the final contest of the primary season. Bernie Sanders and Hillary Clinton are expected to meet in the capital. Donald Trump will hold a rally in North Carolina.
Follow stories throughout the day with our new Politics & Policy page. And keep on top of the campaign with our 2016 Distilled election dashboard.
---
Top Read
"Before supporting Trump, most Republicans must overcome doubts about his temperament, his ideology, his reckless statements, his questionable respect for the Constitution, and his potential to repel a generation or more of young and nonwhite voters. But, late last month, former Trump skeptics and those who are holding out the possibility of support seemed to unite around the belief that defeating Hillary Clinton is more important than any long-term effects Trump may have on the Republican Party." The New Yorker's Ryan Lizza on how the Republican elite will decide on Donald Trump.
---
Top Lines
Remembering the Victims. Forty-seven of the 49 victims from this weekend's shooting at a nightclub in Orlando have been identified. Here are their stories. (Andrew Gibson and Charles Minshew, Orlando Sentinel)
'Gun-Control Distraction.' Progressives have united around the gun control argument, The National Review's David French argues, because it has become increasingly impossible to defend Islam while also defending LGBT rights.
The Unchangeable Trump. Some Republicans are holding out hope that the presumptive GOP nominee will become more "presidential" ahead of the general election. But there's only one Trump—and he's doing well, just as he is. (Molly Ball, The Atlantic)
A Breach of Rights. Since the Supreme Court has ruled that gun ownership is a fundamental right, Hillary Clinton and President Obama would be setting a dangerous precedent in preventing those on the FBI's secret watch list from obtaining them. (Mark Joseph Stern, Slate)
---
Top View
Gifts From the Gun Lobby. How much money has the National Rifle Association donated to members of Congress in your state? Check out this interactive graphic. (Aaron Williams, The Washington Post)
We want to hear from you! We're reimagining what The Edge can be, and would love to receive your complaints, compliments, and suggestions. Tell us what you'd like to find in your inbox by sending a message to newsletters@theatlantic.com.
-Written by Elaine Godfrey (@elainejgodfrey)