The Edge: Supremes Split, Democrats Sit
Justices reached a tie vote in a major challenge against President Obama's immigration plan, and House Democrats ended their sit-in.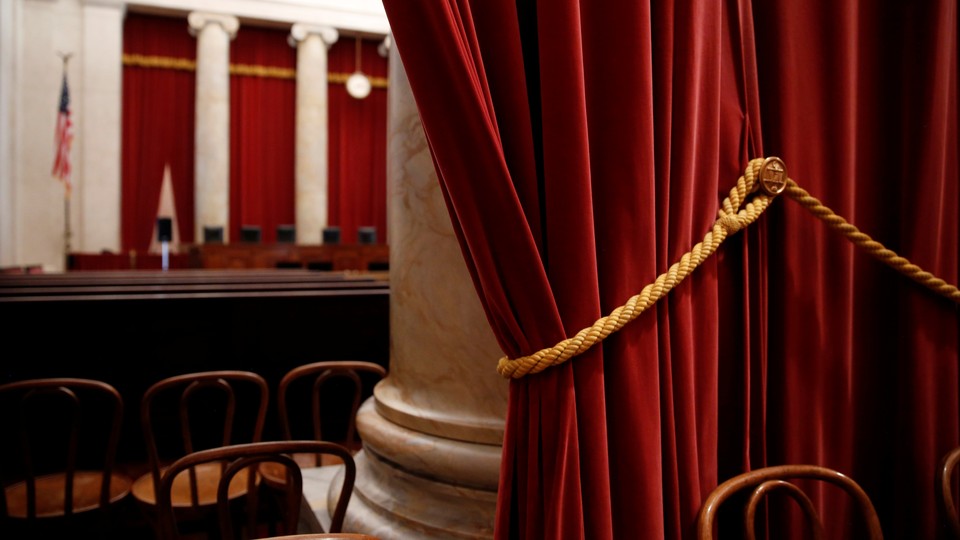 Today in One Paragraph
The U.S. Supreme Court upheld the University of Texas's affirmative action program and split over a challenge to President Obama's immigration plan. Meanwhile, over on Capitol Hill, House Democrats ended their sit-in after 25 hours; the House abandoned legislation that would ban the Confederate Flag from military funerals; and Representative Chaka Fattah resigned after a federal corruption conviction earlier this week. Baltimore Police Officer Caesar Goodson, who drove the van in which Freddie Gray was fatally injured in April 2015, was found not guilty on all charges. And abroad, voting results will decide whether the United Kingdom stays in the European Union.
---
Top News
At the Supreme Court. In a 4-3 ruling, the U.S. Supreme Court ruled that the University of Texas' policy to consider race as a factor of admission was constitutional. Justices split on President Obama's immigration policy, however, leaving a lower court's ruling to block his plan to shield millions of undocumented immigrants from deportation in place. (Matt Ford, The Atlantic)
And That's a Wrap. After more than 24 hours of chants and speeches, the House sit-in protesting legislative inaction on gun control came to a close. The protest was an attempt to force a vote on the proposed "no-fly, no-buy" gun bill that would bar people on terrorist watch lists from purchasing firearms. Speaker Paul Ryan called the House into recess until July 5. Catch up on some of the most interesting moments. (Roll Call; Time)
No Conviction in Baltimore. Judge Barry Williams acquitted Baltimore police officer Caesar Goodson of all charges in the Freddie Gray case, including the most serious charge of second-degree depraved-heart murder. Williams said the prosecution "failed to meet its burden to show that the actions of the defendant rose above mere civil negligence." (Justin Fenton and Kevin Rector, The Baltimore Sun)
Stars and Bars. The House of Representatives dropped an amendment banning the use of the Confederate Flag at military funerals from a bill funding the Veterans Administration. The measure was added to the bill in a 265-159 vote, but representatives appointed to the conference committee decided to take it out. (Matthew Nussbaum, Politico)
Exit, Chaka Fattah. The Democratic congressman sent a letter to House Speaker Paul Ryan, saying he would resign immediately. On Tuesday, Fattah was convicted on several counts, including bribery, racketeering, money laundering, and fraud. His term would have ended in January. (Philadelphia Inquirer Staff)
Should We Stay or Should We Go? Voters in the United Kingdom participated in a historic referendum on whether the country should leave the European Union. The vote came after more than four months of heated debate between the Leave and Remain campaigns in the country. Results are expected early Friday morning. (BBC News)
Tomorrow in One Paragraph: Donald Trump is in Scotland. The final results of the Brexit referendum are expected. And President Obama will be in San Francisco to attend a summit at Stanford University.
Follow stories throughout the day with our new Politics & Policy page. And keep on top of the campaign with our 2016 Distilled election dashboard.
---
Top Read
"He was Trump in miniature, an embryonic version of the bombastic, flamboyant candidate who has dominated the 2016 presidential race, more than three dozen of his childhood friends, classmates and neighbors said in interviews. Even Trump has acknowledged the similarities between himself as an adult and when he was the boy whom friends alternately referred to as 'Donny,' 'The Trumpet,' and 'Flat Top' (for his hair)." The Washington Post's Paul Schwartzman and Michael E. Miller go back to the days of little Donny Trump.
---
Top Lines
Q&A With Tom DeLay. In an interview with The National Review, the former U.S. House majority leader refers to Donald Trump as an "authoritarian" and says he'll be focusing on down-ballot races. (Tim Alberta)
A Scottish Welcome. Donald Trump received a warm welcome in Scotland when he visited 10 years ago. But now he's visiting as the presumptive GOP presidential nominee, and national opinion has turned against him. (Ben Schreckinger, Politico)
What Bernie Wants. The Democratic presidential candidate responded to critics who say it's not clear what his supporters actually want. (The Washington Post)
---
Top View
Immigration and the Supreme Court. These charts show how the Supreme Court case challenging protections for unauthorized immigrants originated—and who will be affected by Thursday's decision. (Haeyoun Park, The New York Times)
Next week, The Edge will become The Atlantic's Politics & Policy Daily. We've taken the feedback you've sent over the past few months, and used it to rebuild the newsletter so that it has all the things you've loved about The Edge, and more besides. So check your inbox next week, and let us know what you think: newsletters@theatlantic.com.
-Written by Elaine Godfrey (@elainejgodfrey)