The Edge: Sanders Is Going to the White House—No, Not Like That
The Vermont Senator is meeting privately with President Obama on Thursday.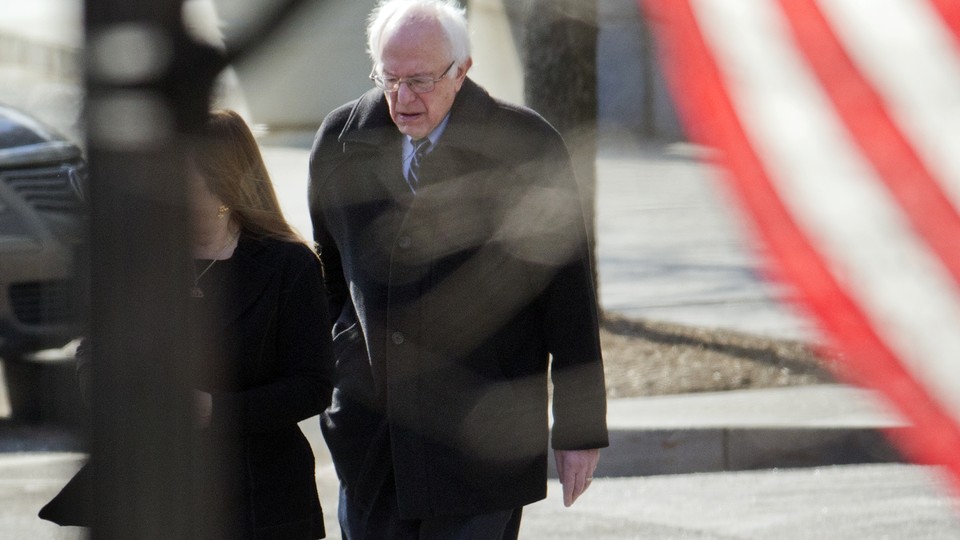 Today in One Paragraph
Hillary Clinton's campaign announced that she'll begin fundraising for the general election. Indian Prime Minister Narendra Modi praised the relationship between India and the United States in his first address to a joint meeting of Congress. Norman Seabrook, the president of the New York City Correction Officers' Benevolent Association, was arrested on federal fraud charges. And three people were killed in a shooting in Tel-Aviv's Sarona Market.
---
Top News
Clinton Pivots to the General. The presumptive Democratic nominee will start fundraising for the general election and Democratic National Convention, according to Clinton spokesman Josh Schwerin. Clinton is expected to enter into a joint fundraising agreement with the Democratic National Committee, which will allow individuals who have already donated to give another $2,700 to her campaign. (Dan Merica, CNN)
Modi's Message to Congress. India's prime minister said the United States is an "indispensable partner" for his country. "Today, our relationship has overcome the hesitations of history," he said. "Comfort, candor, and convergence define our conservations." Modi is the fifth Indian prime minister to address a joint session of Congress. (Matthew Pennington, Associated Press)
A High-Profile Arrest in New York. Norman Seabrook, the head of the largest municipal jail union in the country, allegedly accepted kickbacks from an investment firm called Platinum Partners in exchange for wiring $20 million from the union's pension fund to the company, according to a criminal complaint. (Victoria Bekiempis, New York Daily News)
Shooting in Israel. Three people were killed and eight injured in a shooting at a market in Tel-Aviv, Israeli officials said. Police told the BBC that two of the gunmen are under arrest while another is on the run. It's not clear who was behind the attack. (BBC News)
Tomorrow in One Paragraph. Bernie Sanders will hold a rally in Washington, D.C. and have a private meeting with President Obama at the White House.
Follow stories throughout the day with our new Politics & Policy page. And keep on top of the campaign with our 2016 Distilled election dashboard.
---
Top Read
"Depending on the outcome of the election in November, Ryan could be credited with battling Trump for the heart, soul, and future of the party. Or history could tell a simpler story: that he reluctantly accepted the speakership in October 2015 because he feared his party was on the brink, and seven months later, he reluctantly endorsed the man who pushed it over the edge." The National Review's Tim Alberta on Paul Ryan's difficult position.
---
Top Lines
A Betrayal of Values. In pushing for superdelegates to overturn the will of voters and support him, rather than Hillary Clinton, Bernie Sanders is going against everything he stands for. (Conor Friedersdorf, The Atlantic)
'Loose-Screw Donald.' The New Yorker's Jeffrey Frank explains why the presumptive GOP nominee would have shocked Long John Nebel—a man who made his living indulging in the wild imaginings of late-night radio—and would likely have been an excellent host himself.
Bernie's Last Stand. The Vermont Senator has known for weeks that his campaign is on its last legs, and according to aides, he's become embittered, determined to finish strong at any cost. (Edward-Isaac Dovere and Gabriel Debenedetti, Politico)
---
Top View
Trump vs. Clinton. Check out this graphic to see where both candidates stand on several key issues, from immigration to health-care policy. (Katie Zezima and Matthew Callahan, The Washington Post)
We want to hear from you! We're reimagining what The Edge can be, and would love to receive your complaints, compliments, and suggestions. Tell us what you'd like to find in your inbox by sending a message to newsletters@theatlantic.com.
-Written by Elaine Godfrey (@elainejgodfrey)