The Edge: Obama Is Ready for Hillary
The president announced his endorsement of the presumptive Democratic nominee.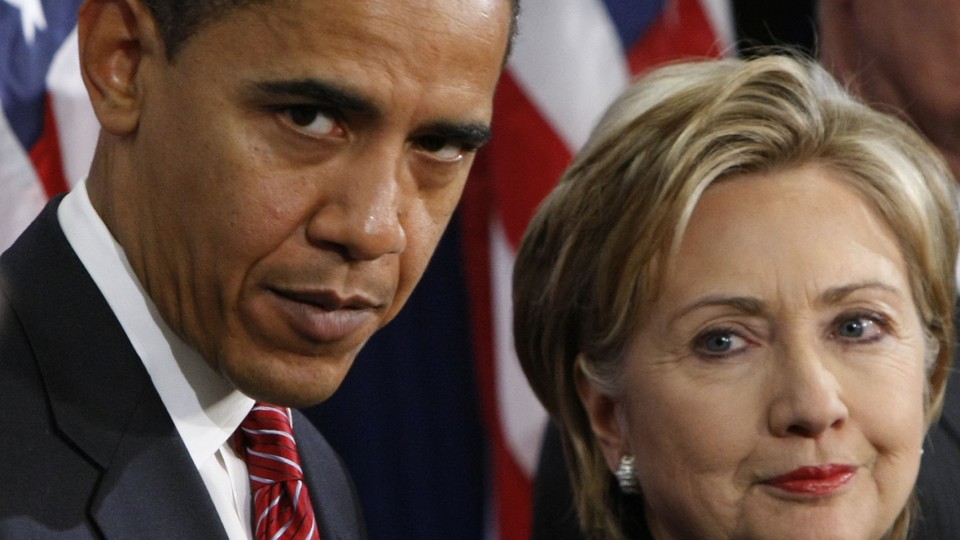 Today in One Paragraph
President Obama announced he's endorsing Hillary Clinton, while Massachusetts Senator Elizabeth Warren—a possible VP pick—is expected to offer her endorsement tonight. Bernie Sanders said he's staying in the presidential race after privately meeting with Obama. A U.S. Circuit Court of Appeals ruled that the Second Amendment doesn't give people the right to carry concealed firearms. House Speaker Paul Ryan introduced his national security plan. And the World Health Organization said couples living in Zika-affected areas should delay pregnancy.
---
Top News
He's With Her. President Obama officially endorsed Hillary Clinton for president in a video posted on Clinton's website. "Look, I know how hard this job can be," Obama says. "That's why I know Hillary will be so good at it." The president said he'll be on the trail campaigning for Clinton soon. Massachusetts Senator Elizabeth Warren is expected to endorse Clinton tonight on The Rachel Maddow Show. Former presidential candidate Martin O'Malley also jumped on the bandwagon, saying he'll back Clinton. (The Atlantic; CNN; USA Today)
Sanders Is Staying In—For Now. The Vermont senator said he will continue to campaign through the last Democratic primary in Washington, D.C. on Tuesday, while adding that he would work together with Hillary Clinton "to defeat Donald Trump and to create a government which represents all of us and not just the 1 percent." Sanders made his remarks outside the White House after meeting privately with President Obama. (MJ Lee, CNN)
A Blow to Concealed Carry. The Ninth Circuit Court of Appeals ruling upheld a California law that applicants must have "good cause" to carry a concealed firearm. "We hold that the Second Amendment does not preserve or protect a right of a member of the general public to carry concealed firearms in public," Judge William Fletcher wrote in the opinion. If the decision is challenged, the case could be sent to the U.S. Supreme Court. (Maura Dolan and Brittny Mejia, Los Angeles Times)
Ryan Fills in the Gaps. The House Speaker released his national security blueprint, part of his "Better Way" agenda intended to provide a policy platform for Republicans to rally behind in November. Ryan appears to address some of Donald Trump's ideas in the blueprint, saying that "we need more than fencing" to prevent people from entering the country illegally, and stressing the importance of "modernizing and solidifying" NATO. (Karoun Demirjian, The Washington Post)
Zika Warning. The World Health Organization issued new guidelines advising that people living in countries where the Zika virus has been found should delay pregnancy "in order to prevent adverse pregnancy and fetal outcomes." The statement comes two days after the WHO said that experts did not think this summer's Olympics in Rio de Janeiro, Brazil, should be rescheduled. (The Telegraph, NBC News)
Tomorrow in One Paragraph. Hillary Clinton will fundraise in Washington, D.C., and Donald Trump will hold a rally in Virginia.
Follow stories throughout the day with our new Politics & Policy page. And keep on top of the campaign with our 2016 Distilled election dashboard.
---
Top Read
"This sense of helplessness in the face of such entrenched segregation is what makes so alluring the notion, embraced by liberals and conservatives, that we can address school inequality not with integration but by giving poor, segregated schools more resources and demanding of them more accountability. True integration, true equality, requires a surrendering of advantage, and when it comes to our own children, that can feel almost unnatural." The New York Times Magazine's Nikole Hannah-Jones on school segregation in New York City.
---
Top Lines
Good News for Trump. A New York Times analysis found that more white, working-class people voted on Election Day in 2012 than exit polls showed—and Trump will likely have a larger pool of support than previously thought. (Nate Cohn)
A Blue Tea Party. Is Bernie Sanders's political revolution the beginning of a new progressive movement within the Democratic Party? (Rebecca Nelson, GQ)
The Women Who Love Trump. Despite the presumptive Republican nominee's well-publicized reputation of misogyny and womanizing, millions of American women are expected to vote for him in November. (Daniel Lippman and Ben Schreckinger, Politico)
---
Top View
'Divided America.' The country's citizens have splintered in a number of areas, from immigration to religion to economic issues. This interactive graphic reveals a few of these divisions. (Associated Press)
We want to hear from you! We're reimagining what The Edge can be, and would love to receive your complaints, compliments, and suggestions. Tell us what you'd like to find in your inbox by sending a message to newsletters@theatlantic.com.
-Written by Elaine Godfrey (@elainejgodfrey)