The Edge: Obama in Orlando—'We Stand With You'
The president spoke at a news conference in the city after visiting with the families of the victims of Sunday's nightclub massacre.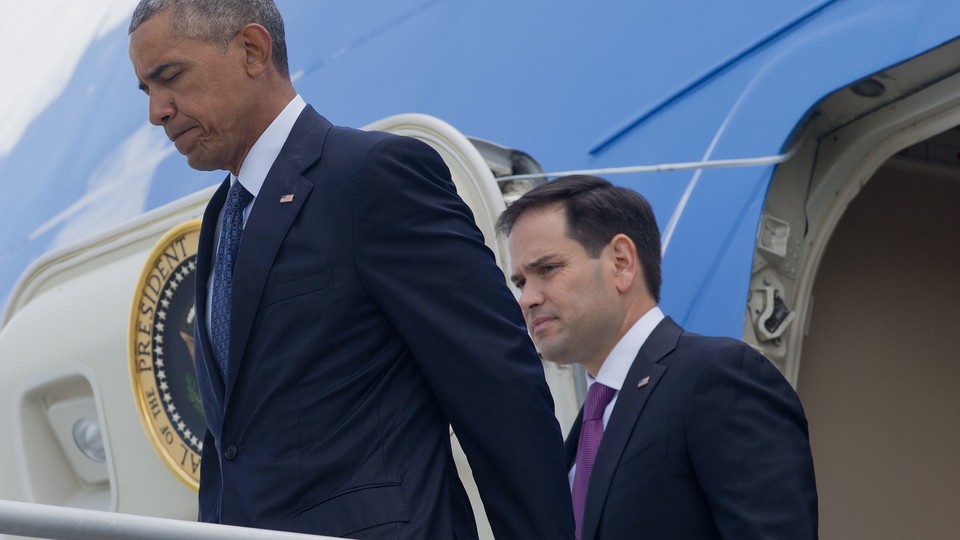 Today in One Paragraph
President Obama visited Orlando to pay tribute to the 49 victims of Sunday's massacre at a gay nightclub. Senate Republicans have reportedly agreed to vote on two gun-control measures, while the House narrowly rejected two amendments designed to ban illegal immigrants from enlisting in the U.S. military. Philadelphia became the first major U.S. city to implement a tax on sugary drinks. And British politician Jo Cox died after being attacked near Leeds, England.
---
Top News
Obama in Orlando. The president and Vice President Joe Biden met with survivors and the families of victims of Sunday's shooting at a gay nightclub in Orlando, Florida. "Today, once again, as has been true too many times before, I held and hugged grieving family members and parents and they asked, 'Why does this keep happening?'" Obama said in a news conference. "And they pleaded that we do more to stop the carnage. They don't care about the politics. Neither do I." (ABC News; CNN)
Over and Out. A nearly 15-hour filibuster by Senate Democrats came to a close early Thursday morning after Colorado Senator Chris Murphy said a compromise had been reached. Republican leaders reportedly agreed to hold a vote on two gun-control measures, including a proposal banning people on the FBI's terrorist watch list from purchasing firearms, and an amendment to expand background checks in gun shows and internet sales. The vote is expected to take place next week. (Phil Helsel and Richie Duchon, NBC News)
Denied. The House rejected two GOP amendments to a Department of Defense spending bill that would have prohibited the Obama administration from enlisting illegal immigrants to serve in the military. Under the proposals introduced by Representatives Steve King and Paul Gosar, the federal government would not be allowed to enlist young illegal immigrants who have been granted work permits under the Deferred Action for Childhood Arrivals program using federal dollars. The amendments failed with votes of 207-214 and 210-211. (Cristina Marcos, The Hill)
Soda Tax in the City of Brotherly Love. The Philadelphia City Council approved a 1.5-cent-per-ounce tax on sugary beverages. The decision, which comes after weeks of debate, passed in a council vote of 13-4. About $91 million is expected to be raised from the soda tax, some of which will go to support the city's universal pre-K program. An opposition group has vowed to take the decision to court, on the grounds that the tax is unconstitutional. (Philly.com)
British MP Fatally Shot. Jo Cox, a member of Parliament from the Labour Party, died after being shot and stabbed in the street in northern England. Prior to the attack, Cox had attended a public meeting with her constituents. A 52-year-old man was arrested near the scene. (Tim Hume, CNN)
Tomorrow in One Paragraph. Donald Trump will hold a rally in Texas.
Follow stories throughout the day with our new Politics & Policy page. And keep on top of the campaign with our 2016 Distilled election dashboard.
---
Top Read
"Problem was he had no money, no parents at home and almost no perspective beyond Baltimore's boarded-up buildings. The White House invitation felt so distant from the concrete stoops where he grew up and once dealt drugs that when the information desk woman at the MVA told him he couldn't get an ID, his first instinct was to shrug and accept her word as indisputable." The Washington Post's Theresa Vargas details the life of a student at one of Baltimore's struggling high schools.
---
Top Lines
What's Going on With Muslims? In response to recent terrorist attacks, Donald Trump has proposed a temporary ban on Muslims entering the United States until he can "figure out what is going on." Six Muslim commentators and scholars offered their responses. (Uri Friedman, The Atlantic)
Trump TV. Some sources say the presumptive Republican nominee is considering launching his own mini-media conglomerate—a venture that could be surprisingly successful. (Sarah Ellison, Vanity Fair)
---
Top View
The Spread of Hate Crimes. Members of the LGBT community are the most likely targets of hate crimes in the United States, according to FBI data. These graphs show the frequency and types of such violence in the last decade. (Haeyoun Park and Iaryna Mykhyalyshyn, The New York Times)
Commencement Impersonations. A Chicago student delivered his eighth-grade graduation speech—in the styles Hillary Clinton, Donald Trump, Bernie Sanders, and President Obama. (Xeni Jardin, BoingBoing)
We want to hear from you! We're reimagining what The Edge can be, and would love to receive your complaints, compliments, and suggestions. Tell us what you'd like to find in your inbox by sending a message to newsletters@theatlantic.com.
-Written by Elaine Godfrey (@elainejgodfrey)