The Edge: Florida's Jolly Good Fellow
Republican Representative David Jolly announced he is dropping out of the Senate race.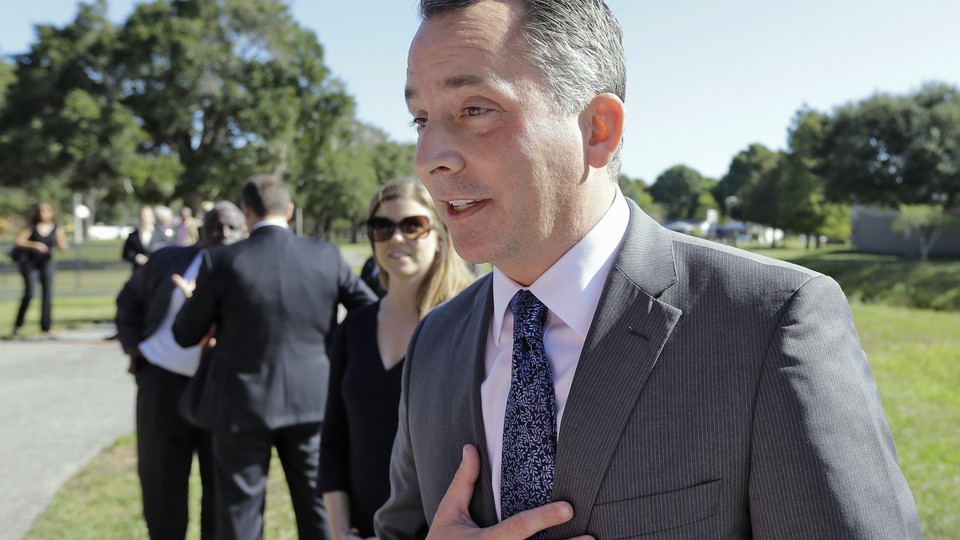 Today in One Paragraph
Republican delegates are reportedly organizing to change the convention rules to allow them to nominate someone other than Donald Trump. Florida Representative David Jolly announced he is dropping out of the race for the Senate amid speculation that Marco Rubio might run for reelection. In California, more than 800 firemen are battling a 1,400 acre blaze. Both sides of the UK's Brexit campaign took the day off after a British politician was killed on Thursday. And Russia's track and field team was barred from participating in this summer's Olympic games.
---
Top News
The Last Ditch. Dozens of Republican delegates are mounting an effort to get the Republican National Convention's rules committee to add a clause that would allow delegates to switch their affiliation away from Donald Trump. "This literally is an 'Anybody but Trump' movement," said the Colorado delegate who is leading this latest campaign, Kendal Unruh. (Ed O'Keefe, The Washington Post)
Jolly Out. In his announcement, Florida Representative David Jolly cited the possibility that Marco Rubio might jump into the Senate race. Rubio has indicated that he's reconsidering his decision not to run for another term, in light of last Sunday's attack in Orlando. Jolly will instead run for reelection to his seat in the House. (Caitlin MacNeal, Talking Points Memo)
Brexit Campaign Suspended. Both sides of the UK's impending referendum on EU membership suspended campaigning in deference to the ongoing investigation into the death of British politician Jo Cox. West Yorkshire Police are investigating the mental health of the man who killed Cox. (The Atlantic staff)
Western Fires. The Sherpa Fire, as it's been called, is threatening communities in California and shut down a highway. New Mexico, Arizona, and Utah are also battling wildfires. (CBS News)
Russian Athletes Banned from Summer Olympics. The International Association of Athletics Federation announced that Russia will not be allowed to compete in track and field events at the 2016 Summer Olympics in Rio. The disqualification is an extension of a ban issued in November. (Rachel Axon, USA Today)
The Weekend in One Paragraph. President Obama and his family will visit Carlsbad Caverns in New Mexico and Yosemite National Park as part of an effort to highlight the importance of conservation. Donald Trump will hold rallies in Texas, Nevada, and Arizona.
Follow stories throughout the day with our new Politics & Policy page. And keep on top of the campaign with our 2016 Distilled election dashboard.
---
Top Read
"Across the country, every election introduces a measure of neighborly strain. Allegiances splinter. Eyes roll. Conversations curdle. But Mr. Nadler's case is unique. His neighbors include Bill and Hillary Clinton, perched behind a white fence about a mile away on Old House Lane. And the town is proud, and fiercely protective, of its most famous residents." The New York Times's Matt Flegenheimer on the country's loneliest Trump supporter.
---
Top Lines
An Unbridgeable Divide. The New Yorker's Ryan Lizza explains why the assumption that a Republican-controlled Congress will have more say in guiding the country under a President Trump is misguided.
A Year After Charleston. On the anniversary of the massacre at Mother Emanuel AME Church, the words of one victim's daughter to the killer, Dylann Roof, still resonate: "I forgive you." But for some, forgiveness is a long process, and a difficult one. (Bob Smietana, The Washington Post)
The Tuskegee Fallout. The infamous Tuskegee experiment, in which African American men were infected with Syphilis without their knowledge or consent and prevented from seeking proper medical care is a greater crime than we even imagined. A new study demonstrates that in addition to the harm it did to its subjects, the distrust it sowed took a year off the lives of all black men. (Vann Newkirk II, The Atlantic)
---
Top View
Your State on Guns. Are your representatives pushing for tighter gun-control measures? Use this tool from The Washington Post to find out.
We want to hear from you! We're reimagining what The Edge can be, and would love to receive your complaints, compliments, and suggestions. Tell us what you'd like to find in your inbox by sending a message to newsletters@theatlantic.com.
-Written by Nicholas Clairmont (@nickclairmont1)