The Atlantic Policy & Politics Daily: Trump To Build Wall—Of Recycled Cans
The presumptive Republican nominee delivered remarks on the economy in Pennsylvania, where he stood in front of a wall of recycled cans.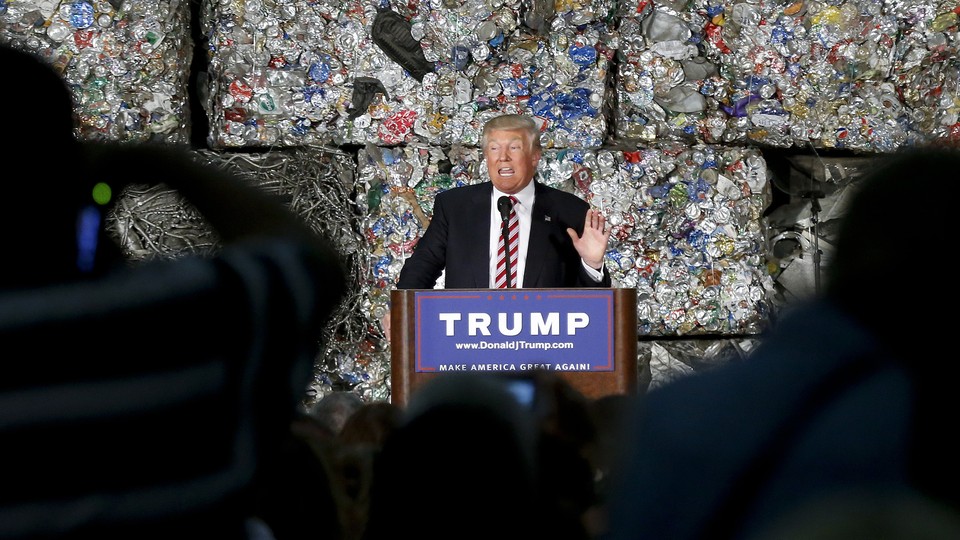 Today in 5 Lines
U.S. House Republicans released a long-awaited report on the investigation into the 2012 Benghazi terror attacks. Donald Trump said globalization and free trade have caused "poverty and heartache" during a prepared speech in Pennsylvania, in front of a recycled-can backdrop. Senate Democrats blocked a bill that would have provided $1.1 billion in funding to combat the Zika virus over concerns with provisions restricting funding to Planned Parenthood. Five states head to the polls to vote in down-ballot races. Volkswagen agreed to pay up to $15.3 billion in the largest buyback offer in U.S. history. And at least 28 people were killed in an attack at Ataturk Airport in Istanbul, Turkey.
---
Today on The Atlantic
Cha-Ching. Super PACs are supposed to be transparent about their donors, but now that some are using a loophole that allows them to accept cash from other PACs, it's becoming increasingly difficult to trace the actual sources of support. (Chisun Lee and Douglas Keith)

Summer Read ft. Donald Trump. Fiction writer Chimamanda Ngozi Adichie has based a new short story on the business mogul and his family, and it stands out for one big reason: It includes the perspective of Melania, his silent, supportive wife. (Megan Garber)

Battle for the Soul of Harlem. Nine Democratic candidates are vying to replace Charlie Rangel, the highly controversial former chair of the Ways and Means Committee, in an election that could redefine the iconic Manhattan neighborhood. (Kia Gregory)
Follow stories throughout the day with our Politics & Policy portal.
---
Snapshot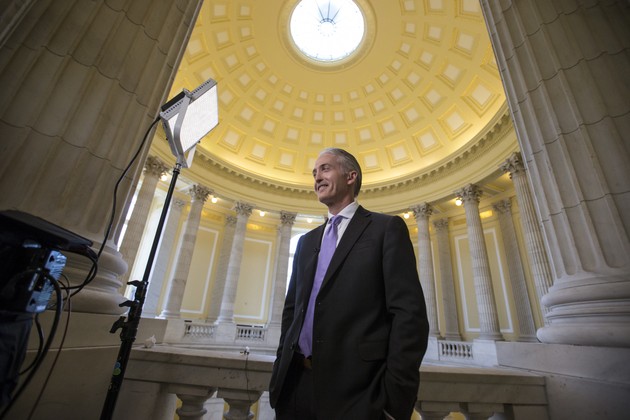 ---
What We're Reading
Trump's Broken Promises. If the presumptive Republican nominee honored all of his commitments to donate money to charity in the past 15 years, he would have given $8.5 million. But public records show Trump donated less than a third of that amount—and nothing since 2009. (David A. Fahrenthold, The Washington Post)
Why Don't Clinton's Failures Count? The National Review's David French argues that the findings of the House Benghazi report should have ended Hillary Clinton's career, but instead, she's poised to become president.
A Winner Is Coming. The most recent season of Game of Thrones emphasized the struggle of being female in a male-dominated field, debated idealism versus pragmatism, and examined the complicated history of several ruling family dynasties—much like this season of U.S. politics. (Emily Nussbaum, The New Yorker)
Breaking Down the Benghazi Report. Members of the House Benghazi Committee took two years to investigate the Obama administration's handling of the 2012 terrorist attack in Libya. Here are seven key details from the 800-page report. (Nick Gass and Rachael Bade, Politico)
Spreading the Clinton Cheer. For many American progressives, voting for Hillary Clinton is the lesser of two evils. But in light of an updated Democratic party platform, a new Elizabeth Warren-Clinton alliance, and the Supreme Court decision striking down laws targeting abortion clinics, there appears to be a true possibility for change. (Rebecca Traister, New York Magazine)
---
Visualized
Virginia Is for Patriots. Devotion to one's country is hard to measure, but a new study examined military and civic engagement to rank every state's level of patriotism. Where does your state stand? (Aaron Blake, The Washington Post)
---
Question of the Week
Last week, Britain voted to break with the European Union—a decision known as "Brexit." If the United States were to leave the United Nations, as Sarah Palin suggested, what would that exit's nickname be?
Send your answers to hello@theatlantic.com, and our favorites will be featured in Friday's Politics & Policy Daily.
-Written by Elaine Godfrey (@elainejgodfrey)