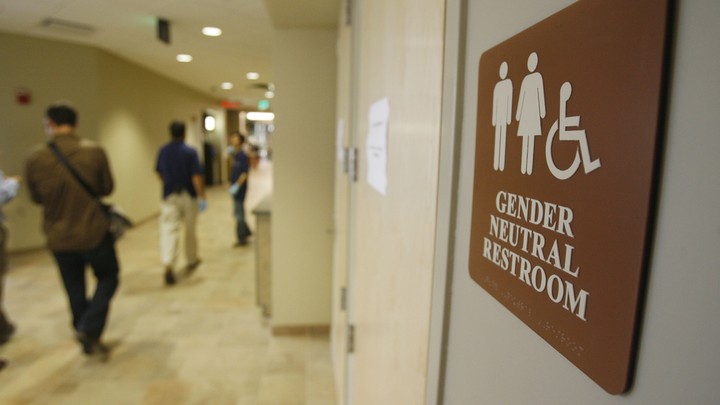 NEWS BRIEF Voters in Florida, Pennsylvania, and Ohio—three swing states—are split over allowing transgender people to use the bathroom that matches their gender identity, according to a newly released Quinnipiac University survey.
In Florida, 48 percent of voters said transgender people should have the right to use the bathroom of their choice, while 44 percent of voters disagreed. In Ohio and Pennsylvania, voters were also divided. Forty-eight percent of voters in Ohio said transgender bathroom use should not be allowed, compared to 43 percent who said it shouldn't. And in Pennsylvania, 49 percent were in favor of permitting transgender people to use the restroom of their choice, compared to 43 percent who were opposed. More than half of voters in each state were opposed to a mandate requiring public schools to allow transgender people to use bathrooms and locker rooms consistent with their gender identity, according to the survey. Quinnipiac surveyed roughly 1000 voters from each state earlier this month.
The survey comes a month after the White House issued guidance requiring public schools in all 50 states to allow transgender people to use the bathroom that corresponds with their gender identity and more than a month after the Justice Department sued North Carolina over its controversial bathroom law. Eleven states have sued the administration over its guidance.
Gender anxieties have intensified across the United States, as my colleague Emma Green wrote:
American culture has been shifting in this direction for some time, pushed along by academic gender theorists, the sexual revolution, and the gay-rights movement. But even as feminists argued for decades that gender is socially constructed and multi-formed, and increasing numbers of people became open about being gay, lesbian, or bisexual, most Americans remained comfortable with the notion that some people are men and some people are women. All of a sudden, a different consensus seems to have emerged.
Meanwhile, on the campaign trail, Donald Trump has said transgender people should be allowed to use the bathroom of their choice. He added, however, that if he were elected president, he would do away with the Obama administration's directive. Clinton, on the other hand, supports the guidance and has publicly supported transgender rights.
Florida, Ohio, and Pennsylvania are critical states for Clinton and Trump in the presidential election. The survey notes that since 1960, no candidate has been able to secure the White House without winning at least two of the three states.
We want to hear what you think about this article. Submit a letter to the editor or write to letters@theatlantic.com.