What the U.S. Supreme Court Immigration Ruling Means for Hillary Clinton
She has vowed to expand President Obama's executive actions. Thursday's decision won't necessarily prevent her from doing so.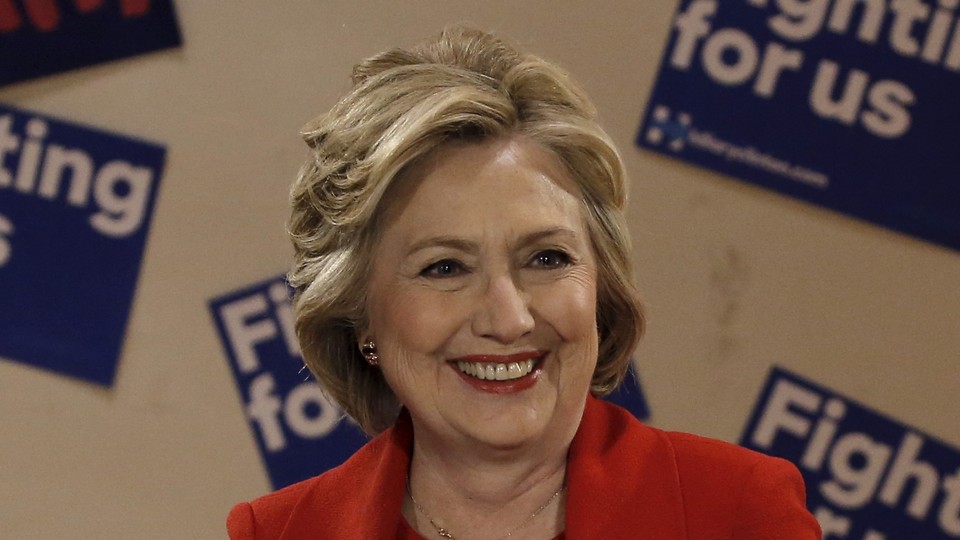 The U.S. Supreme Court's deadlock on a key immigration case on Thursday will prevent President Obama from carrying out his plan to shield millions of undocumented immigrants from deportation before he leaves office. But the ruling doesn't necessarily invalidate the promises Hillary Clinton has made to take similar action if she wins the presidency.
The justices made no determination as to whether Obama's executive actions on immigration exceeded his authority as president. Their 4-4 tie merely left in place a lower court's temporary injunction blocking the administration from implementing the deferred-action program, known as DAPA. The case now goes back to the lower courts for a decision on the merits of Obama's policy, and if Judge Andrew Hanen of the Fifth Circuit Court of Appeals in Texas permanently blocks the program—as many legal observers expect—then the Justice Department could appeal to the Supreme Court once again. If Clinton wins the White House and gets Senate confirmation for her nominee to the Supreme Court (or, in a less likely scenario, if Republicans approve Merrick Garland before she takes office) then she stands a much better chance of being able to move forward on immigration.
"This is a very long delay, but it's not a final decision," said Angela Kelley, a senior vice president at the left-leaning Center for American Progress and a longtime advocate of immigration reform.
The outcome for immigration policy already hinged to a large extent on the 2016 election, and the Supreme Court's inability to rule definitively lends even more weight to the choice in November. While Donald Trump has campaigned against offering legal status to the 12 million people estimated to be in the country illegally, Clinton has, like Obama, vowed to pursue comprehensive reform legislation in Congress and take executive action to protect those people from deportation if the House and Senate fail to act. The former secretary of state has also said she would go beyond the policy pursued by Obama to include the parents of so-called Dreamers who were brought into the U.S. illegally as children. Had Justice Antonin Scalia lived for a few more months, it is likely that the high court would have struck down Obama's program entirely and foreclosed the possibility that Clinton could carry out her plans.
Whether she has that opportunity next year now depends not only on her election but on her ability to swiftly win Senate confirmation of a justice likely to rule favorably on her authority over immigration policy. And until there is a more definitive ruling, any executive action along the lines of what Obama tried to do is impossible. "Practically-speaking, you'd have to have this whole situation resolved before any new president could take similar steps," said David Leopold, an immigration lawyer and reform advocate. Tom Jawetz, the vice president of immigration policy at CAP, said the Obama administration could, within the next few weeks, ask the Supreme Court to rehear the case next year, but there almost certainly won't be another ruling before he leaves office.
In their statements responding to the decision, Democrats including Obama and Clinton emphasized the deadlock caused by the vacancy on the court. "Today's decision by the Supreme Court is purely procedural and casts no doubt on the fact that DAPA and DACA are entirely within the president's legal authority," Clinton said. "But in addition to throwing millions of families across our country into a state of uncertainty, this decision reminds us how much damage Senate Republicans are doing by refusing to consider President Obama's nominee to fill the vacancy on the Supreme Court."
Obama also stressed that the decision has no impact on the Deferred Action for Childhood Arrivals program, which shielded immigrants brought illegally into the U.S. as children from deportation. Nor does it invalidate the administration's late-2014 decision to change its enforcement priorities so that most of those immigrants who would have been able to come forward legally under the DAPA program won't face deportation as a practical matter. "They will remain low priorities for enforcement," Obama said. "As long as you have not committed a crime, our limited immigration enforcement resources are not focused on you."
"We prioritize criminals. We prioritize gang-bangers," he added later. "We prioritize folks who have just come in. What we don't do is to prioritize people who've been here a long time, who are otherwise law-abiding, who have roots and connections in their communities."
Republicans hailed the Supreme Court's ruling as a vindication of their complaints that Obama has exceeded his authority as president. "This is another major victory in our fight to restore the separation of powers," House Speaker Paul Ryan said. Trump said the court had blocked "one of the most unconstitutional actions ever undertaken by a president." But while the Obama's critics were relieved that the DAPA program will stay dead for the remainder of his term, their responses frequently overstated the scope of the court's ruling. "Nobody won. Nobody lost. The court just didn't make a decision," Leopold said.
While the deadlock may not permanently prevent Clinton from taking executive action on immigration, the lengthy legal process and a likely judicial confirmation fight means that she wouldn't be able to do so in the first weeks of her presidency. And that makes it more likely that she would first try to steer legislation through Congress that would render moot the debate over executive authority, as Obama did in 2013. She has already pledged to submit an immigration bill to Capitol Hill within her first 100 days, but unless Democrats can win back both the House and the Senate, the prospects for a deal with Republicans are uncertain at best.
As both supporters and critics of immigration reform have long agreed, the only way to address the issue permanently is through an act of Congress. As much as Thursday's ruling means for the millions of immigrant families seeking certainty in their status, ultimate decisions about the future of immigration policy still rest with the voters, not the courts.