The Hell of Applying for Government Benefits
One mother's story of trying to get federal assistance for her premature daughter shows the desperate state of the Social Security Administration.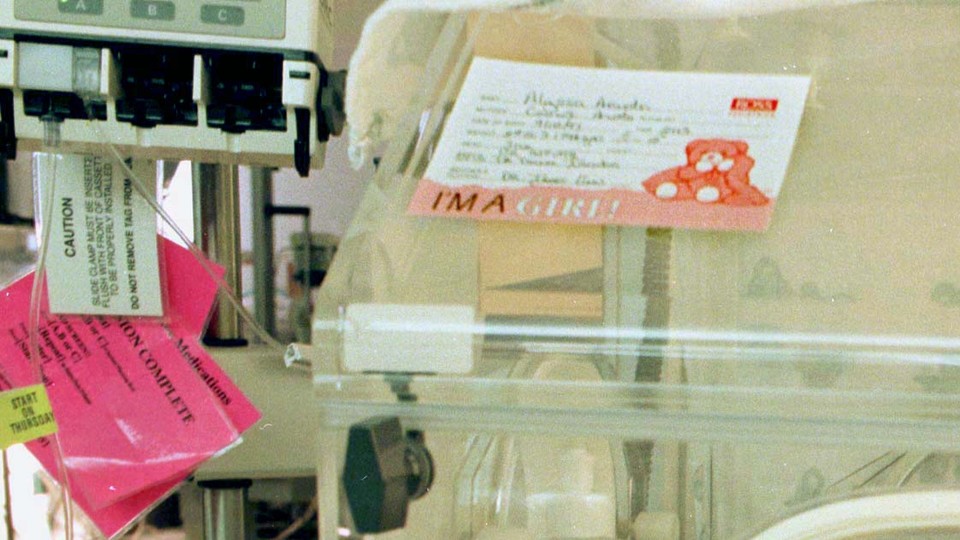 It's 11:30 a.m., and after three hours of waiting, I have finally gotten to the front of the line at the Social Security Administration on M Street in Washington, D.C. I have come to see if they received a fax—the agency rarely uses email to communicate with the public.
The harried worker in front of me click-click-clicks something into her computer terminal, then looks up at me disapprovingly. "You have an appointment," she says. Um ... what? This was the first I had heard of an appointment. After weeks of calling their 800 number without success, I decided to just show up in person. "It's at 3 o'clock," she went on. "Didn't you receive the notice?"
I would later find out that their office had indeed sent me a letter, but because a "2" was incorrectly entered as a "4," it had gone to the wrong address. The fact that I appeared on the day of my "appointment" was a fluke. And they had not received the fax.
I have always seen myself as an organized, goal-driven person. I make to-do lists, color-code my files, and have an unhealthy love of the "labels" feature in gmail. So when my daughter Emily was born three months early, at just one pound 15 ounces, I thought I was going to handle things, like I always do. In the awful few weeks that followed, this tiny creature endured feeding tubes, an IV that dwarfed her miniature arm, a respirator, a blood transfusion, and countless needle pricks to her foot. But in some ways, our 10-week experience in the Neonatal Intensive-Care Unit, or NICU—which ended happily when we brought our daughter home in March—was easier than the different kind of hell that followed: a three-month tour through the woefully underfunded world of government social services.
Massive budget cuts and hiring freezes in the last few years have turned the Social Security Administration into one of the most understaffed and overburdened agencies in the federal government. As of June, it had a backlog of more than 1 million unresolved disability claims, the highest in the agency's history. The average wait time to get one of these claims adjudicated is more than a year.
I had been directed to this office by a social worker, a truly compassionate woman who spent many hours trying to help me. But I didn't fully understand what program or service I was meant to apply for. She first explained it to me during the worst week of my life, while I was still wearing a hospital gown and probably half high on pain meds. It had something to do with getting Medicaid, which my husband and I could use as secondary insurance to pay off the $5,000 we still owe. That's a tiny remnant of the $700,000 hospital bill our primary insurance thankfully paid most of. Still, there was that $5,000 bill.
I was told that our Medicaid could be secured by first applying for Supplemental Security Income—cash assistance normally reserved for elderly and disabled people with very low incomes. But whenever I got in front of a Social Security employee, no one had heard of the "Low Birth Weight Baby Program" the hospital social worker had described.
"Why are you here?" the staffer would ask. I didn't know where to start. With the freaky blood clot that started this whole thing? With our enormous hospital bill? With the fact that I had physically appeared at the Social Security Administration four times in the last two months, waiting in line for hours to talk to a human being?
I felt frustrated, defeated, and utterly incompetent. I was developing affection for the hold music on the SSA's 1-800 number, a lifeless melody with no beginning and no end. And my 12-week maternity leave, which I finally began to use nearly three months after my daughter was born, was starting to run out.
* * *
Now it's a Tuesday morning, and I'm on the phone with another government administrator, trying to figure out what has happened to my life. I'm talking to someone from an office called Disability Determination Services, this time about the fact that my daughter has been deemed technically "disabled" for the 10 weeks she has been in the hospital. Sorting out who runs what has been another source of confusion. I'd previously been visiting the offices of the Social Security Administration, a federal agency, but my daughter's medical eligibility for disability benefits was being decided at this state-level office.
"What did you send to the Social Security Administration?" I ask him, hoping this official piece of paper can help. "Can you send that to me?" He pauses, and I am pretty sure I hear him sigh. "The only thing we do is make decisions. The only people we deal with is the local office. We do not send letters out." Why not, I ask? Another pause. "We have no connection with the outside world."
Eventually, I rally for one final visit to that Social Security office on M Street to see if my request for Supplemental Security Income has been approved. At this point, the parking guy across the street is greeting me like an old friend. I have stopped trying to call and have simply begun showing up at their D.C. office in person, as if our only alternative for contact is via message in a bottle or two tin cans connected by a string. The news isn't good. My point person there—a man who has seen me cry uncontrollably as I list my daughter's medical conditions, who has been forced to ask me ridiculous questions like whether my less-than-one-week-old daughter is married or earning an income—tells me my request has been denied. It turns out I may never have been eligible for Social Security benefits to begin with.
This whole experience scares me. What if I didn't have a job that gave me maternity leave so that I could regularly show up at a government agency during the workweek and spend the better part of a day there? What if I didn't have resources like a computer and family members who could watch my baby while I spend hours waiting in line?
For me, this was just one bill. But there's much more at stake for many people who need the benefits offered by the Social Security Administration, who are not in a position to put this kind of time or legwork in. Many who visit are poor, old, widowed, homeless, or disabled, and if they aren't one of those things themselves, they are likely caring for someone who is. They are at the end of their rope, perhaps experiencing the worst scenario of their lives: They need a wheelchair. They've gone blind. Their spouse died. Or, like me, they have a baby in the NICU. And they probably don't have time to write an essay about it.
Unfortunately, when it comes to customer service, many government agencies that serve the poor are being asked to do more with less, and the SSA has faced particularly hard times. Indeed, in 2013, the agency acknowledged that it is "facing its toughest fiscal challenge in nearly 30 years." Budget shortfalls nearly every year from 2000 to 2013 have made the SSA unable to efficiently serve the public in its field offices, at a time when Boomers are getting older and demand for services like retirement and disability benefits are as high as they have ever been. Between 2011 and 2013, the agency's budget was short of the President's request by an average of $1 billion every year.
According to a 2014 investigation by a U.S. Senate committee, more field offices closed between and 2008 and 2013 than in any other five-year period in the Administration's history. And the agency lost 11,000 workers between 2010 and 2013, with some offices shedding a quarter of their staff, due to attrition and a huge wave of retirements. The loss of staff, combined with hiring freezes and increased workloads, have left employees with little time to prepare for appointments, review pending claims, or attend training. All that translates into extremely long wait times, both in person and on the phone.
The SSA press office told me through email that delivering responsive, courteous customer service is "a top priority for the agency and has been our longstanding tradition." They told me they regretted I wasn't satisfied with my experience, which they described as "not typical." But the 2014 investigation suggests otherwise. Over the course of an average week in 2013, the agency estimated that 12,000 visitors to Social Security offices around the country would have to wait over two hours to be seen by a staff member. The report also estimated that, in 2014, about 15 percent of callers would hear a busy signal when they tried to call. For those callers who did get through, the average wait time was nearly 20 minutes.
If those numbers are right, my experience was unusually bad. I often waited on hold for 45 minutes at a time, usually while sitting with my daughter in the NICU. More than once, the staffer on the other end accidentally hung up, and I would have no way of reaching them again. On two occasions, I spent more than three hours waiting in line to speak to someone, not including the time I took one look at the jammed waiting room, turned around, and went home.
The agency has tried to compensate by encouraging customers to do their business on their website, an option they refer to as "self-service." Their press office noted that their online services "have become such a popular option that more than half of all retirees now file for Social Security retirement benefits online." Going online does makes sense for basic services like requesting a name change or replacing a Social Security card. But other situations, like mine, are simply too complicated and must be handled in-person. Plus, the people who most need Social Security benefits often do not use the internet. Four in 10 adults over 65 do not go online. Many others lack a broadband connection, strong vision, or English proficiency, or may have other issues. Not to mention the number of people who don't own a printer.
Four months after this all started, I'm still not sure how this all went so wrong. Only in talking with the SSA's national press office did I finally determine that SSI is only available to couples whose household resources are under $3,000, and that this may have been all been for nothing.
I still owe that $5,000. My contact at the SSA in D.C. has been kind enough to call me several times to see how everything turned out. I wonder whether he also has nightmares about faxing documents to Disability Determination Services, or at least running out of tissues for all the people who cry at his desk.
I am lucky. Until now, I've been spared the humbling experience of having to ask for government assistance, which one in five Americans will likely do this year. I am relatively young and healthy, and my husband and I have decent jobs. I will get to leave these crazy months behind me, move on with my life, and devote myself to caring for my daughter. But now I know: I'm just one freaky blood clot away from being right back on M Street, applying for government benefits and waiting in line to find out if a form was properly faxed.