Bernie Sanders's Down-Ballot Effect
A Tuesday primary in one Nevada congressional district will test the Vermont senator's political potency.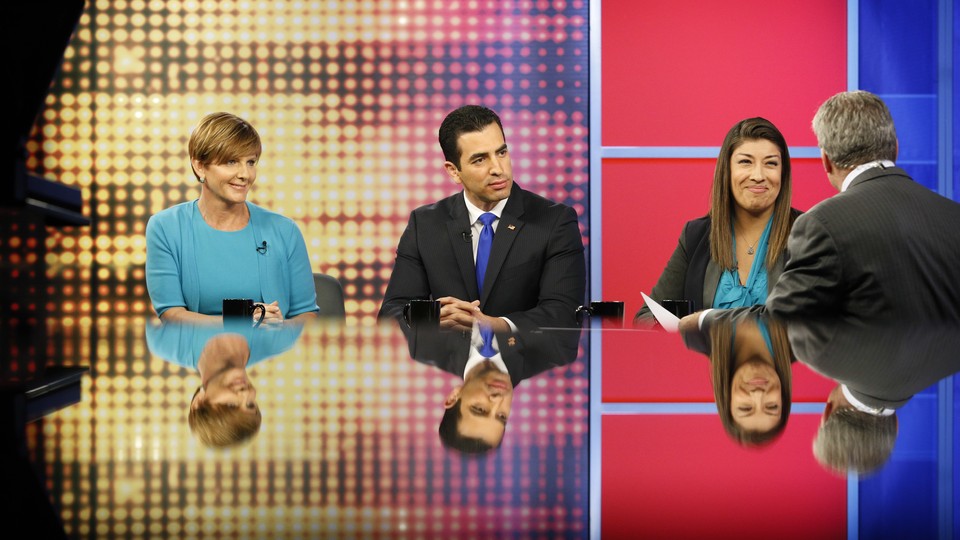 Lucy Flores, a Nevada congressional candidate, is one of dozens of "Sanders Democrats" running in down-ballot races this year. She endorsed him early, championed the policies they shared, and received direct help from Bernie Sanders himself. Her candidate is close to exiting the presidential race as the last primary, in Washington, D.C., unfolds. But for Flores and other down-ballot candidates running in his image, there is still a chance for victory. A win for Flores, a former state assemblywoman who is competing in the fourth congressional district's Democratic primary, would be significant to Sanders's community at large: It's the first real test of the revolution the senator promised and could give clues as to whether his legacy will live on past his presidential candidacy.
Flores wasn't the only down-ballot candidate to receive help from Sanders, but she was one of the few. The Vermont senator was criticized earlier this year for doing little to help candidates who were supporting him. Sanders's exceptional fundraising operation hadn't been deployed to their benefit, and the candidate himself offered no personal endorsements. His fundraising contrasted that of Hillary Clinton, who by that time had raised money for state parties.
That all changed by mid-spring, with Sanders identifying three congressional candidates to support: Zephyr Teachout in New York, Pramila Jayapal in Washington, and Flores, whom he once called "exactly the kind of person I'm going to need in Congress when I am president." MSNBC's Steve Benen argued in April that Sanders was following a pattern: He chose liberal candidates who had not gotten the backing of the Democratic establishment. More endorsements eventually came, including for Tim Canova, who's challenging Sanders's nemesis in Florida, Democratic National Committee Chairwoman Debbie Wasserman Schultz.
Flores says Sanders's role in her campaign was helpful. She told me earlier this year that Sanders did a service by "connect[ing] progressive issues with candidates" and getting people to "believe that they can make a difference by electing people who are running on these progressive agendas." Political endorsements have questionable value when it comes to swaying voters, but Sanders's campaign raised the prominence of policy issues that resonated with millions of Americans, including many in Nevada. Down-ballot candidates who share his values, regardless of whether he endorsed them, could get more attention from voters for echoing his point of view.
Sanders made practical contributions to Flores's campaign, too: He reportedly helped her raise roughly $600,000. Jon Ralston, the veteran Nevada journalist, noted in April that Flores had high name recognition in her district—she had run for office before and gotten press for being a Democratic up-and-comer. But before Sanders began fundraising for her, she had insufficient money.
It's tough to assess precisely where Flores stands among the three front-runners in the field of eight candidates competing on Tuesday. The winner could run against Representative Cresent Hardy in November; he has a primary Tuesday as well. Local media reports have characterized the race as "fiercely competitive," but there isn't much polling to rely on. What's easier to see is the way outside forces have shaped the race. Flores has the backing of Sanders and progressive organizations like MoveOn.org, while her closest opponents "both have support from swaths of the Democratic establishment," as NPR reported Tuesday:
Flores's main competitors in the Democratic primary in Nevada's 4th District have their own big boosters. State Senate Minority Whip Ruben Kihuen has the backing of Senate Minority Leader Harry Reid, D-Nev., and former President Bill Clinton, while Nevada education leader Susie Lee has been endorsed by EMILY's List, the influential Democratic group that backs pro-abortion rights women.
The potency of Sanders's advocacy in Nevada will be clear when the polls close. If Flores and other congressional endorsees like her win, their success will be evidence that Sanders's progressive platform has political influence up and down the ballot—and that his ideas won't just be pushed in the U.S. Senate, where he's expected to have more sway once his campaign formally ends. Their victory would suggest it was Sanders's ideas, and not just the man himself, that inspired voters in 2016.