Republicans Struggle to Make Their Anti-Poverty Plan Heard
House Speaker Paul Ryan forges ahead with the first plank in a substantive policy agenda—and promptly gets drowned out by Donald Trump.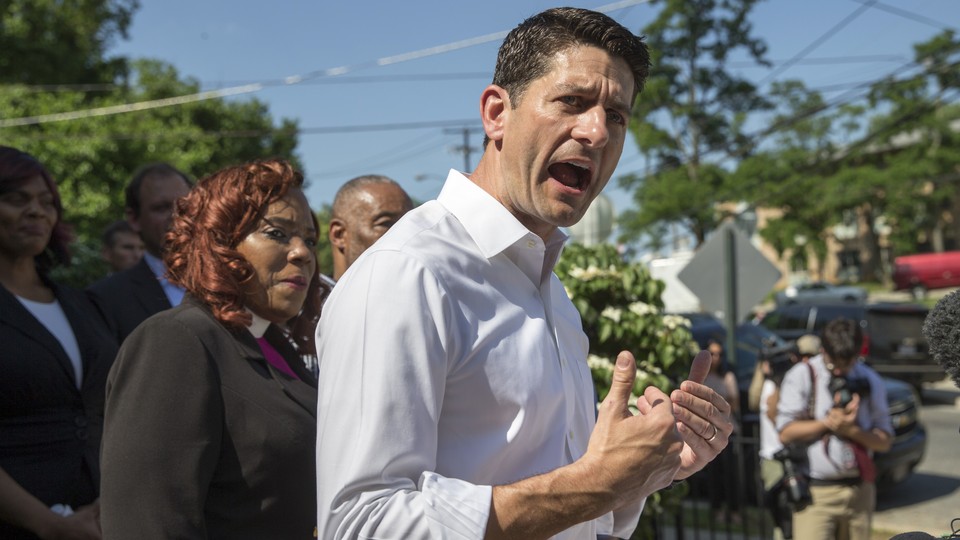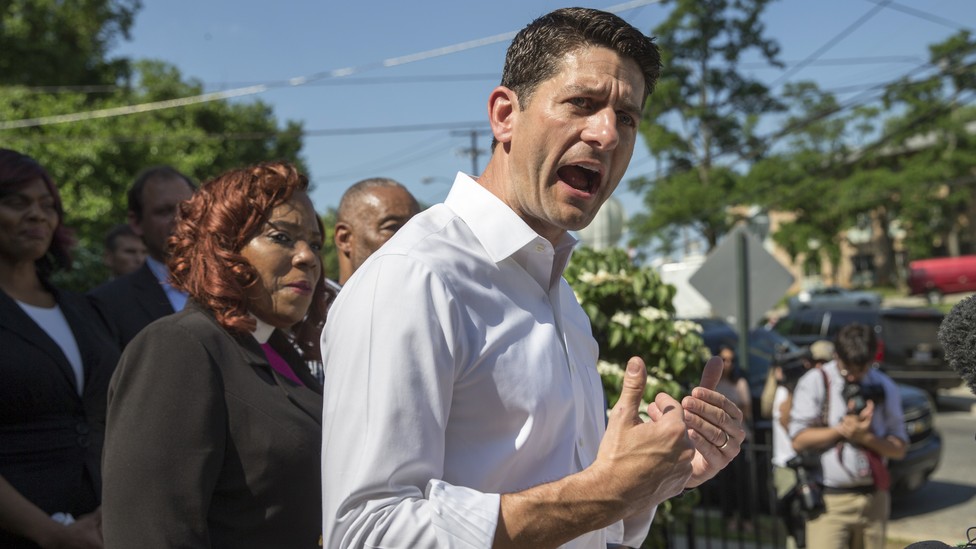 The unveiling on Tuesday morning of the House Republican plan to combat poverty—the first in a series of policy rollouts this month—went about as well as Speaker Paul Ryan probably expected.
There was the sober and serious House speaker, sans jacket and tie and with the sleeves on his crisp, white shirt rolled up, passionately making the case for conservative policies that would create opportunity for the poor and "help people move onward and upward" in society. Standing alongside him were seven other sober and serious Republican members who had crossed the Anacostia River in D.C. to praise the work of a drug rehab facility that helped men and women—mostly poor and African American—battle addiction and climb out of poverty. The center's director, Bishop Shirley Holloway, hailed Ryan as "the listener of America."
And then a bunch of reporters asked Ryan if Donald Trump was a racist.
So it goes for the nation's highest-ranking Republican, who has made it his year's mission to fashion a substantive policy agenda and offer it up as a election-year shield to his embattled flock. On Tuesday, that meant shouting proposals into a media wind tunnel.
In the main, Ryan's challenge is Trump, whose penchant for creating distractions and dominating news coverage hasn't diminished a bit in the year since he launched his presidential candidacy. Endorsing the presumptive nominee has proven risky for any Republican. But the speaker's belated embrace last week ended up particularly ill-timed, coming just ahead of Trump's race-baiting attacks on the judge deciding a lawsuit against his failed university. Ryan disavowed Trump's remarks on Tuesday and said they represented "the textbook definition of a racist comment." Ryan, though, stood by his endorsement, arguing Republicans had a better chance of seeing their agenda enacted with Trump as president than with Hillary Clinton.
Another part of Ryan's problem, though, is the limits of the platform itself. It is neither ground-breaking nor specific enough to serve as a rallying document for Republican candidates. This is no Contract with America, which was built around a set of concrete promises and legislative proposals. Rather, the meat of the anti-poverty is a 35-page report from a task force Ryan created in January. It is more substantive than a list of talking points, certainly, but it stops well short of specific action items or a bill. The five forthcoming proposals, including ideas on health care, national security, the economy, and tax reform, figure to be structured in a similar way.
The report calls for tightening work requirements for welfare, food stamps, and housing assistance programs. "Our plan starts with work, not welfare: If you are capable, we will expect you to work or prepare for work," a two-page summary says. Republicans are also pushing to send more authority to the states and change programs so that there success—and funding—is based on how many people they help lift out of poverty. The plan would tackle what the report calls "the welfare cliff," in which recipients are discouraged from taking new or higher paying jobs because the salary would not compensate for the reduction of benefits they would see as a result. Other recommendations include more school choice in education, cutting back financial regulations under the Dodd-Frank law, and making it easier for small businesses to band together to offer 401K retirement plans.
"This is how you fight poverty. This is how you create opportunity. This is how you help people move onward and upward," Ryan said. "We wanted to start with poverty because we think this sums up our case. We want to build a confident American where no one is stuck, where no one settles, and where everyone can rise."
By and large, these are proposals that Republicans have made before, and in some cases tried to pass into law. The anti-poverty agenda also downplays or jettisons earlier Ryan proposals that drew more bipartisan support, including an expansion of the Earned Income Tax Credit. As Democrats were quick to point out, what's new about the GOP platform is mostly the packaging, re-branded under the heading, "A Better Way," and complete with a website and hash tag.
"Frankly, it's a new spin on a bad deal," said Representative Steny Hoyer of Maryland, the House minority whip. Democrats also challenged the central premise underlying the Republican agenda—that federal welfare programs were failing in their mission to reduce poverty. "It is a distortion, and he tries to fool people with it," said Representative Rosa DeLauro of Connecticut, who appeared with Hoyer at a panel discussion held by the left-leaning Center for American Progress.
For Democrats, the threat of Ryan's agenda lies in its sales pitch, which has discarded the 1980s talk of "welfare queens" for the more universal language of upward mobility and self-sufficiency. One conservative congressman quoted Robert F. Kennedy while he touted the GOP plan. And who would argue with more results-oriented policies, targeting federal dollars toward the most successful ideas, reducing red tape, and "tailoring benefits to people's needs," as the report promises? Yet to liberals, the rhetoric obscures a far harsher reality: Republicans are proposing to align anti-poverty programs with their vision of a smaller, leaner federal government, which means steep budget cuts that they fear go well beyond trimming the fat. "Paul Ryan's anti-poverty proposals sound great, but they're fundamentally fraudulent covers for draconian budget cuts that will hike poverty," tweeted Joel Berg, who runs the New York-based non-profit Hunger Free America.
Hoyer also needled Republicans for putting out a plan that they have no intention of voting on this year. "Speaker Ryan has rhetoric. There will be no agenda," Hoyer said. "I predict to you there will be no bills on the floor of the House of Representatives in the next three to four months that will implement the suggestions in whatever document he puts forward."
It's a fairly safe prediction. Ryan has said all along that there would be little point in actually advancing the party's agenda through the House until there is a Republican president who might sign it into law. And that brings us back to Trump. Explaining his decision to stick by a candidate he had just accused of racism, Ryan said that at least Trump might help Republicans enact their agenda, while Clinton assuredly would not. "Do I believe that Hillary Clinton is going to be the answer to solving these problems? I do not," he said. "I believe we have more common ground on the policy issues of the day and we have more likelihood of getting our policies enacted with him than we do with her."
Trump, of course, hasn't committed himself to Ryan's agenda, despite what the speaker called "an exhaustive discussion" of policy in the run-up to his endorsement. "He wants to take people out of poverty. So do I. And we`re going to come up with a plan," Trump said Sunday on CBS's Face the Nation. Pressed on the specifics, he said only there would be "a compromise" if he becomes president. That's not much for Ryan to hang his hopes on. But he will forge ahead with the rest of the House Republican agenda, knowing that even if Trump's antics drown out all substance now, it can provide a toehold this fall for Republican candidates looking to talk about something other than their party's presidential nominee. As for the agenda's viability under a President Trump in 2017? It seems Ryan decided that 'maybe' was the best answer he could get.