No One Knows How Latinos Will Vote in 2016
Language barriers and turnout rates make it difficult for pollsters to accurately predict what will happen.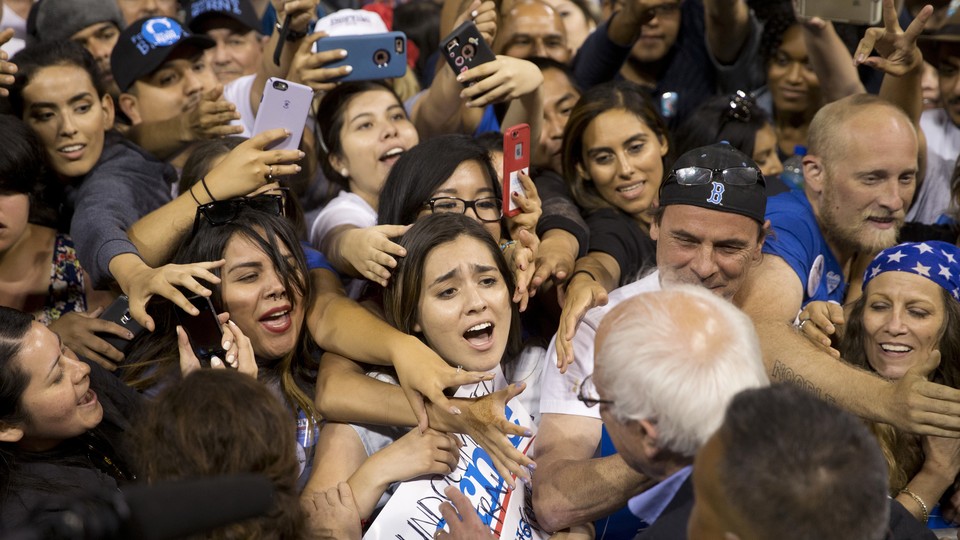 Hillary Clinton and Bernie Sanders were supposedly in a tight race in California, particularly among Latinos. Some pollsters predicted that Clinton had a slight advantage, while others showed Sanders ahead. But Clinton not only won the state—she captured several counties with big Hispanic populations. This kind of forecast failure has come up in races across the country during the U.S. presidential election: Latinos, with an increasingly young electorate and low turnout rates, are distinctively hard to poll.
California has the largest Hispanic population of eligible voters in the country, according to the Pew Research Center. The group skews young: Hispanics under 45 account for roughly half of likely voters. And those between 18 and 33 make up 26 percent of the Hispanic population; among whites, for example, 18-to-33-year-olds only make up 20 percent. During the primary season, a pattern emerged among Sanders and Clinton supporters: Younger voters tended to flock to Sanders, while older voters backed Clinton. Among Latinos, the generational divide looked similar.
Prior to the California primary, the USC Dornsife / Los Angeles Times poll of 489 Latino voters found they were evenly split between Clinton and Sanders. Clinton had a slight advantage among Latinos who were likely to vote in the Democratic primary, beating Sanders 47 to 41 percent. Without exit poll results, it's unclear exactly how many Hispanic voters backed Clinton and Sanders, but counties with a large share of Hispanics appeared to back Clinton over Sanders.
In general, polls have their pitfalls. They produce results with a margin of error, are susceptible to methodological weaknesses, and represent only one moment in time.
But California offered a glimpse into why polling Latinos comes with distinctive challenges. If pollsters create a sample that's representative of the population by age, the younger respondents might throw off the results—they might tell pollsters they'd vote for Sanders, for example, but not actually vote on Election Day. "If the poll samples included Latinos that were a bit younger—a higher proportion of younger Latinos than older Latinos—that may be a reason that turnout wasn't quite as young on average among the Latino population," said Ben Winston, a senior associate at Greenberg Quinlan Rosner Research, which worked on the poll.
Historically, the Latino electorate is less likely to vote compared to African American and white voters. In 2008, the turnout rate for Latinos was nearly 50 percent, and dropped slightly in 2012 to 48 percent. And turnout varies among subgroups. For example, 70 percent of Latinos with a college degree voted in 2012 despite an overall low turnout rate.
Pollsters also have to consider language barriers and the way they reach voters with surveys. According to Pew, 36 percent of Latinos in the United States are bilingual, 25 percent mainly use English, and 38 percent mainly use Spanish. An individual's preferred language and age can go hand in hand: Younger Hispanics are more likely to speak English than those 30 and older.
"I think to have a representative sample of the Hispanic population you have to interview Spanish-speaking Latinos," said Mark Hugo Lopez, the director of Hispanic research at Pew Research Center. "They don't necessarily have the same point of views that English-speaking Hispanics do." To get a representative sample, surveys and questionnaires have to be translated in a culturally sensitive way to communicate the same meaning—literal translations can sometimes shift the meaning of the questions. Interviewers need to be bilingual or prepared to arrange for a bilingual interviewer to call back at a later time, which can create its own difficulty—a potential respondent may not pick up the phone the second time around.
The USC Dornsife/ Los Angeles Times poll administered 40 percent of its interviews in Spanish and 60 percent in English. And 69 percent of Latino interviews were done via cell phone, according to Winston. Cell phones are perhaps one of the most reliable polling mediums since Latino households rely on them more often. But it can still be difficult to gather a representative sample. Composition matters, said Sylvia Manzano, a principal at Latino Decisions: Mexican American and Cuban American voters might have different views, just as younger and older voters might.
These polling difficulties have shown up in races across the country during the 2016 presidential race. In Nevada, for example, Donald Trump touted primary results that showed a significant share of Latinos coalescing behind him, but a Washington Post / Univision survey later found that roughly 80 percent of Latinos viewed the real-estate mogul unfavorably nationwide. Clinton secured wins in areas with a high concentration of Latinos despite exit-poll results showing Sanders pulling ahead. And in Florida, which has the third largest Latino population in the country, polls showed Latino voters almost evenly split between Clinton and Sanders. The state's exit-poll results, however, found Clinton with a commanding lead among the electorate.
These problems are not exclusive to state polls. In fact, they'll likely persist to the November runoff. Given these weaknesses, as Clinton and Trump head to the general election, can either campaign really know who's more popular among Latino voters—or by how much?
In a Clinton-Trump matchup, 63 percent of Latino voters said they'd back Clinton and 23 percent said they'd support Trump, according to a Fox News Latino poll conducted in May. Their support matters: the Latino electorate is projected to increase by 17 percent in November compared to previous years, according to the NALEO Educational fund. But these polling challenges mean their preferences won't be truly clear until Election Day.