Paul Ryan Finally Falls in Line
After weeks of agonizing, the House speaker lets the world know as quietly as he can that, yes, he'll be voting for Donald Trump in November.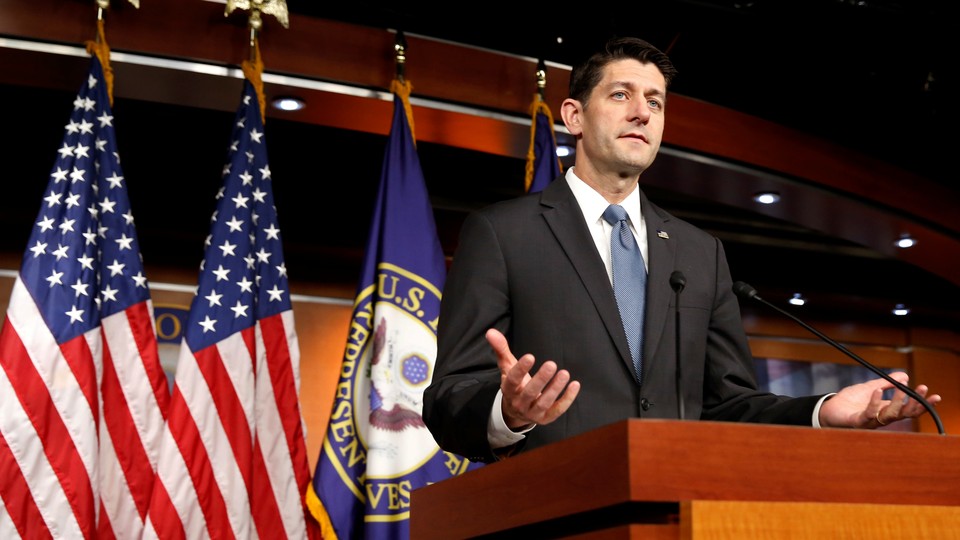 The Great Republican Standoff of 2016 is over: Paul Ryan has endorsed Donald Trump for president.
The House speaker bestowed his formal blessing on Thursday afternoon, ending an awkward holdout period lasting nearly a month after the Republican Party declared Trump its presumptive nominee. And yet after Ryan publicly agonized over his decision in press conferences and television interviews, he delivered his by-now inevitable endorsement in the equivalent of a political whisper: via an op-ed on the website of his hometown newspaper in Wisconsin, The Gazette, published during a congressional recess and while the Democratic nominee, Hillary Clinton, was giving a major national-security address.
Ryan offered his support for Trump at the end of a preview of conservative policy proposals that House Republicans will begin unveiling next week and which the two men have discussed in phone calls and a highly-publicized meeting earlier this month. "Through these conversations, I feel confident he would help us turn the ideas in this agenda into laws to help improve people's lives," Ryan wrote. "That's why I'll be voting for him this fall."
"It's no secret that he and I have our differences," Ryan added.
I won't pretend otherwise. And when I feel the need to, I'll continue to speak my mind. But the reality is, on the issues that make up our agenda, we have more common ground than disagreement.

For me, it's a question of how to move ahead on the ideas that I—and my House colleagues—have invested so much in through the years. It's not just a choice of two people, but of two visions for America. And House Republicans are helping shape that Republican vision by offering a bold policy agenda, by offering a better way ahead.

Donald Trump can help us make it a reality.
The policy-minded Ryan has been in a difficult spot from the moment Trump seized control of the GOP primaries. Temperamentally, the two could not be further apart, and while the speaker views his job as a way to promote and, he hopes, enact a specific vision of conservative governance, Trump has shown little interest in policy or conservative doctrine generally. Yet with other Republican leaders, including Mitch McConnell and Kevin McCarthy, quickly if reluctantly rallying behind Trump, Ryan risked isolation by continuing to hold out. Making his position even more awkward was the fact that as House speaker, Ryan will serve as chairman of the convention that will nominate Trump next month in Cleveland. While Ryan insisted that he wanted to avoid "fake" party unity, his endorsement soon became a matter of when more than if.
What did Ryan extract from Trump for his endorsement? Not much, it appears. While he expressed confidence that a President Trump would help Republicans enact their ideas, he notably did not claim that Trump had endorsed any of them in particular. The two remain far apart on their views of immigration, trade, and entitlements, among other issues important to Ryan. But the speaker could clearly see his party—voters and elected leaders alike—falling in line behind Trump anyway, and on Thursday, so did he.