Paul Ryan (Again) Rejects Trump's Muslim Ban
The Orlando massacre has not bridged the gap between the House speaker and the presumptive GOP nominee on national security.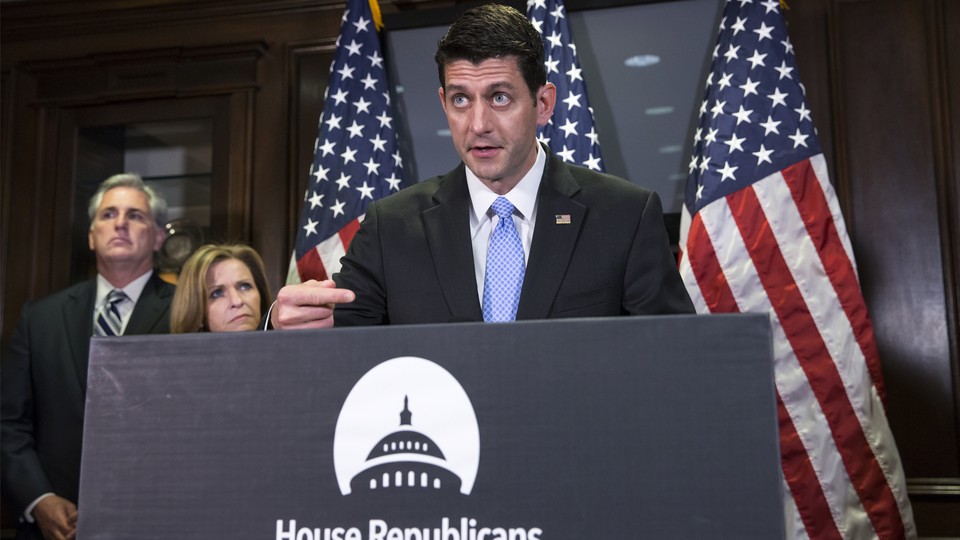 Paul Ryan may be on board with Donald Trump's presidential candidacy, but the House speaker is not getting behind his call to ban Muslims from entering the United States.
"I stand by my remarks. I do not think a Muslim ban is in our country's interests," Ryan told reporters on Tuesday morning, again rebuking Trump a day after the presumptive Republican nominee renewed his proposal in the wake of the terrorist attack in Orlando.
The speaker had spoken out against the Muslim ban in December, saying it was "not conservatism" and an affront to America's constitutional values. But with Trump now his party's standard-bearer, Ryan's statement on Tuesday carried more significance, and it reflects a broader discomfort among GOP congressional leaders with Trump's "America first" vision for national-security and foreign policy. House Republicans last week released their own plan for protecting the homeland, and it was notable for how little it overlapped with Trump's call for a temporary Muslim ban, a border wall paid for by Mexico, and a policy of mass deportation of immigrants.
Michael McCaul, the chairman of the House Homeland Security Committee, last week suggested Trump's rhetoric against Muslims could "inflame or help the recruiting efforts" of terrorists. Like Ryan, he flatly rejected the idea of a religious test for entering the country.
In responding to Sunday's massacre in Orlando, Ryan summoned the post-9/11 language of former President George W. Bush to further distance himself from Trump—albeit without mentioning his name. "There's a really important distinction that every American needs to keep in mind," Ryan said.
This is a war with radical Islam. It's not a war with Islam. Muslims are our partners. The vast, vast majority of Muslims in this country and around the world are moderate. They're peaceful. They're tolerant. And so they're among our best allies, among our best resources in this fight against radical Islamic terrorism.
Ryan and other House GOP leaders criticized President Obama's handling of the war against ISIS, and they said they would be repackaging anti-terror bills the House passed last year to again send to the Senate. "Right now, the president doesn't have a plan to get the job done," Ryan said. Yet for all of his complaints about Obama, the speaker's bigger challenge seems, once again, to be Trump.
---
Related Video