The Judge Chuck Grassley Can't Ignore
The Iowa Republican is running for his seventh term in the Senate, but this time, he faces a tough challenger amid growing criticism for his handling of President Obama's Supreme Court nominee.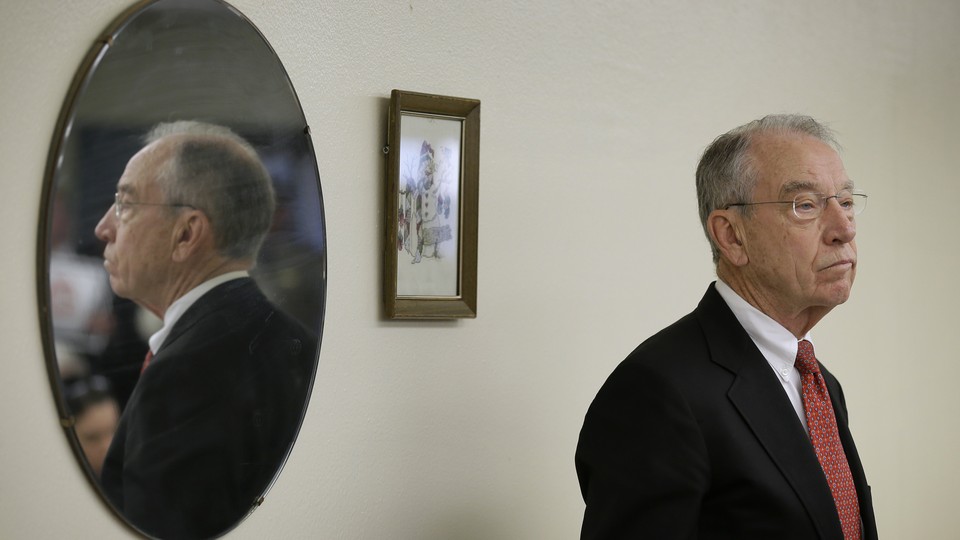 Senator Chuck Grassley, the six-term Republican from Iowa and chairman of the Senate Judiciary Committee, has never had much to fear. The 82-year-old has held elected office since 1959, and has never lost a bid for reelection. He's earned a reputation for being level-headed and fair, leading successful efforts to make government spending more transparent and becoming a trusted ally of Iowa's small farmers and the state's wind energy industry.
But in the past few months, Grassley has become the man who holds the fate of President Obama's Supreme Court nominee in his hands. And now, amid building criticism, Grassley has an official challenger in the state's Senate race: Iowa Democrat Patty Judge.
Judge won more than 47 percent of the vote and overcame three Democratic rivals in Tuesday's Iowa primary, securing her spot as Grassley's general election opponent. Judge, the state's former lieutenant governor and secretary of agriculture, launched her campaign on March 4, largely in response to Grassley's refusal to consider Obama's Supreme Court nominee Merrick Garland. "I am fed up with Chuck Grassley's excuses for not doing his job," Judge said in her victory speech at her campaign headquarters in Des Moines' East Village neighborhood Tuesday night. "There is no excuse for not holding those hearings. None. We know what this is about. It is about partisan politics and nothing more...It's about his belief that Donald Trump should pick the next Supreme Court justice."
Grassley pledged in February that he would grant Garland a hearing after the next president is elected, in an effort to "defer to the American people." Republicans in the state generally stood by this assessment, and his statewide approval rating dropped only slightly. But Judge, along with moderates and Democrats, criticized the move as being inconsistent with his reputation as a hard-working and fair-minded politician. The criticism had to have been hard for Grassley to hear—after all, he's served nearly 60 years in elected office and never earned less than 65 percent of the vote in any of his reelection bids, a fact used to tout his bipartisan appeal.
On Wednesday, The Des Moines Register slammed the senator in an editorial, pointing out that 10 percent of U.S. district court judgeships are vacant, the highest rate out of the past three presidencies, and that it's Grassley's job to start filling them. The board was also alarmed that Grassley wasn't more fazed by Donald Trump's comments questioning federal Judge Gonzalo Curiel's competency.
Just a few weeks ago, Grassley expressed confidence that Trump would nominate the 'right type of people' to the U.S. Supreme Court. And this week, Grassley didn't seem at all perturbed by Trump's remarks about Judge Curiel, which have been widely denounced and described even by House Speaker Paul Ryan as the "textbook definition of a racist comment."

The best Grassley could muster was this: 'I would not say what Trump said.'

As Edmund Burke said, the only thing necessary for the triumph of evil is for good men to do nothing. And when it comes to Donald Trump, there are invertebrates that have shown more spine than Sen. Charles Grassley.
Grassley has faced criticism before and still managed to come out on top, but this time might be different. Last month, the Register wrote that the senator's reputation is "badly damaged—perhaps irretrievably so," and maybe they're right.
Grassley's elections have always been about Grassley, and the senator still remains relatively popular. But this time, the election isn't just about him; it's about Merrick Garland, Donald Trump, and the future of the United States Supreme Court.