What Will Happen to the Orlando Victims Who Are in the U.S. Illegally?
Organizations are working to provide visa assistance to some of those affected by the attack on June 12.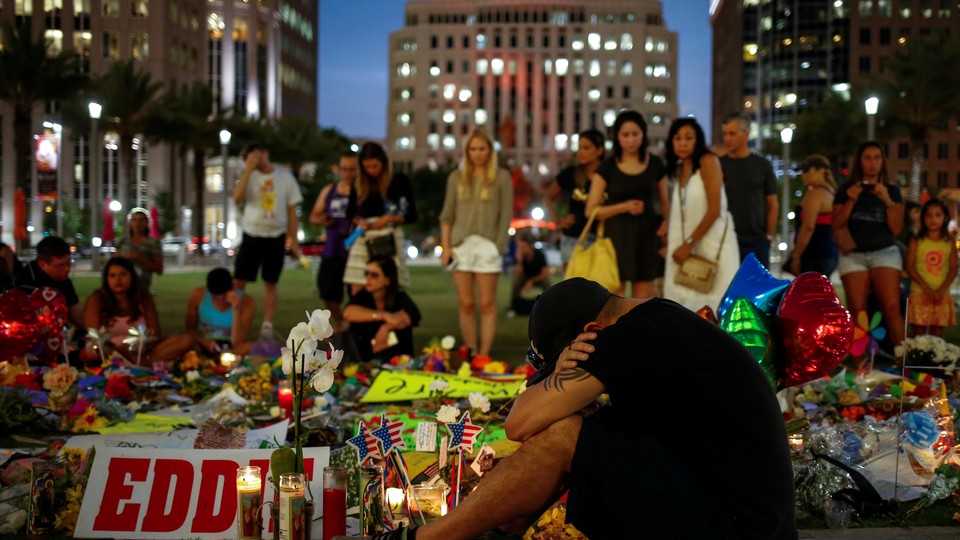 Organizations in Orlando are working together to provide free legal services to victims of the June 12 attacks and their families, particularly those who require visa assistance. Immigration status has been a challenge for many people who were present or injured in the shooting rampage at a gay night club that killed 49 people.
A large share of those killed in the attack were Latinos. According to media reports, some victims at the Pulse nightclub were undocumented. "It causes lots of sadness because if you're undocumented and you die in this country, you don't have the same rights as we do back home," a brother of one of the victims killed in the attack told NPR. "But lately," he said, "this country has supported us a lot."
Legal groups are assisting these families with issues related to immigration status and efforts to get visas for people overseas who need to come to the United States to be with or bury their family members. The Orange County Bar Association coordinated with groups to launch a hotline for this purpose. Since the organization opened the service last Tuesday, about 300 attorneys have signed up to provide free legal services. At least 18 legal organizations have joined the effort thus far. The Bar Association fields calls or in-person inquiries from people searching for legal assistance and directs them to an attorney who specializes in that particular area and may be able to help them.
The Hispanic Bar Association of Central Florida is among the organizations collaborating with the Orange County Bar Association—42 of the lawyers providing pro-bono legal services are  members. "We're coordinating our volunteers from within our own organization and handing them over to the Orange County Bar Association," said Henry Lim, the president of the Hispanic Bar Association. "They have an infrastructure in place to make sure that attorneys are doing what they've agreed to do."
So far, representatives from local organizations met with more than 350 victims and family members, according to Peggy Storch, the communications manager for the Orange County Bar Association. As of Thursday, they've made roughly 120 referrals. Storch told me she expects that number to increase over time. Many people were seeking assistance regarding immigration—which is among the top areas of concern for victims and families, Storch said. In some cases, visas have to be expedited for relatives overseas to come to the United States or renewed for those already in the United States who need to travel abroad for reasons related to the attack and be guaranteed return, Lim told me. So far, he and others have worked with people from Honduras, El Salvador, Venezuela, and Mexico.
Concerns about immigration status add another level of uncertainty for those affected by the attack. U Visas are designed to provide special status to victims of a crime "who have suffered substantial mental or physical abuse" and are willing to assist authorities in an investigation, according to U.S. Citizenship and Immigration Services. Law-enforcement officials need to certify that an individual has cooperated in the investigation in order to proceed in the application process, which can take years. Many of the immigration inquiries are about U Visas, according to Lim. The Hispanic Bar Association, along with others, is working in collaboration with the FBI in the hope of expediting the certification process, he said.
But there are obstacles. The United States only approves a maximum of 10,000 U Visas per year, creating a long line for eligibility. Some people affected by the shooting might not be familiar with U Visas or afraid to come forward because of their immigration status. "You don't have to have a physical wound to be eligible for a U Visa and that's an obstacle we have," Lim said. Zoe Colon, the director of Florida and Southeast Operations at the Hispanic Federation, expressed similar concerns in an NBC report last week: "Lots of work needs to be done that has to be seen through the Hispanic lens," she said. "We need people to understand the challenges of the Latino community, how comfortable they are (or not) talking to authorities and members of government."
The hotline for victims and families will be open indefinitely. It's reminder that the implications of the attack in Orlando will continue to be felt in the community, likely for a long time.