The Politics of Mass Murder
After Sunday's shooting in an Orlando gay club, some politicians and advocates have emphasized homophobia and gun control, while others have focused on Islamic extremism.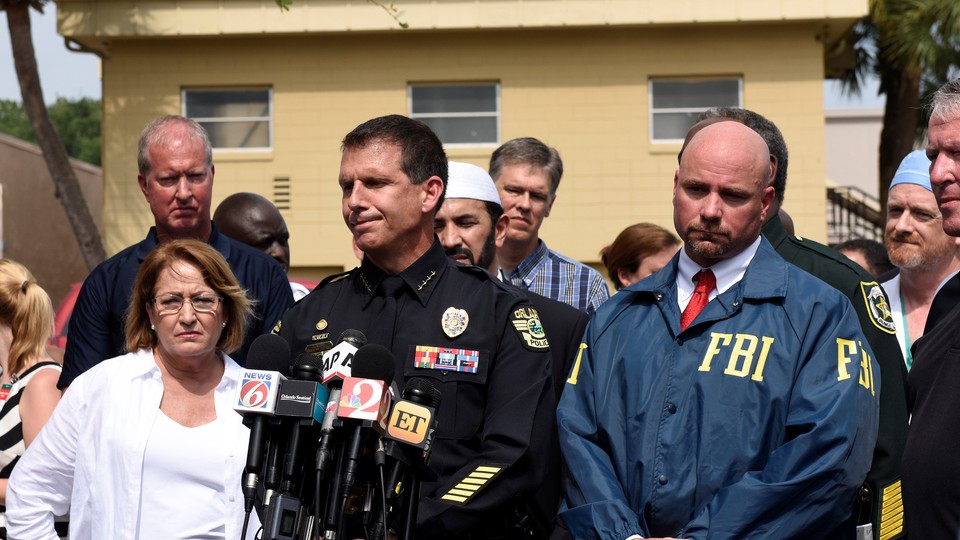 At first, the reactions were only subtly different: expressions of horror and sadness, thoughts, and prayers. But in the hours after Omar Siddiqui Mateen opened fire at a gay club in Orlando, Florida, on Sunday, killing 50 and injuring 53 others, different political interpretations began to emerge. Politicians, advocates, and religious leaders were united in rejecting the violence. But faced with untangling the many layers of the attack—that it happened at a gay bar on its Latin dance night; that the killer had allegedly made a pledge to ISIS; that the he used an assault rifle, and chose to execute his attack during the month of both gay-pride celebrations and Ramadan—political leaders stood apart, seemingly poised for the policy fights that are bound to come in the days and weeks to come.
Among Republicans and other conservative leaders, few specifically mentioned the fact the attacks happened at a gay club, nor did they express solidarity with the gay community. Some, like Marco Rubio, addressed the issue, but in hedged language: "He targeted the gay community because of the views that exist in the radical Islamic community about the gay community," the Florida senator, a Catholic who has opposed public-accommodations protections for LGBT Americans, said on CNN. He did not mention the LGBT community in his official statement.  The Southern Baptist leader Russell Moore was more direct with his empathy: "Let's realize that, in this case, our gay and lesbian neighbors are likely quite scared. Who wouldn't be?" he wrote in an article for Time. "Demonstrate the sacrificial love of Jesus to them. We don't have to agree on the meaning of marriage and sexuality to love one another and to see the murderous sin of terrorism."
Many Republicans, including Rubio, spoke much more extensively about the threat of ISIS and Islamic terrorism. Donald Trump, the presumptive Republican presidential nominee, pegged the problem to immigration policies, noting on Twitter he asked for a ban on Muslim admissions and calling on President Obama to resign the presidency for not mentioning "radical Islam" during the president's statement on Sunday. U.S. House Speaker Paul Ryan condemned the attacks as an act of terror, emphasizing that America is "a nation at war with Islamic terrorists." And Monday's New York Post cover declares, "Islamic Terrorist Kills 50 … ISIS vs. U.S."
On the Democratic side, leaders were much more eager to show their solidarity with the LGBT community. Obama noted that "the shooter targeted a nightclub where people came together to be with friends, to dance, and to sing, and to live," and Vice President Biden said "the violence is not normal, and the targeting of our lesbian, gay, bisexual, and transgender Americans is evil and abhorrent." Hillary Clinton addressed the LGBT community directly: "Please know that you have millions of allies across our country. I am one of them." Leaders of left-leaning organizations including the National Center for Transgender Equality, the NAACP, the National Council of La Raza, and Muslim Advocates gathered outside of the Human Rights Campaign building in Washington, D.C., to decry the violence. Like Obama, Clinton, and other Democratic politicians, though, they also emphasized a policy issue: gun control.
"Let's not forget that what made this hate so deadly—is that it's still far too easy for dangerous people to get their hands on guns in our country," said Chad Griffin, the president of HRC. Like a mirror to the Post's cover, the headline of the New York Daily News was "Thanks, NRA."
People seemed to feel a sense of helplessness in the face of evil. It's not yet clear why Mateen committed the attacks, though initial evidence suggests the answer is complicated: the pledge to ISIS suggests the crimes were motivated by faith, yet Mateen's father said homophobia, not religion, was the more likely cause. Gun control, immigration policies, and the war on ISIS are accessible policy proposals—they represent an instinct to explain and solve violence that defies logic.
And yet, the more difficult problems are ones of ideology and culture. On Twitter, The New York Times' Rukmini Callimachi discussed the way ISIS has encouraged "lone wolf" attacks, providing templates for hostage-taking and martyrdom. It's a decentralized call to violence—anyone with social-media access can follow the group's writings and decide to take up the cause themselves.
And many American conservatives have widely condemned these murders, but some have also been at the forefront of rhetoric against same-sex marriage and bathroom restrictions. Mara Keisling, the head of the National Center for Transgender Equality, said in an interview that this kind of rhetoric creates a culture of fear.
She pointed to a April tweet from Anita Staver, the head of the conservative legal-advocacy organization Liberty Counsel, who said she would bring a "Glock .45 to the ladies room" because of the transgender-bathrooms issue in North Carolina. "We're creating a super-heated environment here," Keisling said. "People are calling us predators. It is not surprising that some unstable people are going to think something of that."
Griffin, the head of the HRC, argued it this way in his statement on Sunday:
Let's get one thing clear. And this is what disgusts me most about this whole tragedy. The maniac who did this was somehow conditioned to believe that LGBT people deserve to be massacred. And he wasn't just hearing these messages from ISIL. He was hearing it from politicians and radical anti­-LGBT extremists here in our own country. Every time we see legislation that puts a target on the back of LGBT people; every time a preacher spews hate from the pulpit; every time a county clerk says that acknowledging our relationships violates her "religious beliefs"—it sends a signal that LGBT people should be treated differently, and worse.
"No one is born hating," he added in an interview. "One is taught to hate."
Everyday aspects of culture are the most difficult to change. That is particularly true of these attacks, because they touch so many different communities. The scale of violence against Orlando's LGBT community is an outlier, but not uncommon; sexual orientation is the second-largest motivator of hate crimes in the United States. Brenda Abdelall, a program director at the legal-advocacy organization Muslim Advocates, said she expects possible retaliation against the Muslim community as a result of the Orlando attacks. "Unfortunately, it is also the month of Ramadan, and historically, there has always been a spike in hate crimes during the month of Ramadan," she said. And as Janet Murgia, the president and CEO of the National Council of La Raza, said during the HRC press conference on Sunday, the violence affected Latinos as well: The LGBT and Latino "communities came together last evening at the club's weekly Latin night," she said. "But that night of celebration and of unity was shattered."
Sunday was only the first day after the attacks—mostly a time for grieving and pause. Calls for gun control and action against ISIS will likely get louder in the coming days. They represent a country's attempt to fix a layered set of cultural and policy failures in the face of almost certain conflict ahead.