President Obama Endorses Charlie Crist in a Florida House Race
The former Florida governor "has always put people above politics," the president said Monday.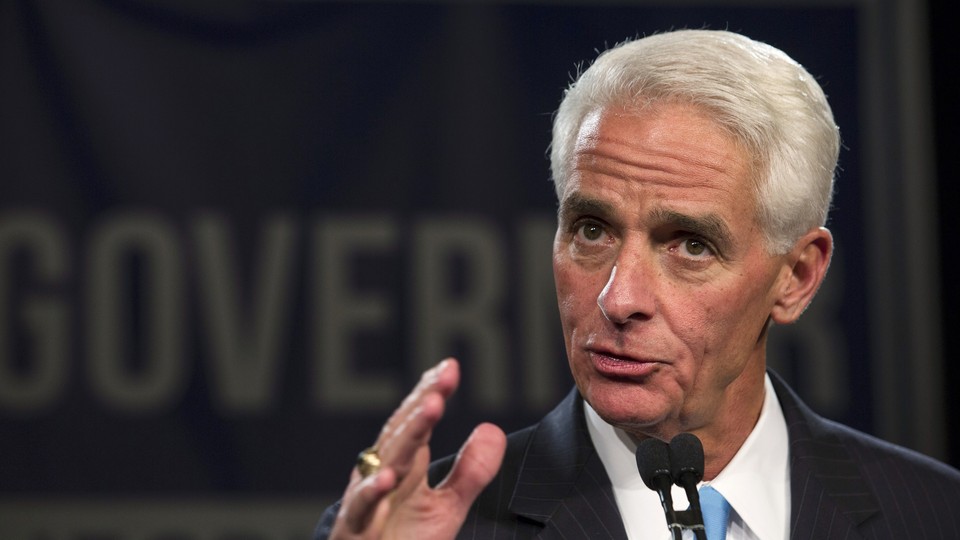 President Obama is all in for former Florida Governor Charlie Crist, the ex-Republican running for Congress in the 13th Congressional District.
"Governor Charlie Crist has always put people above politics—and we need more of that in Washington," Obama said in a statement endorsing Crist, which was posted on the governor's campaign website. "As governor, in the face of partisan attacks, he had the courage to save jobs and lead his state into economic recovery. He had the wisdom to recognize that climate change is real and act to fight it. And he had the decency to expand, not restrict, our right to vote. I know he'll bring the people's voice to Congress, and I've got his back."
Obama's statement that Crist places "people above politics" seems like a subtle nod to the governor's electoral history. He formerly served as Florida's Republican governor before running for Senate as a Republican in 2010. Mid-cycle, he switched his affiliation to Independent, and was defeated by Rubio in the general election. Two years later, he endorsed Obama for president and officially joined the Democratic Party. By 2013, he was running for governor again—as a Democrat—but lost the race.
Crist has no Democratic primary challengers and will likely face Representative David Jolly in the general election. Jolly recently dropped out of the Florida Senate race amid reports that Marco Rubio would try to keep his seat. Jolly could have a tougher time winning this year than he did in the 2014 midterms: Thanks to redistricting, the 13th Congressional District now leans Democratic.