Will North Carolina's Bathroom Bill Be Revised?
Lawmakers are meeting to consider changes to the controversial law, according to media reports.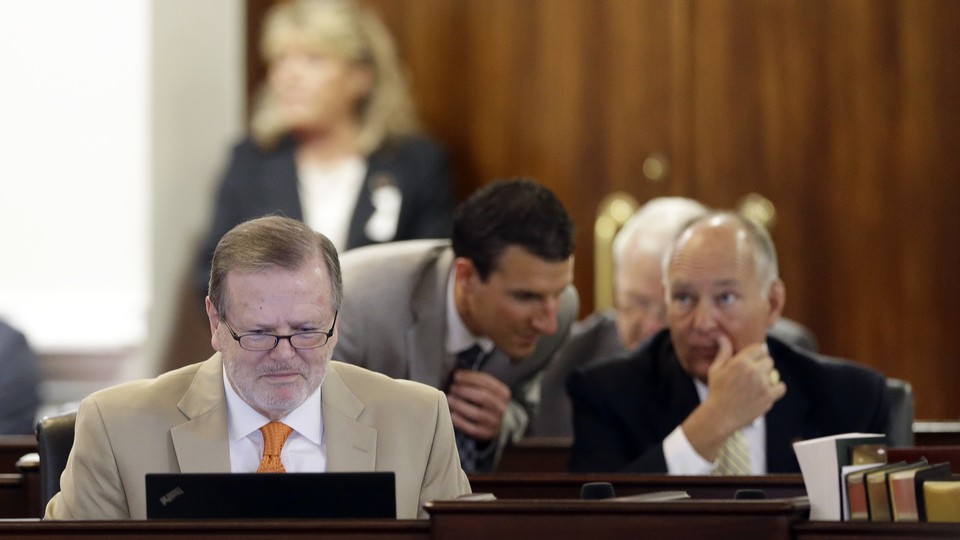 NEWS BRIEF North Carolina lawmakers are reportedly considering changes to the state's controversial bathroom bill, HB2, which bars transgender people from using the bathroom that corresponds to their gender identity as opposed to their sex at birth. The bill prompted a massive backlash—with celebrities and businesses threatening to pull their projects from the state. Such criticisms appear to have resonated, as lawmakers are now meeting to draft legislation that would remedy those concerns.
NBC reports:
The proposed "fix" now being circulated among Republican lawmakers would create an official document to recognize a person's gender reassignment—one that would act as an alternative for anyone who comes from a state that does not allow changes to birth certificates at all.

But LGBT advocates were quick to point out that a majority of transgender people don't actually undergo gender reassignment surgery, and would therefore still be barred from using government building bathrooms in North Carolina that match their gender identities.
As a result, some HB2 critics called the proposal "just another slap in the face to all North Carolinians," according to The Charlotte Observer. But it's not just LGBT advocates who are unhappy with the measure; the Observer adds that supporters of the so-called "bathroom bill" are upset about any possible revisions that might water the bill down. "We'd be opposed to any changes in the bill," said Tami Fitzgerald, the executive director of the N.C. Values Coalition. "We believe the people of North Carolina have already spoken through their elected representatives."
Perhaps unsurprisingly, the revision discussion coincides with threats from the NBA to move its 2017 All-Star Weekend out of Charlotte. NBA Commissioner Adam Silver said in April that if the law were not changed, the All-Star Game would have to be moved. The Observer reports:
While NBA Commissioner Adam Silver has said previously the restroom issue is not of as much concern to him as the LGBT rights issues, [a] source familiar with the NBA's thinking said the league would need an assurance that transgender individuals would have access to the restroom of their gender identity at any venue the All-Star Weekend uses.

In addition to Time Warner Cable Arena, there would be All-Star activities at two other public facilities that must follow HB2: the Charlotte Convention Center and possibly Bojangles' Arena. Also, hotels housing All-Star attendees would have to abide by the NBA's long-standing policy.
The White House issued guidance earlier this year requiring public schools to allow transgender people to use the restroom that they identify with, and shortly afterwards the Justice Department sued North Carolina over the HB2 bill. Meanwhile, transgender bathroom use has been an ongoing source of contention in many other parts of the country as well, and voters in some states appear to be split on the issue.