The Cost of Closing the 'Mississippi Burning' Murder Case
The state's attorney general will officially stop investigating the gruesome 1964 deaths of three civil-rights volunteers.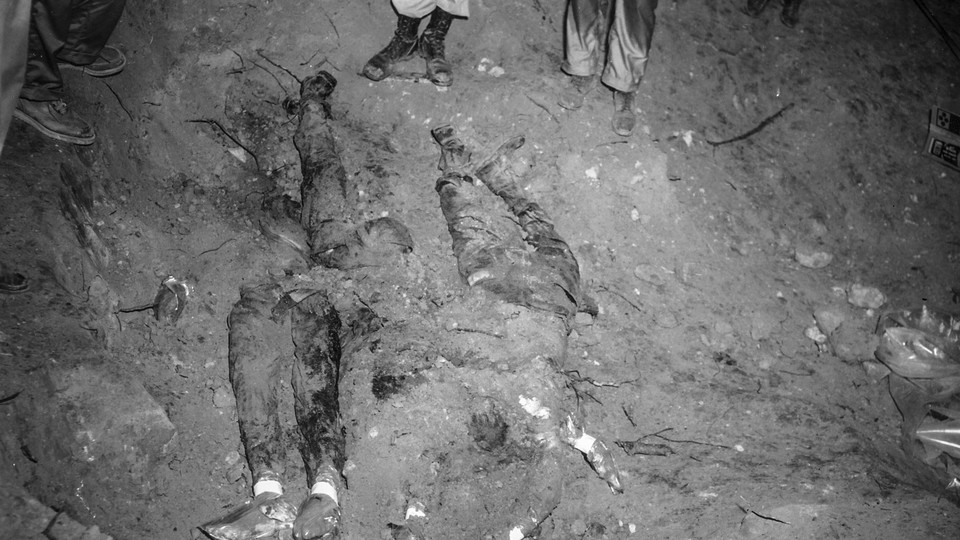 On June 21, 1964, three young men volunteering to register African American voters during Freedom Summer were murdered by members of the Ku Klux Klan and police after they began investigating the burning of a local church. Over half a century later, one day before the 52nd anniversary of the deadly attack on James Chaney, Andrew Goodman, and Michael Schwerner, the Mississippi attorney general declared the case officially closed.
David Goodman, whose older brother was found buried in a ditch with his friends, and Clarence Jones, a civil-rights leader who was Martin Luther King Jr.'s personal lawyer, responded to the news with anguish. "This case will never be closed until it heals the wounds that have divided our country," Goodman told me. "You can't move past a wound while it's open, even if you cover it up with a bandage."
Although he would not share the details of their conversation, Goodman said Mississippi's attorney general, Jim Hood, called him a week before the announcement was made. "When I heard about the FBI closing the case, I was not really surprised," he said. He and his relatives have advocated deeper investigations into this and countless other acts of violence committed during the 1960s, including testifying before Congress leading up to the passing of the Emmett Till Unsolved Civil Rights Crime Act. The measure directed the Justice Department to work jointly with state authorities to revisit unsolved murder cases from that era. It's set to expire at the end of fiscal year 2017, although in April, reauthorization bills were introduced in the U.S. House and Senate with bipartisan support.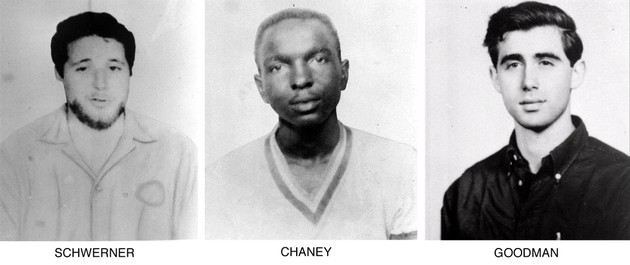 "The case was about Americans murdering Americans because they want to be Americans," Goodman said. He sees the majority of white Americans who lived through the 1960s as complicit in the killings—they're guilty of perpetuating hatred, he said. "Society does not want to try itself, so how do you close a case? It doesn't make sense in the greater scope of things," he said. "The whole country was explicitly and implicitly involved in this thing we call racism, which is really economic advantage and capitalism looking for cheap labor—and that has separated the haves and have nots."
This case, sometimes referred to as "Mississippi Burning" after a fictionalized account of the subsequent investigations, was an important catalyst for civil-rights activism in the '60s. "The books will never be closed on the legacy of those three men," said Jones. "Sometimes we use the word 'sacrifice,' but sacrifice implies a certain willingness. They didn't sacrifice their lives. Their lives were brutally taken from them." While Jones does not believe closing the case "will diminish the legacy of their monumental contribution and their acts of youthful heroism," he said Americans tend to have short memories about some of the more gruesome aspects of their history. The legacy of these young men "can never be diminished. It can be dimmed in our memory with the passage of time, but the magnitude cannot be diminished," he said.
"The Justice Department has investigated this case three times over 50 years and has helped convict nine individuals for their roles in this heinous crime," said Vanita Gupta, the head of the Justice Department's civil-rights division, in a statement about the closing of the case. A request for comment from the department was referred to the Mississippi attorney general's office, which did not respond to multiple requests for an interview.
Goodman and Jones see commonalities between the social upheaval of the '60s and today's violence by police officers and extremists. "The willingness of certain people to take on the mantle of violence, to be dominant in some capacity, or to exercise their fears through violence, is an old story, which is the same story as what propagated the murder of my brother, as it is in Orlando and Charlotte, North Carolina, and all the events in between," Goodman said. "This story belongs to America. This is not my story. This is not my family's story or the story of the families of Goodman, Schwerner, and Chaney. It's an American story," he said.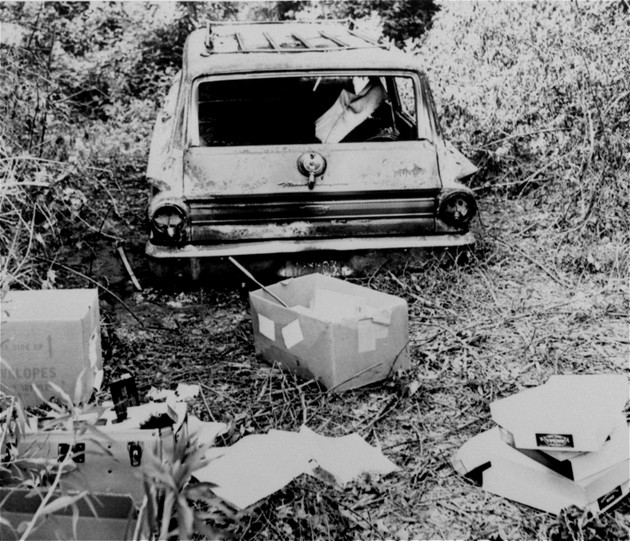 Jones and Hood both alluded to the bloody role Mississippi played in the slaying of blacks and their allies—as Hood said in a statement, "closing the case also closes a significant chapter in Mississippi's history." Jones said he hoped the state's history of investigation into race-based crimes has changed. "I'm assuming, on a best-case basis, that the state of Mississippi state attorney general's office has pursued evidentiary leads to the best of their abilities at this time," he said. "That wasn't always the case. But in 2016, I would have to believe that they have done that this time."
Among civil-rights activists and American blacks, the state is notorious for its past racism and police violence. Jones agreed that "Mississippi is not being Mississippi again merely by closing the case." But he noted that the state has also recently pushed measures to suppress the black vote. And he does not believe the new generation of young activists in Mississippi and elsewhere is necessarily safe.
"Unless they have the shield and protection of the federal government, they run the risk that any racist act committed against them will not be vigorously prosecuted by state authorities," he said. Jones said Ferguson and other instances of police-involved killings "ought to trigger an independent jurisdiction of the federal government." "If states don't want the federal government involved, then don't have police killing people; they don't like the federal government, then don't shoot any black men," he said.
But even the federal government isn't necessarily prepared to fully investigate such cases. Janis McDonald, a professor of law at Syracuse University and the co-director of the Cold Case Justice Initiative, which has unearthed hundreds of "suspicious cases of people killed by racists organizations, individuals, or by police" in the south during the civil-rights era, had a visceral reaction to the announcement. "I'm angry," she said. "I'm angry at the Justice Department, not just for this case but for all of the cases that they are supposedly doing thorough investigations under the Emmett Till Unsolved Civil Crimes Act. This doesn't have anybody's priority." She said her organization has given the FBI files in 196 cases of unsolved and un-investigated crimes in states such as Georgia, Mississippi, and Louisiana. They have another 150 files they are reticent to turn over because they have not seen any tangible results from the first batch of cases they submitted.
"They're just not doing the kind of full investigations that the act promised these families they would would," McDonald said. "In some of the cases, there is an arrogance by the Department of Justice in that they say these are their cases. In some of the cases that we've worked on, they say, 'Well, we don't know if there are former members of the Klan or sons of the Klan in the prosecutor's office, or people we can't trust.'"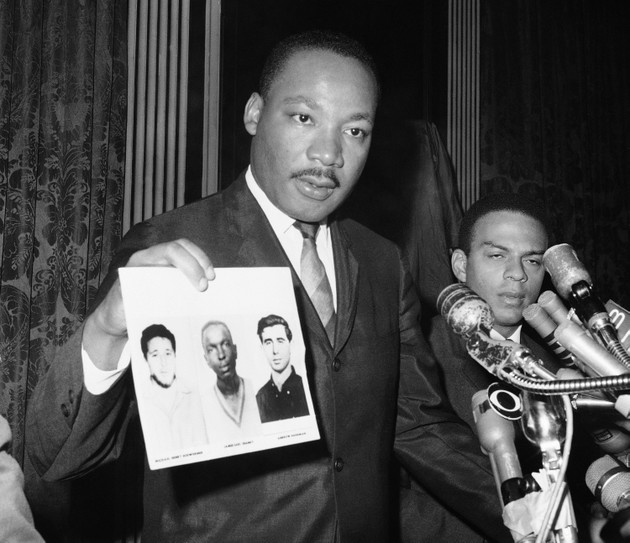 Despite verbal assurances from the FBI and the Justice Department, researchers, families, and activists in the states in question do not report seeing investigators or FBI personnel conducting interviews or searching black newspaper archives for possible cases, McDonald said. "What they have done since the act passed in  2007 is close cases [and] see if people have died. And they don't go to the extent of finding the conspirators or the people who might have ordered these acts," she said. She is convinced that authorities "just want these cases to end, to go away, to move to a new era."
Since their murders, Andrew Goodman, James Chaney, and Michael Schwerner have become legends. But David Goodman is skeptical of the narrative that is sometimes used to explain their deaths. "I don't view my brother as an activist. I view him as an American who wanted to close the gap between our great ideals—that 'all people are created equal'—and our everyday practices, which are quite the opposite," he said.
"There is an inevitable risk that people will look at this as, 'Case closed, let's move on,'" Jones said. "The case can be closed, but there has to be a very public commitment to protect and continue the work that those young men sought to do."