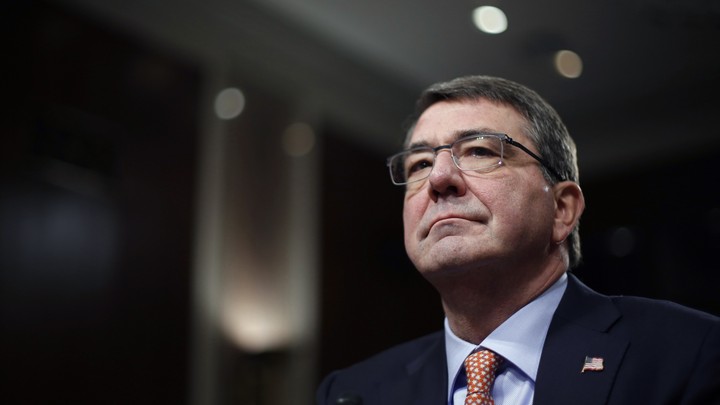 NEWS BRIEF Pentagon officials may soon announce an end to the military's longtime ban on transgender Americans, multiple news outlets are reporting. Officials are expected to formally lift the ban in July, though the exact date is still unclear.
Citing an anonymous Defense Department official, USA Today reports that each branch of the military will have one year "to implement new policies affecting recruiting, housing and uniforms for transgender troops." That paper cites July 1 as the target announcement date, but Washington Post sources at the Pentagon weren't so precise.
A working group had been assessing a policy switch for months. But disagreement within the Department of Defense led to officials missing their deadline in early 2016, The Washington Post reported last month. "We do things in a careful, thoughtful manner, and I'm confident we're going to get to the right place," Defense Secretary Ashton Carter said in May.
The prohibition has had serious implications for transgender men and women, thousands of whom are already serving in the armed forces. As New York magazine reported back in 2014:
Thanks to an outdated web of military regulations, transgender service members who come out are processed for separation, either medical (the military still considers transgender identity a form of sexual deviance) or for violating a conduct regulation (forbidding cross-dressing or taking medication not prescribed by a military doctor), often with a less than honorable discharge that makes it difficult for them to access veterans' benefits.
The Pentagon had been tight-lipped about what aspects of the policy change were holding them up. But the Air Force Times had some suspicions:
The Pentagon may also have to sort out other, military-specific questions, such as when transgender troops begin adhering to a new dress code and grooming standards, how their fitness standards would change, and whether the military health care system would provide them with hormone replacement therapy or gender reassignment surgery.

Last July, Carter announced a plan to lift the prohibition on transgender troops. At the time, he said the current regulations "are outdated and are causing uncertainty that distracts commanders from our core missions."
In May, the Pentagon acting personnel chief Peter Levine anticipated it would take months for officials to wrap up their discussions, as "there are different views" among military officials. "We're going to work through that . . . and we're going to do it expeditiously so that we can do it in this administration," Levine said. "But it's important that we not only do it, but do it right."
We want to hear what you think about this article. Submit a letter to the editor or write to letters@theatlantic.com.