Marco Rubio's Change of Heart
The Florida senator announced he's running for reelection, reversing his previous decision not to stand.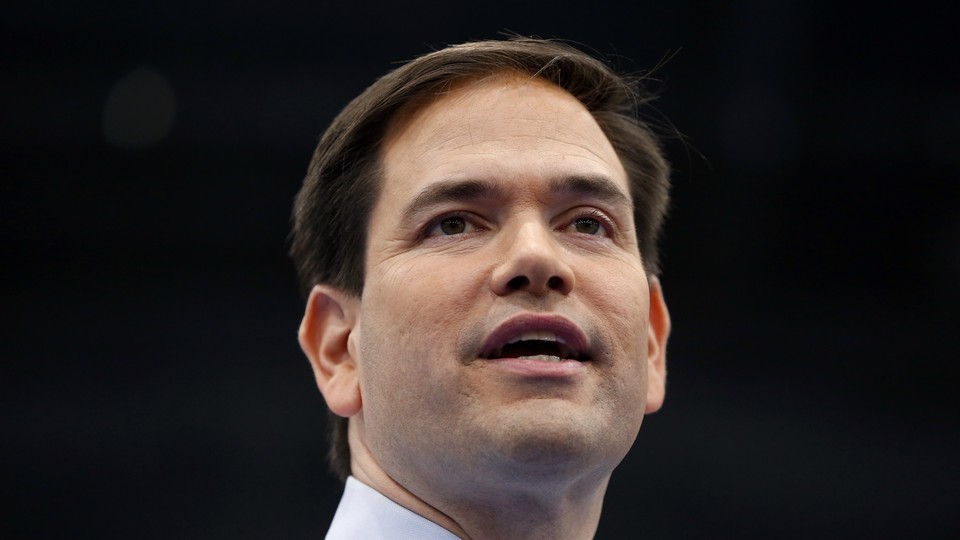 Updated on June 22 at 11:04 a.m. ET
Marco Rubio wasn't going to run for reelection.
The Florida senator and former Republican presidential candidate repeatedly said he had no intentions of pursuing another term in the chamber. But times have changed. After a shooting rampage at an Orlando nightclub on June 12 left 49 people dead, Rubio appeared to be reconsidering his decision. "Obviously, I take very seriously everything that's going on—not just Orlando, but in our country," Rubio told reporters last week. "I enjoy my service here a lot. So I'll go home later this week, and I'll have some time with my family, and then if there's been a change in status, I'll be sure to let everyone know."
On Wednesday morning, National Review reported that Rubio would indeed announce that he was running for reelection. Hours later, Rubio did, saying in a statement, "In politics, admitting you've changed your mind is not something most people like to do. But here it goes. I have decided to seek reelection to the United States Senate." He added:  "The stakes for our nation could not be higher."
It's a significant turn of events for Rubio, who had made his intentions not to run for reelection crystal clear. A month ago, he tweeted, "I have only said like 1,000 times I will be a private citizen in January." Instead, he intended to direct his efforts toward helping fellow conservatives with plans to run for his seat, like his friend Lieutenant Governor Carlos Lopez-Cantera. Despite his persistence, life as a private citizen never really seemed to be in the cards for Rubio. As my colleague Nora Kelly noted, "For one, he is a young man, and abandoning or halting a political career would be entirely counterproductive to his future—particularly if he wants to run for president again in 2020." And if 2020 is indeed in his sights, this campaign could come with added pressure.
Rubio lagged behind Donald Trump in the March presidential primary in Florida, where the real-estate mogul had vast support—a constituency that Rubio will likely have to court to hang on to his Senate seat. Donald Trump encouraged Rubio to run on Twitter last month: "Important to keep the MAJORITY. Run Marco!"
Rubio has been a sought-after figure by Republican leaders, who are also hoping to secure a Republican majority in Congress this November. They cite his name recognition and fundraising network as advantages, two key components for running a successful ticket in a large state like Florida. Republican voters in the state also appear to be on board. A Mason-Dixon poll found that 77 percent of Republicans in the state think Rubio should run for reelection. Support for Rubio also exceeds that of his top challengers for the Senate seat, Democratic Representative Patrick Murphy and Republican Carlos Beruff, both of whom have been leading in their primary fields. A Quinnipiac University Swing State poll released Wednesday found Rubio leading Murphy.
Rubio's decision to run for reelection, days before the June 24 filing deadline, has already disrupted the primary landscape on the right. Representative David Jolly, who was also in the running for Senate, exited the race on Friday. Lopez-Cantera has indicated he may do the same. Others, like Beruff, have shown no intention to make room for Rubio. Meanwhile, Democrats are already preparing to campaign against the popular incumbent. The Democratic Senatorial Campaign Committee released an online ad Friday signaling what Rubio might be in for, including clips of when he said he wouldn't seek another term and comments about his absences on the Hill when he was running for president. On Wednesday, the DSCC sent out a statement on the pending announcement:
During his first term, Marco Rubio has amassed the worst voting record of any Florida Senator in nearly 50 years. Senator Rubio simply couldn't be bothered to show up for work, and when he asked Florida voters for a promotion in the Presidential primary, they swiftly shut him down and handed him a nearly 20 point loss to Donald Trump. That's the same Donald Trump who Rubio called a "con artist" who couldn't be trusted with the nuclear codes who he has now heartily endorsed and will be forced to run alongside. Unfortunately for Florida voters, when Marco Rubio did decide to show up for work, he voted to turn Medicare into a voucher program, defund critical women's health services, and keep open a loophole that allows terrorists to purchase guns. Now, he is cravenly using the deadliest mass shooting in American history as the springboard to go back on his word and further his political career. They said it couldn't be done, but Marco Rubio's actions, words and votes reveal one of the more self-serving Washington politicians who has always put his political career above the people he represents.

If there is one thing that we can agree on with Marco Rubio, it's his promise that he will be a private citizen come January after he loses to Florida's next Senator, Patrick Murphy.
Rubio's campaign for the White House started with a message of sunny optimism, but turned combative as its decline accelerated. His Senate run is beginning with acrimonious attacks from rivals, even before it's been formally announced. That's going to be a challenge for Rubio, as he strives to convince voters to send him back to Washington to perform a job he'd said he didn't want anymore.