Has Marco Rubio Changed His Mind?
When asked if he would seek reelection, the Florida senator hedged. He has just two weeks to decide.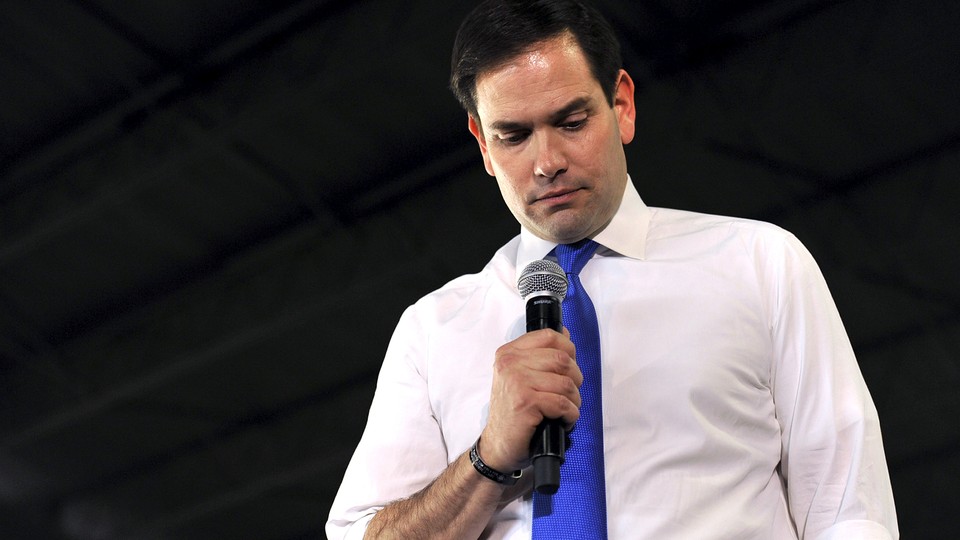 For weeks now, Marco Rubio has fended off appeals that he run again for the U.S. Senate. While he is legally permitted to mount a campaign since he dropped his presidential bid in March, the Florida senator has insisted he will return to private life once his term ends in January.
But in an interview Monday morning on the mass shooting in Orlando, Rubio was asked once more if he would reconsider. Whether in the haze of the attack's aftermath, or as a sign of his true intentions, the Florida senator suggested he would. "My family and I will be praying about all this, and we'll see what I need to do next with my life in regards to how I can best serve," he told conservative radio host Hugh Hewitt.
Rubio choosing to leave Washington has always seemed slightly impossible. For one, he is a young man, and abandoning or halting a political career would be entirely counterproductive to his future—particularly if he wants to run for president again in 2020. While Rubio's presidential campaign was not successful, neither were those of other promising candidates struck down in the Year of Trump. And then there are those in his party—his fellow senators, Hewitt—who will not take no for an answer.
Those supporters will likely be heartened by his response to Hewitt Monday, during a larger interview about the shooting. Rubio had been on the ground in Orlando since Sunday, and Hewitt's campaign-related questions were asked squarely within the context of the terror threat: Had Rubio changed his mind given the "horror" of the weekend—and given his own knowledge about terror-related issues? The senator clearly hedged when he could just as easily have said no. He claimed he had not yet thought about a campaign "in that perspective," but he had thought about the shooting's effect on his career: "I think when it visits your home state, and it impacts a community you know well, it really gives you pause to think a little bit about, you know, your service to your country and where you can be most useful to your country," Rubio said, with "it" seemingly referring to terrorism.
Rubio has shown signs of reconsidering a bid before, and the weekend's shooting could provide further inspiration, or justification, to mount a campaign. Rubio told Hewitt he did not want to link politics to the shooting, but the shooting's connection with politics is inextricable. Leaders have long used moments of crisis to prove their mettle on the state or national stage, and Rubio may be no different. He certainly has not shied away from giving interviews in the last day, providing analysis about the attack and showing support for his fellow Floridians. Rubio could say he sincerely tried to fulfill his pledge not to run, but the call to serve was too powerful—that he would be shirking his patriotic duty if he left Congress when the nation is in trouble.
One of the chief barriers to a campaign is that his friend, Florida Lieutenant Governor Carlos Lopez-Cantera, is running for his seat, an excuse Rubio cited in his interview with Hewitt. But Rubio said a few weeks ago, he would "maybe" run if Lopez-Cantera weren't in the race. Given their friendship, it's possible the two could make an arrangement. One Republican candidate vying for the seat—there are five—has said he would drop out if Rubio got in, and some outside groups are ready to financially back a Rubio bid.* As my colleague Russell Berman pointed out recently, Rubio has not been lying low:
[I]f Rubio is sincere about not wanting to keep his Senate seat, the timing of his public reemergence is a bit curious. He laid low for two months after ending his White House bid, but in the last two weeks he has been granting interviews and taken back control of his Twitter handle, responding to reporters, fans, and critics alike. Rubio the Robot is gone, having been replaced by a nimbler, feistier, and even snarkier politician. He's used the platform to mock speculation about his political future, explain his reluctant embrace of Trump's candidacy, and stand up to Trump when he has criticized fellow Republicans.
If Rubio is still thinking about a campaign, his response to Hewitt is a safe one. It writes a clear public-service angle into any bid, and it could encourage his supporters to lobby him even louder, creating an atmosphere where his run is inevitable. Meanwhile, Rubio and his staff have deniability until he makes a firm decision—that is, if he has not already made one. They won't have to contend with speculation for very much longer anyway: The filing deadline in Florida is June 24, less than two weeks away.
---
* This article originally stated that two Republicans running for Senate in Florida said they would drop out if Marco Rubio entered the race. We regret the error.