Will Minority Voters Sway the California Senate Race?
Kamala Harris and Loretta Sanchez have courted African Americans and Latinos in their pursuit of Barbara Boxer's seat.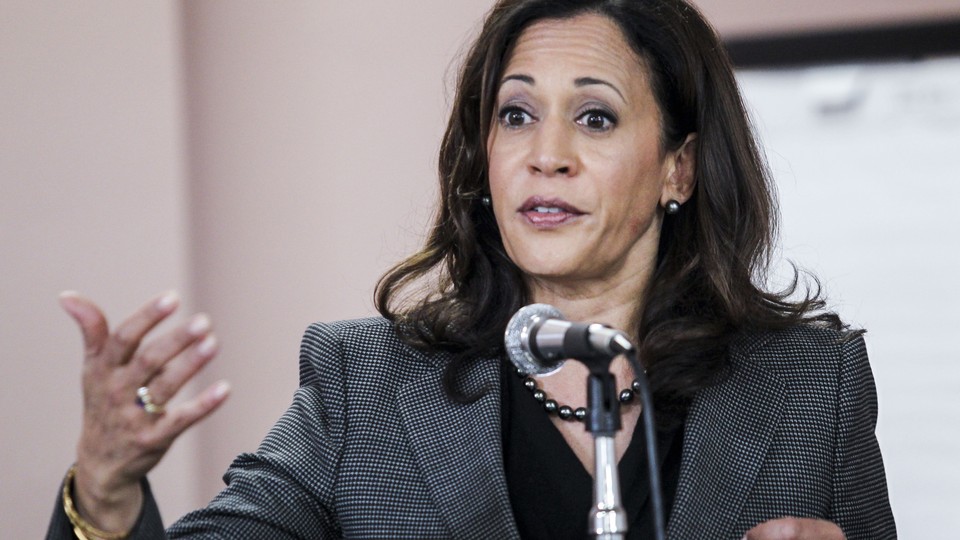 In California, Democrats Kamala Harris and Loretta Sanchez are seeking to replace retiring U.S. Senator Barbara Boxer, raising the possibility of a runoff in November and testing the influence of minority voters along the way. Last year, Boxer announced she wasn't going to run for reelection, opening up the Senate seat she's occupied since 1992 and setting off a hotly contested race to take it. Harris, the state's attorney general, and Sanchez, who's served in the U.S. House of Representatives for 10 terms, are leading a pack of Republicans also vying for the seat. Even though Harris and Sanchez are in the same party, both could continue to the November election. Since 2012, California's primary system has allowed the top two vote-getters to compete in the general, regardless of party affiliation.
Tuesday's primary will likely pave the way for a contest between two female, minority candidates in the fall. Sanchez and Harris are both the children of immigrants and have touted their roots on the campaign trail. Either woman would make history if she were elected in November: Harris as the first black woman to win a Senate seat since Carol Moseley Braun, and Sanchez as the first Latina elected to the chamber. Tuesday's race also provides a glimpse of a changing electorate as one of the largest Latino populations in the country heads to the polls.
Harris holds the lead going into California's primary on Tuesday. In 2011, she became the first woman, African American, and Asian American to be elected attorney general in the state. Since announcing her candidacy to fill Boxer's seat, Harris has raked in the support of party leaders. In late May, for example, California Governor Jerry Brown endorsed her. "She's strong. She's intelligent. She knows what she's doing," he said at the state Democratic Party headquarters. Brown's endorsement was significant—he only weighs in on a select few contests and has a strong approval rating. Harris's poll numbers also look favorable—28 percent of the state's registered voters support her, according to a May survey.
Sanchez trails Harris by eight points in the same poll. During her campaign, Sanchez has received the backing of more than a dozen of her fellow House members. She is also getting attention from an unlikely source: Republicans. They're backing the congresswoman for her moderate views, according to a Bloomberg report. "In the House, Sanchez has joined Republicans on some issues, including shielding gun manufactures from liability and curbing regulations on for-profit colleges. In a closely divided Senate, having a Democrat willing to side with Republicans could help the GOP," the article notes.
Latino voters might buoy Sanchez's campaign. California has the largest share of eligible Latino voters in the country—6.9 million, according to the Pew Research Center—and has seen a surge in Latino voter registration. Those voters will likely play an outsized role in the race, and many are expected to show up to the polls: Sixty-eight percent of the state's Latino registered voters said the chances that they'll vote in the primary election were "almost certain," according to a USC / Los Angeles Time survey. Among these voters, Sanchez has an advantage, with 43 percent backing her in the survey compared to Harris's 16 percent. Harris has received more support among black voters, though, with 52 percent compared to Sanchez's 19 percent.
Few Republicans in this race have been able to gain traction. Why? Some point to lack of consensus in the party. California is also a blue state, making it friendlier territory for Democrats than Republicans.
Above all, the way California shakes out will be telling about the possible influence of minority voters in the general election.