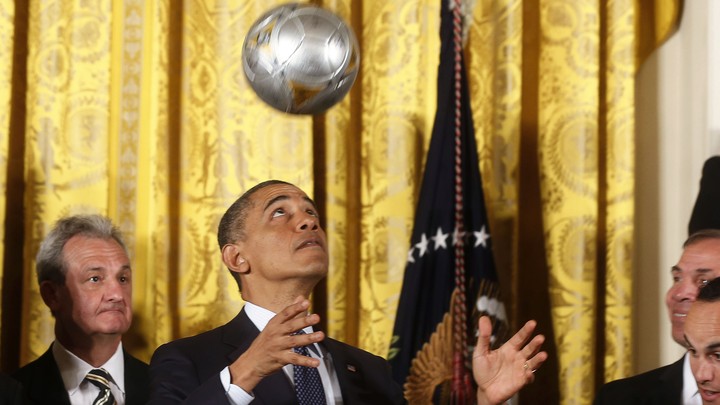 "We went big."
That's how White House press secretary Joshua Earnest explained how President Barack Obama had rebounded from a stinging defeat in the 2014 midterm election, to his present popularity. It was, he said on Sunday, a deliberate strategy crafted to ensure the "lame-duck label" wouldn't stick.
He ticked off a list of initiatives. Obama endorsed net neutrality, shortly after the election. He went to China, and announced a carbon deal. He unveiled a set of executive actions on immigration. He reopened diplomatic relations with Cuba.
Earnest credited White House Chief of Staff Denis McDonough for "seeing around a corner" in the weeks ahead of the election, and positioning the White House to respond. He made the remarks in an interview with The Atlantic's James Fallows at the Aspen Ideas Festival, which is co-hosted by the Aspen Institute and The Atlantic.
That aggressiveness, Earnest argued, had paid off, by demonstrating that "the president had the wherewithal and the energy and the authority" to accomplish things even at the end of his second term. Obama recently registered a 56 percent approval rating in a Washington Post poll, his highest level in that survey in five years.
It was, Earnest claimed, a dramatic example of a general approach to communications, which aims at connecting with working and middle-class Americans. Those efforts have often involved turning to emerging outlets and unconventional venues, prompting protests from traditional media outlets that the president is bypassing mainstream media organizations that might ask difficult questions in favor of friendlier, alternative outlets.
The irony, in Earnest's telling, is that the White House and the mainstream media are both battling the same sets of challenges. "They're trying to figure out how to reach people, how to connect, how to build a community," he said. That's precisely what had led Obama to be the first sitting president to go on late night television, or to grant an interview to the YouTube star GloZell Green, or to hike around Alaskan glaciers with the reality-television personality Bear Grylls, or to appear on "Between Two Ferns" with Zack Galifianakis. And sometimes, that approach succeeds. Earnest reminded the audience that "Between Two Ferns" shot ahead of all other websites after that appearance, to become the top referrer to Healthcare.gov.
For all of the proliferation of new media, though, it's not clear that the quality of political dialogue is improving. In fact, quite the opposite. "This is the real contradiction," Earnest said. "We do have the technological capacity to be more connected to people in our country….but yet somehow there seems  to be a greater disruption, and a greater disconnectedness in our country."
But if Obama hasn't quite succeeded in transforming the tone and tenor of American politics, as he promised to do in 2008, then neither is he abandoning the effort. When his term expires, Earnest said, Obama will take a long vacation. And then? "After a couple of years, he's going to write a really good book."
We want to hear what you think about this article. Submit a letter to the editor or write to letters@theatlantic.com.
Yoni Appelbaum
is a senior editor at
The Atlantic
, where he oversees the Ideas section.