Voters Are Divided Over Hillary Clinton and Donald Trump
The two presidential candidates are in a tight race, according to a national Quinnipiac University poll.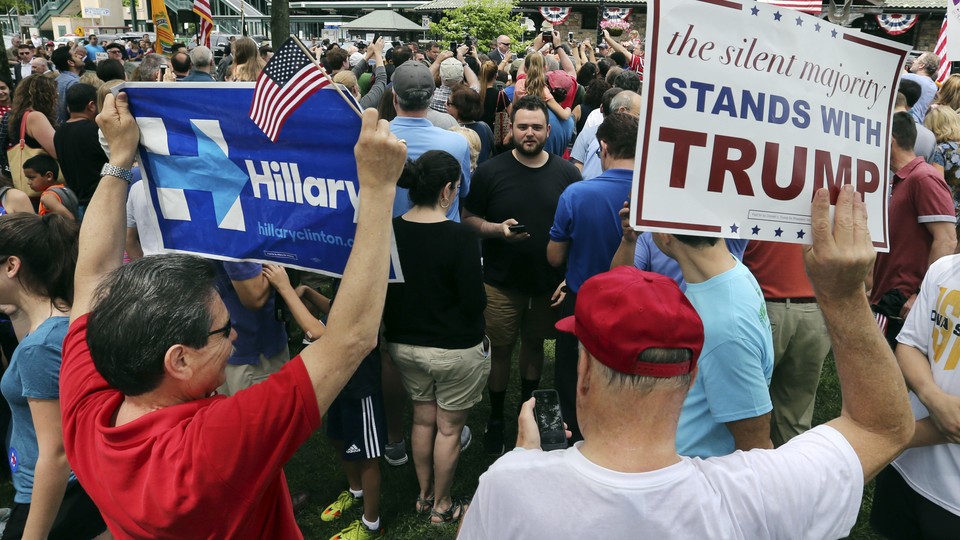 NEWS BRIEF Over the last few weeks, Hillary Clinton and Donald Trump have sharpened their attacks toward one another, delivering remarks on the economy, national security, and, of course, temperament. Still, ahead of the July conventions, American voters are almost equally divided on the presidential candidates, according to the most recent Quinnipiac University national poll.
The poll found that 42 percent of registered voters back Clinton, compared with Trump's 40 percent. It's a slight drop for the former secretary of state, who at the end of last month led Trump by four points. The newly released Quinnipiac poll surveyed 1,610 registered voters nationwide from June 21 to 27.
The results align with trends previously seen throughout the primary season: White voters tend to flock to Trump, while minority voters back Clinton. According to the poll, Trump raked in a large share of support among white voters, at 47 percent, while Clinton earned the support of 91 percent of black voters and 51 percent of Hispanic voters. Only 1 percent of black voters and 33 percent of Hispanic voters said they backed Trump.
Across the board, however, voters don't think either Clinton or Trump would be a particularly good commander-in-chief: 58 percent of voters say Trump will not be a good president, while 53 percent say the same about Clinton, according to the poll. Such underlying, deep-seated concerns should worry each candidate. For example, voters find Trump more trustworthy than his Democratic rival, but voters also believe Clinton has higher moral standards. And on issues like the economy and immigration, the findings coincide with previous polls: Trump finds more support on the economy compared with Clinton, but voters think she can better handle immigration.
Generally, voters are discontent with the Republican and Democratic presumptive nominees. A Washington Post/ABC poll last month found that Clinton and Trump were largely viewed unfavorably. According to the Post, "Never in the history of the Post-ABC poll have the two major party nominees been viewed as harshly as Clinton and Trump." The Quinnipiac poll also found that 61 percent of American voters think "the 2016 election has increased the level of hatred and prejudice in the U.S."
"It would be difficult to imagine a less flattering from-the-gut reaction to Donald Trump and Hillary Clinton," said Tim Malloy, the assistant director of the Quinnipiac University poll.
The results change slightly with the addition of third-party candidates. Clinton's support fades to 39 percent while Trump's spikes to 37 percent. Eight percent of voters support Libertarian Party candidate Gary Johnson and Green Party candidate Jill Stein receives 4 percent, according to the poll.