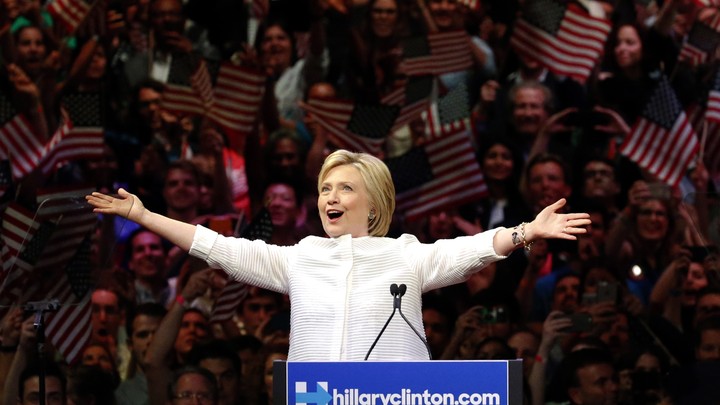 NEW YORK—Hillary Clinton's victory in the Democratic presidential primary may have been inevitable, but damned if she was going to let it be an afterthought.
Somehow, the former first lady, New York senator, and secretary of state had found herself overshadowed repeatedly in a race that, from the beginning, was hers to lose. The refuse-to-quit challenge from Senator Bernie Sanders and the can't-turn-away craziness of Donald Trump dominated the campaign, even as Clinton marched toward her historic milestone. On Monday night, the Associated Press declared the Democratic campaign over and anointed Clinton, a day earlier than expected, as the first woman ever to win the presidential nomination of a major party in the U.S.
After a long career that led into a long campaign, Tuesday night finally belonged to Clinton.
Her campaign's party at the Brooklyn Navy Yard came eight years to the day after she conceded the 2008 nomination to Barack Obama, and it seemed nearly that long in the making. Four giant American flags lined the walls, and staffers handed smaller flags to just about every one of the 4,000 supporters who packed into the warehouse. In emails to reporters, the campaign suggested Clinton would be speaking about the historic nature of her victory, sharing a slick three-minute video filled with the voices of women leaders from the last century. The crowd, fired-up from the start, needed no reminder. They began cheering hours before Clinton arrived on stage, as if expecting a grand pronouncement at any moment. In the minutes before the polls closed at 8 p.m. in New Jersey, the crowd began counting down the seconds like it was New Years Eve. When MSNBC said the race there was "too early to call," the air deflated. It was the only letdown of the night.
When Clinton finally took the stage after 10 p.m., she claimed her victory and immediately paid tribute to the women and the activists who had helped pave her path. "Tonight belongs to all of you," she said. And then she looked up to the scaffolded roof of the Duggal Greenhouse, where earlier this spring she and Sanders held their final debate. "It may be hard to see tonight, but we are standing underneath a glass ceiling right now," Clinton said, and the building roared again.
Beyond blazing history, Clinton had two other goals with her speech: to begin repairing the breach with Sanders's supporters and to frame her case against Trump. She praised her Democratic rival and said his "extraordinary" candidacy had been "very good for the Democratic Party and for America." As for his diehard fans, she appealed to them by citing her own experience in 2008, when she had put her all into a campaign and still "come up short."
"I know that feeling well," she said, as the crowd laughed.
Clinton went straight after Trump, calling the presumptive Republican nominee "temperamentally unfit to be president and commander-in-chief." His "Make America Great Again" slogan, she said, was code for "Let's Take America Backwards." She tried to cast the coming election as beyond the typical right-versus-left contest. "It really is about who we are as a nation," Clinton said. "It's about millions of Americans coming together to say, 'We are better than this. We won't let this happen in America.'"
The Hillary Clinton who spoke on Tuesday night was quieter than the candidate who spoke on so many other primary nights this spring. Perhaps she was more relaxed, having finally won the nomination. Perhaps she was trying out a new speaking style. Or perhaps she simply wanted to slow down a bit—to lower the volume in an election dominated by screaming voices and appreciate a moment in history that is hers alone.
We want to hear what you think about this article. Submit a letter to the editor or write to letters@theatlantic.com.
Russell Berman
is a staff writer at
The Atlantic
, where he covers politics.