Remembering George Voinovich, a Buckeye Statesman
The former governor of Ohio, U.S. senator, and mayor of Cleveland had died at 79.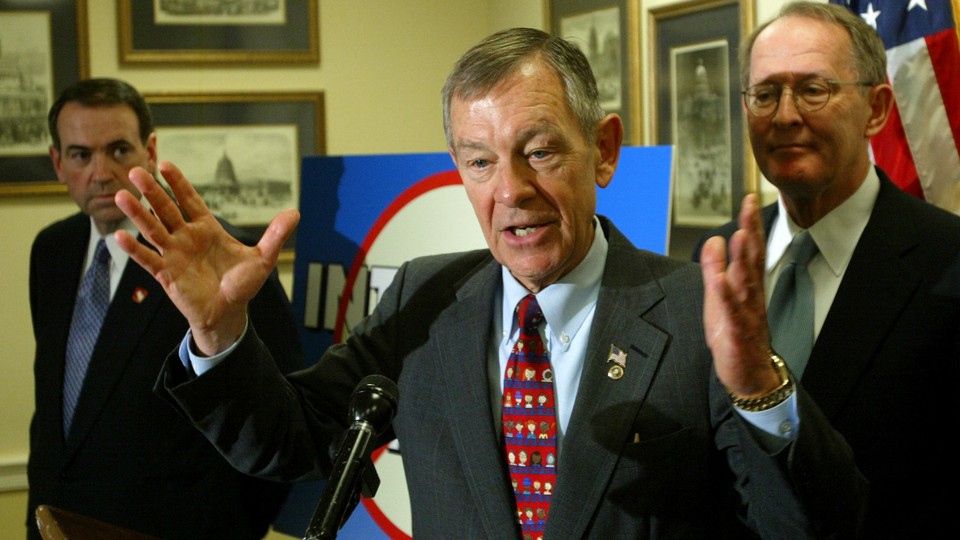 George Voinovich, who served as mayor of Cleveland, governor of Ohio, and a U.S. senator, has died at 79. A towering figure in late-20th century Buckeye State politics, the Republican died at home in his sleep, according to his son. Voinovich, who was well-liked by colleagues, was mourned by leaders including Governor John Kasich:
Ohio has lost a legendary leader. We are all better for George Voinovich's service. Join me in lifting up Janet & her family in prayer.

— John Kasich (@JohnKasich) June 12, 2016
Voinovich served in various capacities in state politics before running for mayor of Cleveland, his home city, in 1979. He faced incumbent Democrat Dennis Kucinich (later a U.S. representative and presidential candidate), who had been elected as the "boy mayor" but faced a turbulent time in office, buffeted by a hostile attempt to take over the city's power company but also by his own volatile personality. Voinovich easily won the election and brought a measure of stability to the Forest City. His term as mayor is seen as pivotal to the city's turnaround from Rust Belt butt of jokes to "Comeback City." Since he left office in 1989, no Republican has served as mayor of Cleveland.
On the strength of his performance as mayor, Voinovich was elected governor in 1990. Term-limited from seeking a third election as governor, he ran for U.S. Senate in 1998, and served two terms. He won all four races by wide margins. Voinovich opted to retire rather than run for re-election in 2010. He was replaced by Republican Rob Portman.
In the Senate, Voinovich was known as a major debt hawk. While he opposed Democratic spending, he could also rankle Republicans who wanted to cut taxes, arguing in 2003 against President George W. Bush's tax cuts on grounds of fiscal irresponsibility. He was also deeply interested in Balkan issues, a focus informed by his own background, with parents of Serbian and Slovenian extraction. He was also a devout Catholic. Obituaries recalled Voinovich as a wonky, adept administrator, delighting in the unglamorous but important work of managerial minutiae.
While a staunch fiscal conservative, Voinovich belonged to a Republican Party that for the most part no longer exists in Washington. He voted to repeal Don't Ask, Don't Tell, and favored modest gun-control measures. Late in his term, he was critical of obstruction efforts by Republican senators, and he blasted hardline House GOP members. "They're playing Russian roulette and all the chambers have a bullet." he said. "They're flamethrowers. 'We're going to get what we want or the country can go to hell.'"