Affirmative Action Survives at the Supreme Court
The U.S. Supreme Court turned back a conservative challenge to the University of Texas at Austin's plan to increase student diversity.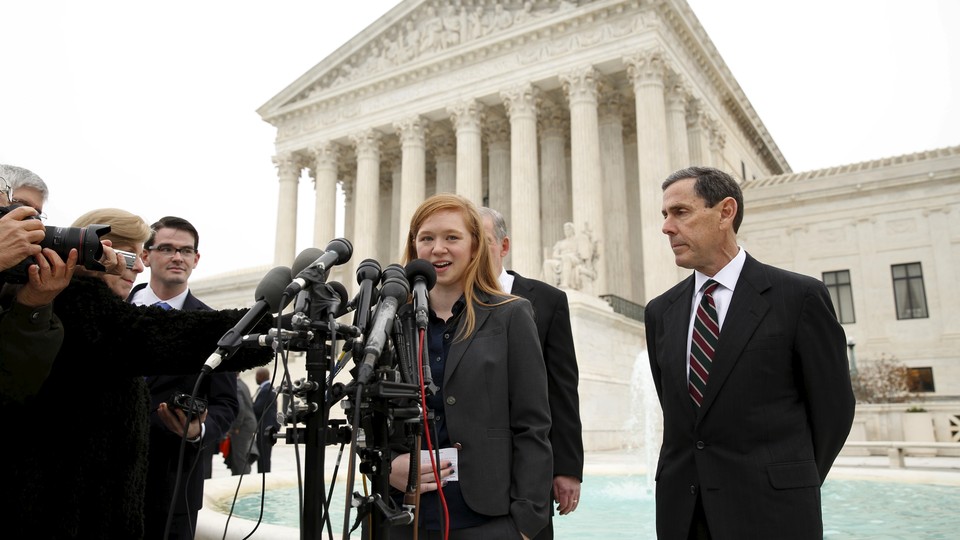 Updated at 2:16 p.m.
The U.S. Supreme Court upheld Thursday the University of Texas at Austin's plan to increase student diversity, defeating a conservative challenge that sought to imperil affirmative-action programs in higher education.
"Considerable deference is owed to a university in defining those intangible characteristics, like student body diversity, that are central to its identity and educational mission," Justice Anthony Kennedy wrote for a rare four-justice majority. "But still, it remains an enduring challenge to our Nation's education system to reconcile the pursuit of diversity with the constitutional promise of equal treatment and dignity."
In a 50-page dissent he partially read from the bench, Justice Samuel Alito argued the university had failed to provide enough evidence to support its plan.
"Even though UT has never provided any coherent explanation for its asserted need to discriminate on the basis of race, and even though UT's position relies on a series of unsupported and noxious racial assumptions, the majority concludes that UT has met its heavy burden," he wrote, joined by Chief Justice John Roberts and Justice Clarence Thomas. "This conclusion is remarkable—and remarkably wrong."
The case, Fisher v. University of Texas, began in 2008 when its namesake, Abigail Fisher, applied to the University of Texas at Austin. After the university denied her admission, she sued and argued that her race—Fisher is white—played a role, violating the Fourteenth Amendment's Equal Protection Clause. In the modern era, the Supreme Court has generally wielded that clause to quash racially discriminatory laws. The Court upheld affirmative-action programs in the 1970s.
The university developed its current program after the Court upheld a Michigan law school's "holistic" admissions policy, which used race as one factor among many to select applicants, in the 2003 case Grutter v. Bollinger. Most of UT Austin's incoming students are chosen through the Top Ten Percent Plan, which reserves 75 percent of available seats for students in the highest 10 percent of each student's high school class. The remaining 25 percent of incoming students are chosen through a complex process that involves weighing each student's academic performance and "personal achievement scores." One of the many subfactors of those scores is the applicant's race.
Fisher did not rank among the top 10 percent of her graduating high-school class and the university denied her application during its holistic review. Her case reached the Supreme Court for the first time in 2013. Instead of a landmark ruling on affirmative action, however, the Court ruled 7-1 to send the case back to the Fifth Circuit Court of Appeals to reassess UT Austin's program under strict scrutiny. The Fifth Circuit upheld the program once again in 2014, and last year Fisher asked the justices to reconsider it once more. They granted her request last fall.
Justice Antonin Scalia's death in February raised the specter of 4-4 deadlocks in a number of high-profile cases for the term, and led to tied decisions on public-employee unions and the Obama administration's immigration orders. But because Justice Elena Kagan had already recused herself—she filed an amicus brief on the case as solicitor general in 2012—Fisher couldn't be one of those deadlocked cases.
Under the Court's equal-protection jurisprudence, racial discrimination—no matter its intent—is subject to what the justices called "strict scrutiny," the most stringent level of judicial review. Generally speaking, a state must prove it has a vital interest in the specific goal, such as national security, and that the law or policy achieves that goal in the least obtrusive way possible.
In his dissent, Alito argued the university fell short of those requirements. He criticized the university's justifications as "shifting, unpersuasive, and, at times, less than candid." The Court's previous ruling in Fisher I demanded the highest possible level of judicial scrutiny for the admissions plan—a rigorous undertaking the majority failed to accomplish in Fisher II, he argued.
"Here, UT has failed to define its interest in using racial preferences with clarity," he wrote. "As a result, the narrow tailoring inquiry is impossible, and UT cannot satisfy strict scrutiny."
Alito pointed to the university's evolving language when describing its goals, which he characterized as "intentionally imprecise" and "designed to insulate UT's program from meaningful judicial review."
Kennedy agreed that a university's goals "cannot be elusory or amorphous—they must be sufficiently measurable to permit judicial scrutiny of the policies adopted to reach them." But the University of Texas met that threshold, he wrote:
The record reveals that in first setting forth its current admissions policy, the University articulated concrete and precise goals. On the first page of its 2004 "Proposal to Consider Race and Ethnicity in Admissions," the University identifies the educational values it seeks to realize through its admissions process: the destruction of stereotypes, the "promot[ion of] cross-racial understanding," the preparation of a student body "for an increasingly diverse workforce and society," and the "cultivat[ion of] a set of leaders with legitimacy in the eyes of the citizenry." Later in the proposal, the University explains that it strives to provide an "academic environment" that offers a "robust exchange of ideas, exposure to differing cultures, preparation for the challenges of an increasingly diverse workforce, and acquisition of competencies required of future leaders."
"All of these objectives, as a general matter, mirror the 'compelling interest' this Court has approved in its prior cases," Kennedy concluded.
Justices Ruth Bader Ginsburg, Stephen Breyer, and Sonia Sotomayor concurred with Kennedy's opinion without further comment. Thomas, who has long held that any use of race in university admissions violates the Equal Protection Clause, briefly reiterated that stance in a one-page dissent.
Thursday's ruling is unlikely to end the broader legal debate over affirmative-action programs in higher education. Writing for the Court, Kennedy suggested the university's plan could be open for further scrutiny in an undefined future.
"The Court's affirmance of the University's admissions policy today does not necessarily mean the University may rely on that same policy without refinement," he concluded. "It is the University's ongoing obligation to engage in constant deliberation and continued reflection regarding its admissions policies."