Why Elizabeth Warren Is Backing Hillary Clinton
The presumptive Democratic nominee bagged her second major endorsement of the day.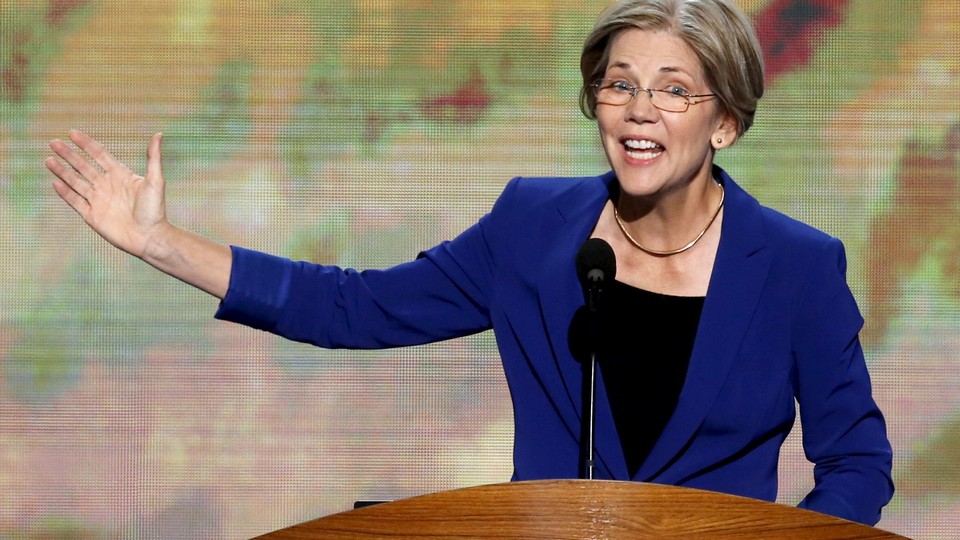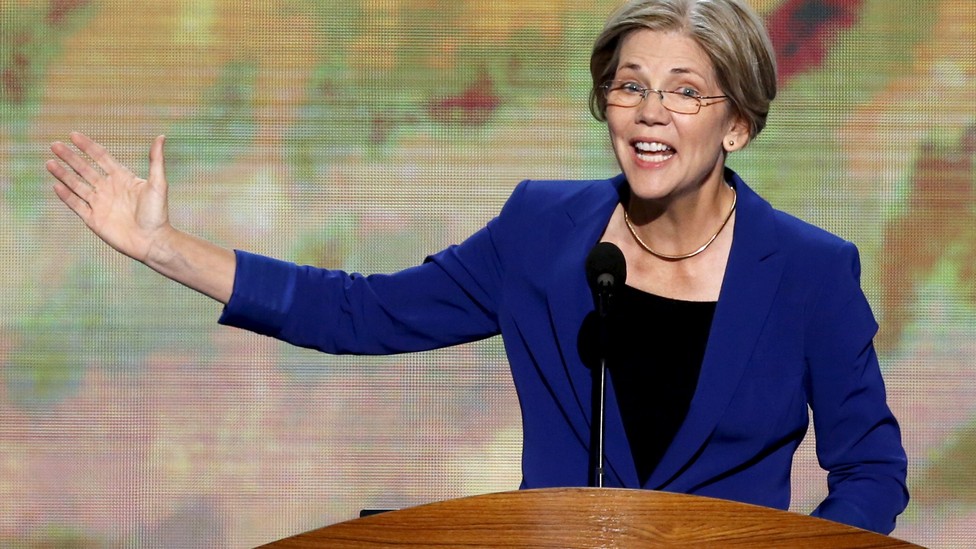 If you're entertaining joining a presidential ticket, you might as well endorse the candidate first.
Amid rumors she could be tapped for the vice presidency, Massachusetts Senator Elizabeth Warren formally endorsed Hillary Clinton Thursday night, after months of conspicuously withholding her support and just hours after President Obama offered his own.
"I am ready to get in this fight and work my heart out for Hillary Clinton," Warren said in an interview with MSNBC's Rachel Maddow, and "make sure that Donald Trump never gets anyplace close to the White House."
Warren's endorsement had been anticipated as the campaign of her progressive compatriot, Bernie Sanders, winds down. It's a loaded one: Warren has perhaps a singular capacity to unite the Sanders and Clinton crowds—except for Sanders himself. But whether she'll do so as a vice presidential candidate isn't likely to be revealed anytime soon.
Warren has consistently demurred when asked if she'd take the job, though she's reportedly thinking about it. In the past, she's given a flat-out no. And in the Maddow interview on Thursday night, she said she isn't currently being vetted, a process that can take weeks. But one comment she made is destined to fuel further speculation in the lead-up to the summer's nominating convention. Asked if she thinks she's prepared to be commander-in-chief if Clinton were incapacitated—a role former Pennsylvania governor and current convention host-committee Chair Ed Rendell said she couldn't take on—Warren responded in a succinct and forceful way: "Yes, I do."
Even a year ago, the idea of an all-female ticket would have been far-fetched, but with Trump as the presumptive Republican nominee, some Democrats are thinking they could get creative. Minority Leader Harry Reid is already plotting how to keep Warren's seat blue with a Republican governor in power in Massachusetts. And Clinton herself has had high praise for Warren. In an interview with Politico Thursday, Clinton called her an "incredible public servant" who is "eminently qualified for any role."
Whether she's on the ticket or not, Warren potentially brings legions of her left-wing devotees into Clinton's fold, by offering the former secretary of state credibility with the anti-Wall Street, anti-corporate-influence crowd that's still hanging onto Sanders's campaign. It's possible her support for Clinton could dilute her progressive bona fides. But perhaps her supporters can take comfort in the fact that Warren and the Clintons haven't always seen eye to eye. If she can accept Clinton, for all her faults, why can't they?
Warren's supporters are so devout, after all, that they tried to draft her for president just last year. The role they envisioned for her was eventually filled by Sanders: A candidate who could challenge Clinton from the left and push an economic-justice agenda. But Warren still had an influence in the primary by staying neutral. Until Thursday, she had been the only female Democratic senator not to endorse Clinton. Some speculated it was an entirely strategic move: In keeping mum, she did not damage her rep among Sanders supporters, and was able to signal "that Clinton must meaningfully and substantively go left on economic policy," as one University of Massachusetts political scientist wrote this past spring. Eventually, Warren would be in the position of party uniter, "tell[ing] the losing faction, 'It's OK to come home.'"
In Thursday night's interview, Warren said she held out, in part, so as not to tip the race in either candidate's direction. She applauded Sanders for running a campaign "from the heart" and for thrusting economic issues "into the spotlight." Warren told Maddow that Sanders, who serves as an Independent in the Senate, and his supporters have a home in the Democratic Party—and all must work together to keep the White House and Congress away from Republicans.
Warren's characteristic fieriness came through as she described her view of the election's stakes. She characterized Clinton as a resilient fighter who can take and throw a punch—and who's up against a "small, insecure bully" in the general election. Warren seems to relish going after Trump, as she has recently in appearances and on Twitter. In between pointed jabs about his disposition, she offered criticism that sounded a bit like that of her favored candidate. "Donald Trump is a genuine threat to this country," Warren said, including "a threat to who we are as a people."