Trump's Shockingly Specific Speech on Trade
Footnotes. Numbers. Detailed proposals. The Donald's economic address at an aluminum factory in Pennsylvania had it all.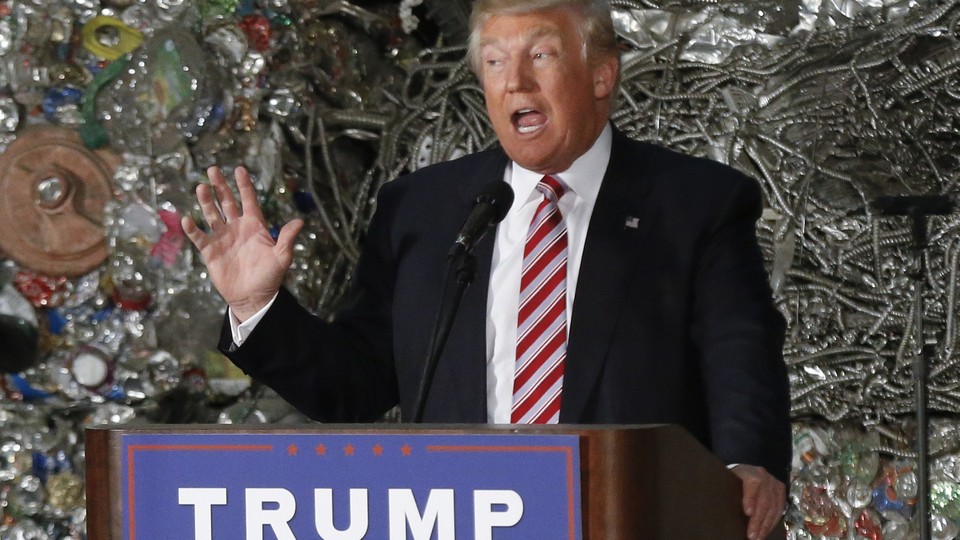 Donald Trump must have hired some researchers.
The famously off-the-cuff orator delivered a surprisingly specific speech on trade, making seven detailed policy pledges while predicting that Hillary Clinton, if elected, would tweak and then sign the enormous Pacific trade pact she now opposes as a candidate for president.
Trump's address to workers at a Pennsylvania aluminum factory continued his recent effort to lift both the tone and substance of his speeches. But it marked an even bigger departure in its sheer wonkiness. First, his campaign sent out the prepared remarks with 128 footnotes. And in delivering the speech from a teleprompter, Trump delved into such granular policy detail that he referenced specific sections of decades-old trade laws and vowed to invoke "Article 2205" of the North American Free Trade Agreement. Doing so, he said, would withdraw the U.S. from NAFTA if its trading partners don't agree to renegotiate the Clinton-era accord.
After a campaign shakeup and a week's worth of polls showing Trump falling far behind Clinton, the trade speech appeared to be the candidate's latest attempt to reassure Republican Party leaders, donors, and even voters that he has the depth of knowledge to become president. Just 48 hours ago, Senate Majority Leader Mitch McConnell refused to say in a television interview whether Trump was qualified to be president—a statement that followed an earlier musing by McConnell that Trump "doesn't know a lot about the issues." On Tuesday, Trump clearly wanted to demonstrate that he does—or at least that he listens to advisers who do. (Reporters noted that the campaign sent the prepared speech out on a Microsoft Word document titled "Jared," a possible reference to Trump's son in law, Jared Kushner, who is the publisher of the New York Observer.)
Yet if the tone and depth in Trump's speech offer comfort to Republican establishment figures, the actual policy is more likely to scare them back into hiding. This was a populist speech aimed squarely at the supporters of Bernie Sanders, representing a reversal of decades of GOP orthodoxy on the benefits of free trade. "This is not some natural disaster. It is politician-made disaster," Trump said as he detailed job losses that he blamed on trade agreements signed by presidents of both parties in the last 25 years. "It is the consequence of a leadership class that worships globalism over Americanism." His threat to slap tariffs on China drew an immediate rebuke from the U.S. Chamber of Commerce, the business lobbying group that has historically aligned with the GOP.
While Republicans backed NAFTA and voted to give Obama the authority to negotiate the Trans Pacific Partnership, Trump blamed both policies on the Clintons. "As Bernie Sanders said, Hillary Clinton 'Voted for virtually every trade agreement that has cost the workers of this country millions of jobs,'" Trump said, in his most direct appeal to disaffected liberals. "Trade reform, and the negotiation of great trade deals, is the quickest way to bring our jobs back back to our country."
Trump also made specific policy attacks on Clinton. The former secretary of state has come out against the final version of the TPP after championing the pending trade deal while in office, and Trump predicted she would shift her position on trade again once in office.
Here's how it would go: she would make a small token change, declare the TPP pact fixed, and ram it through. And you will suffer. That's why Hillary is now only saying she has problems with the TPP 'in its current form.'

If the media doesn't believe me, I have a challenge for you. Ask Hillary Clinton if she is willing to withdraw from the TPP her first day in office and unconditionally rule out its passage in any form.
With an eye toward Rust Belt voters in Ohio and Pennsylvania, that tactic could force Clinton into an awkward position, since Trump's forecast mirrors both the fears expressed by Sanders supporters and the hopes whispered privately by TPP advocates in the Obama administration, who want to see Congress ratify the agreement in a lame-duck session after the election.Trump couldn't resist one of his patented exaggerations, however, as he claimed that it was his position that "shamed" Clinton into opposing TPP when it was really the primary threat from Sanders that forced her hand. Clinton's initial response on Tuesday did not cite the TPP but instead sought to portray the businessman as a hypocrite who outsourced his own operations overseas.
For Trump, Tuesday's fiery, substantive economic speech was a no-brainer. Unlike foreign policy, his criticism of trade deals has been a source of relative consistency in his herky-jerky campaign, and it's one that has a lot of appeal with voters in the Midwest and Rust Belt states he needs to win. As for GOP leaders, he's betting they'll appreciate his more buttoned-up style while ignoring a populism they generally abhor.