Donald Trump Issues a Warning to Republicans
The party's presumptive nominee and the Republican National Committee are working together to avoid a revolt at the July convention, according to The New York Times.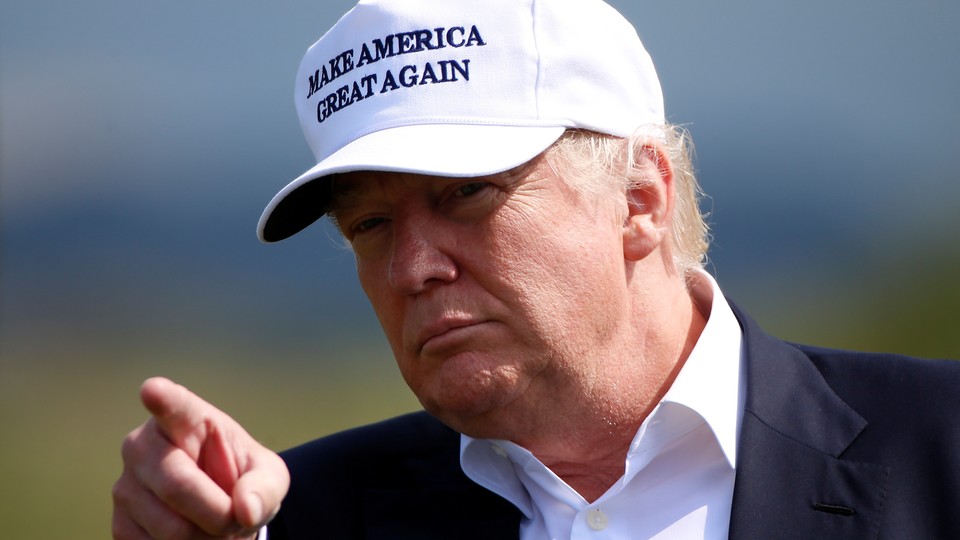 Only a few weeks ahead of the Republican National Convention, Donald Trump is preparing for what's likely to be a charged event, as some Republicans look to upend the gathering. How? The Republican National Committee and the Trump campaign are threatening to keep those who are not in favor of the party's nominee from taking speaking slots at the gathering, according to The New York Times.
It's the culmination of a heated primary season that began with 17 Republican presidential candidates and that, over time, narrowed, as Trump swept states across the nation. And right now, it's unclear if some of those who exited the race will be permitted to speak at the convention, given Trump's conditions. Take Senator Ted Cruz: He dropped out of the race in May, and he still has not endorsed Trump. But as the Times notes, however much Trump may want to bar the Texas senator, it may not be possible for him to keep Cruz from speaking. That's because, since Cruz "won a majority of delegates in at least eight states, he would probably be able to have his name entered into nomination, guaranteeing him a speech under party rules."
Another former primary rival, Ohio Governor John Kasich, has said he isn't prepared to back Trump. But barring Kasich from speaking at the convention bears particular significance, as he's the governor of the state where the convention is taking place. Nevertheless, Trump made clear in an interview with the Times that without their backing, he has no intention of letting Kasich or Cruz appear. "If there's no endorsement, then I would not invite them to speak," Trump said.
Meanwhile, other Republican leaders simply don't want to speak at the convention. According to Politico, a number of representatives, senators, and governors have said they either don't want to speak or don't want to attend at all. Among them, Representative Trey Gowdy (who has never attended a convention), Senator Kelly Ayotte, and Senator Lindsey Graham. South Carolina Governor Nikki Haley has not been asked to speak, but it seems she certainly has no intention to. It's a stark contrast from prior conventions when slots were coveted. Politico adds:
Trump's convention troubles represent a big turnabout from 2012, when Mitt Romney's team had an endless list of choices. Whoever Romney wanted to speak, one ex-adviser to the former GOP nominee recalled, he got. They would end up packing the three-day schedule with boldfaced names, including Haley, [Senator Rob] Portman, and Kasich.
Traditionally, conventions are, to an extent, mutually beneficial; they prop up the nominee, and they provide valuable national exposure to speakers. But with Trump as the party's nominee, the usual norms are being flipped on their heads. The RNC and Trump's efforts to limit dissent are likely to continue in the lead-up to the convention, as the party tries to avoid any type of revolt—especially any revolt that could be drummed up by speakers who are unenthusiastic about the nominee. As the Times reports:
The R.N.C. and the Trump campaign are also installing loyal party stalwarts in key party positions to help ensure that they maintain control of the convention if rogue delegates attempt a disruption. And they are trying to discredit Republicans who are advocating an interpretation of party rules that would allow delegates to vote for anyone they want on the first ballot.
Whether or not Trump and the Republican Party can keep order at the convention may depend on how successful their efforts are over the next few weeks.