Donald Trump and the NRA Change Their Tone
The presumptive Republican nominee shifted his rhetoric on Monday, after the gun lobby's officials blasted his remarks.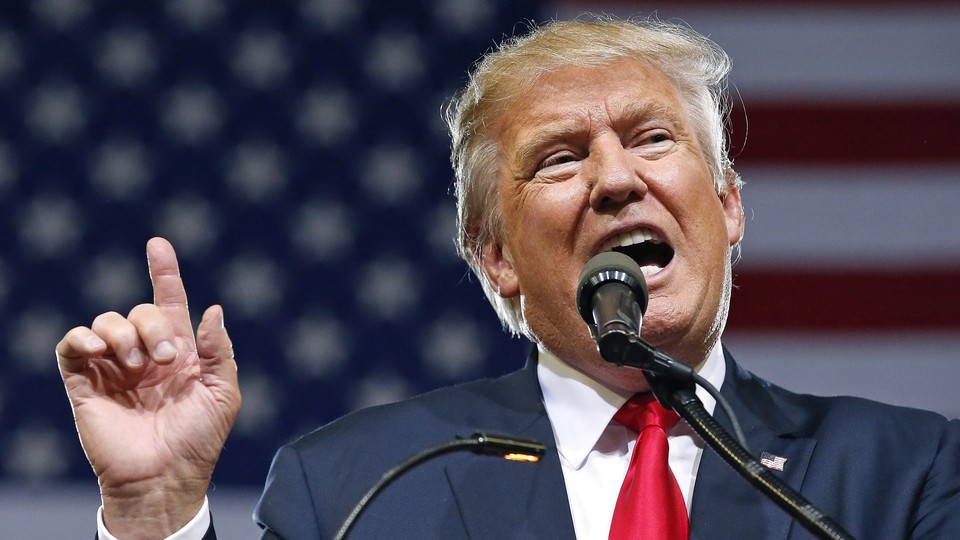 Donald Trump and the National Rifle Association are at odds, after Trump's remarks at a rally on Friday stirred concern among the gun lobby's officials.
The presumptive Republican nominee said at a rally, "If some of those wonderful people had guns strapped right here—right to their waist or right to their ankle—and one of the people in that room happened to have it and goes 'boom, boom,' you know, that would have been a beautiful sight folks." The NRA's officials came out against Trump's comments on Sunday.
"I don't think you should have firearms where people are drinking," said Wayne LaPierre, the NRA's chief executive officer, on CBS's Face the Nation. "But I will tell you this. Everybody, every American starts to have—needs to start having a security plan. We need to be able to protect ourselves, because they're coming. And they're going for vulnerable spots, and this country needs to realize it." LaPierre later clarified his comments to note that carrying in a restaurant that serves alcohol is okay.
Chris Cox, the executive director of the NRA's Institute for Legislative Action, also responded to Trump's comments on ABC's This Week, saying that no one "should go into a nightclub drinking and carrying firearms." He added that doing so "defies commonsense."
On Monday, Trump shifted his posture, saying on Twitter: "When I said that if, within the Orlando club, you had some people with guns, I was obviously talking about additional guards or employees." As CNN notes, the latest exchange between Trump and the NRA comes at a critical time:
The NRA's push comes as senators prepare to vote on a series of measures which would limit sales to suspected terrorists. Opponents of the measures argue that federal watch lists are wrought with errors and could deprive citizens of their constitutional right to bear arms.
Following the attack on a nightclub in Orlando last Sunday, Trump called on the NRA to schedule a meeting to discuss gun-control measures, specifically barring people on the terrorist watch list from purchasing firearms. The NRA agreed to meet, concurring with the presumptive Republican nominee that terrorists should not have guns.