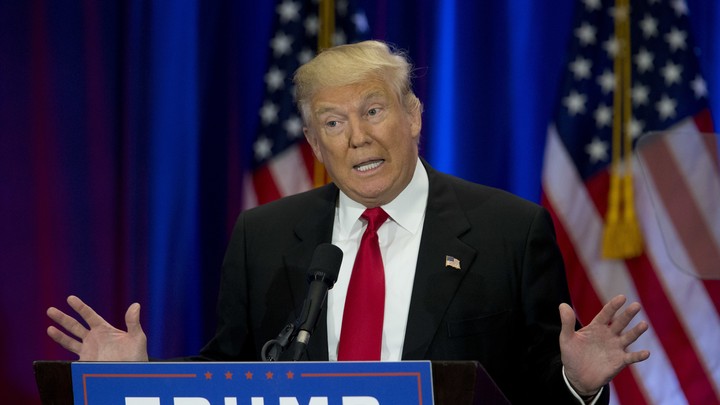 Donald Trump sounded atypically calm and resolute in a scripted speech critiquing Hillary Clinton on Wednesday.
His remarks came a day after Clinton's blistering attack on Trump's business record, in which she billed the presumptive Republican nominee as a threat to the U.S economy. Trump shot back. "I have always had a talent for building businesses and, importantly, creating jobs," he said. "That is a talent our country desperately needs." He also laid out a point-by-point attack on Clinton, ranging from her tenure as secretary of state to her policies.
He began by noting the country's "crumbling" infrastructure. "I know these problems can all be fixed, but not by Hillary Clinton. Only by me," he said. He also courted Bernie Sanders's voters, encouraging them to support him, the outsider candidate, "so together we can fix the system for all Americans." Trump repeatedly used the word "we" to suggest unity, and he took Clinton's slogan, "I'm With Her," and changed it to "I'm With You."
During the speech, Trump called Clinton a "world-class liar" and said she "may be the most corrupt person ever to seek the presidency." He also slammed her tenure as secretary of state, saying she ran the U.S. State Department "like her own personal hedge fund." He also cited the controversy around her use of a private server while secretary of state, billing it as a risk to national security.
Trump was originally scheduled to deliver the speech on June 13, but delayed it in light of the attack at a  gay nightclub in Orlando that left 49 people dead. He cited the massacre on Wednesday, linking it to his immigration plan: "I only want to admit people who share our values and love our people," he said. "Hillary Clinton wants to bring in people who believe women should be enslaved and gays put to death." Trump concluded his speech with a focus on himself and what a Trump administration would look like. He outlined the first 100 days of his presidency in which he would "appoint judges who will uphold the Constitution," as well as "change immigration rules" among other reforms.
While still broad in some areas and needing a fact check in others, the speech appeared to preview general-election Trump. The message he hoped would resonate among voters was clear. "Hillary Clinton's message is old and tired. Her message is that things can't change," Trump said. "My message is that things have to change—and this is our one chance do it. This is our last chance to do it."  
We want to hear what you think about this article. Submit a letter to the editor or write to letters@theatlantic.com.