Why Is Donald Trump So Angry at Judge Gonzalo Curiel?
The tirades against the respected federal judge may have less to do with his ethnicity than with the magnitude of the legal challenges facing Trump.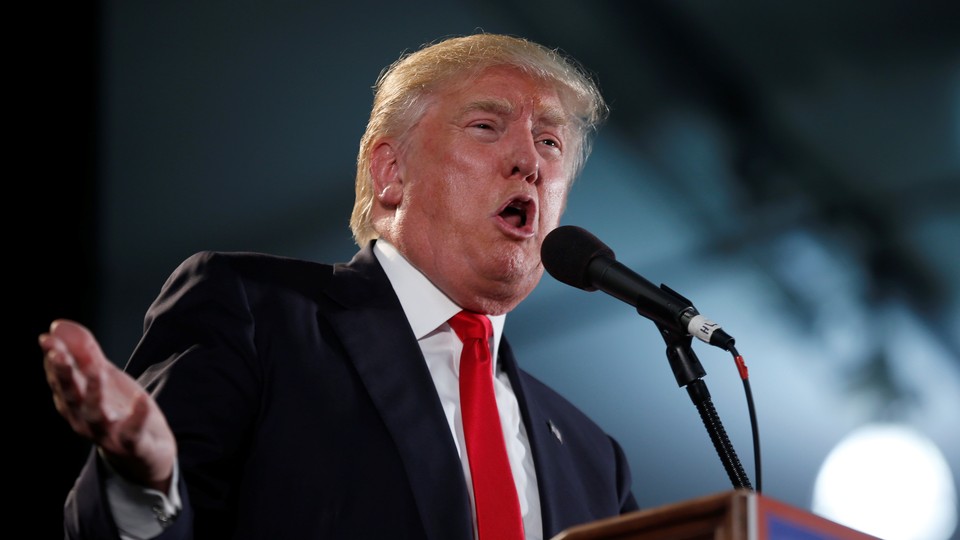 Donald Trump, the presumptive Republican nominee for president, escalated his unprecedented verbal attacks on Federal District Judge Gonzalo Curiel on Thursday night. In an interview with the Wall Street Journal, Trump claimed the judge could not fairly preside over the Trump University cases because of Curiel's "Mexican heritage." (Curiel is from Indiana; his parents are Mexican immigrants.) "I'm building a wall, it's an inherent conflict of interest," he added.
As my colleague David Graham noted, there's no precedent for judges to recuse themselves from a case because of their race, gender, faith, or sexual orientation. Trump's racist remarks follow speeches in which the candidate said he was being "railroaded" by a "rigged" legal system. He simultaneously singled out Curiel as "hater of Donald Trump," called him a "disgrace," said he should "be ashamed of himself," and said other federal judges "ought to look into Judge Curiel."
Corrosive personal attacks aren't new behavior for the presumptive Republican nominee. But unlike other targets of Trump's ire, Curiel cannot defend himself in any forum. He acknowledged in an order last Friday that Trump had "placed the integrity of these court proceedings at issue," but will almost certainly go no further than that observation. Curiel is bound by the judicial code of ethics, which says that federal judges "should not make public comment on the merits of a matter pending or impending in any court," including their own. The code also says judges "should not be swayed by partisan interests, public clamor, or fear of criticism."
That would suffice in almost any other circumstance. A judge's orders and rulings are in the public record; those writings can speak for themselves. But Trump is more than the typical scorned defendant. His accusations against Curiel's integrity are serious, the platform from which he hurls them is massive, and he seems unwilling to relent in making them. A growing chorus of American legal scholars from the left, right, and beyond says his remarks threaten the rule of law.
The real-estate businessman also has another problem: There's no evidence whatsoever in the public record to support Trump's claims about Curiel.
We'll start at the beginning. Curiel is presiding over two separate class-action lawsuits about Trump University. One of them, Low v. Trump University, was filed in April 2010 under the name Markaeff v. Trump University. The other, Cohen v. Trump, was filed in October 2013. (A third case brought by New York Attorney General Eric Schneiderman in 2013 is also under way in that state.) Trump is named as a defendant in both cases.
The plaintiffs in Low and Cohen portray Trump University as a basically fraudulent endeavor, one that promised Trump's secrets to real-estate success but instead dispensed generic advice for tens of thousands of dollars. They've amassed a collection of evidence and testimony that seems to support their claims. Trump strongly denies the allegations and often cities numerous positive testimonials the seminars received from former customers of Trump University.
In his public remarks, Trump appears to make no distinction between Low and Cohen. But there are crucial differences between the two civil class-action lawsuits. The Low plaintiffs sued Trump University and Trump himself under various consumer-protection laws in California, Florida, and New York—a relatively standard class-action lawsuit.
Cohen, on the other hand, targets Trump through a provision of the federal Racketeer Influenced and Corrupt Organizations Act, more commonly known as the RICO Act—the same statute federal prosecutors use to bring down mob bosses. In essence, Low accuses Trump University of engaging in fraudulent business practices, while Cohen frames Trump University itself as a criminal enterprise with Trump as the orchestrator of a racketeering scheme.
As you can imagine, Trump strongly opposes that characterization. In a motion for summary judgment in Cohen filed in March, he condemned the "pervasive abuse of civil RICO" that he says the case represents. "Indeed, if this case is allowed to proceed, it would represent an unprecedented and unprincipled expansion of civil RICO and transform virtually every alleged violation of consumer protection laws into a civil RICO claim," Trump argued.
Beyond Curiel's ethnicity, Trump's most specific grievance against the judge is that he wrongly denied summary judgment in Trump's favor. This assertion is only partially accurate. Trump asked Curiel for it separately in each case, filing the motion for Low in February 2015 and for Cohen in March 2016. The Cohen motion is still pending, with a hearing scheduled for July 18. Trump's frustration likely springs from Curiel's ruling against him last November on most of the Low summary-judgment motion.
Summary judgment is granted when both sides in a case agree on the facts. Under those circumstances, a jury trial becomes pointless since there aren't any factual disputes for jurors to deliberate and resolve. The judge's role when addressing a summary-judgment motion is to determine whether there are any factual disputes.
In Low, the plaintiffs' case centers on three misrepresentations allegedly made to them by Trump and Trump University: "(1) Trump University was an accredited university; (2) students would be taught by real estate experts, professors and mentors hand-selected by Mr. Trump; and (3) students would receive one year of expert support and mentoring."
When asking for summary judgment, Trump said he did not personally make these claims to the customers and never entered into any contracts with them. Therefore, he argues, he isn't liable for them under state consumer-protection laws. The plaintiffs countered they were persuaded to purchase Trump University products by promotional videos featuring Trump and by print advertisements bearing his image and assertions about the program's quality. Curiel denied the motion.
"Based on the foregoing, the Court concludes that Plaintiffs have raised a genuine dispute of material fact as to whether Mr. Trump can be personally liable for the alleged misrepresentations and misconduct," Curiel wrote about one of Trump's assertions. "For example, Plaintiffs have provided evidence that Mr. Trump reviewed and approved all advertisements. These advertisements included the alleged core misrepresentations, such as that Mr. Trump 'hand-picked' the instructors and mentors."
This doesn't mean Curiel sided with the plaintiffs on the facts of the case. It  means that Curiel determined a factual dispute existed between Trump and the plaintiffs—nothing more, nothing less. He therefore denied summary judgment so a jury could weigh the evidence offered by each side and determine the facts of the case from it. Trump may not like Curiel's decision, but it's neither a surprising nor an egregious one.
Some Trump supporters have also criticized Curiel's May 27 order to unseal some of the Trump University internal documents in the case. Those criticisms also seem to lack merit. Curiel's order came in response to a public-interest motion filed in April by the Washington Post. The public is presumed to have the right to access court documents barring "compelling reasons" to keep them sealed, but Trump argued against their release by citing the existence of trade secrets within the internal "playbooks."
After a line-by-line review, federal magistrate judge William Gallo found that "in isolation, nothing appears to be unique, proprietary, or revolutionary" about the documents. He also noted that the 2010 Trump University Playbook, which shared a large portion of its contents with the other documents, had already been made public two years ago. (The Atlantic even wrote at length about their contents in 2014.) Curiel agreed with Gallo's findings and ordered the documents released with some redactions at around 12:40 p.m. local time. Trump launched a verbal tirade against Curiel at a rally across town later that night.
In short, if Curiel is a "hater of Donald Trump," there is no evidence of it in this case. There's nothing unusual or suspicious about his rulings so far in the lawsuits. While Curiel has allowed the case to proceed to trial, he has granted Trump some partial victories along the way on the size and scope of the cases. And instead of letting the trial unfold alongside Trump's bid for the White House, Curiel delayed its start until after the election.
Indeed, what's not in the public record is telling. Trump has publicly complained about Curiel since at least 2014, when one of his lawyers claimed Trump would ask Curiel to recuse himself based on his alleged (and unspecified) "animosity toward Mr. Trump and his views" after Curiel rejected his motion for dismissal. Almost two years later, no motion for recusal can be found on the docket of either case, then or now.