Donald Trump Loves the Brexit
"I think it's a great thing that happened," the U.S. presidential nominee said on Friday.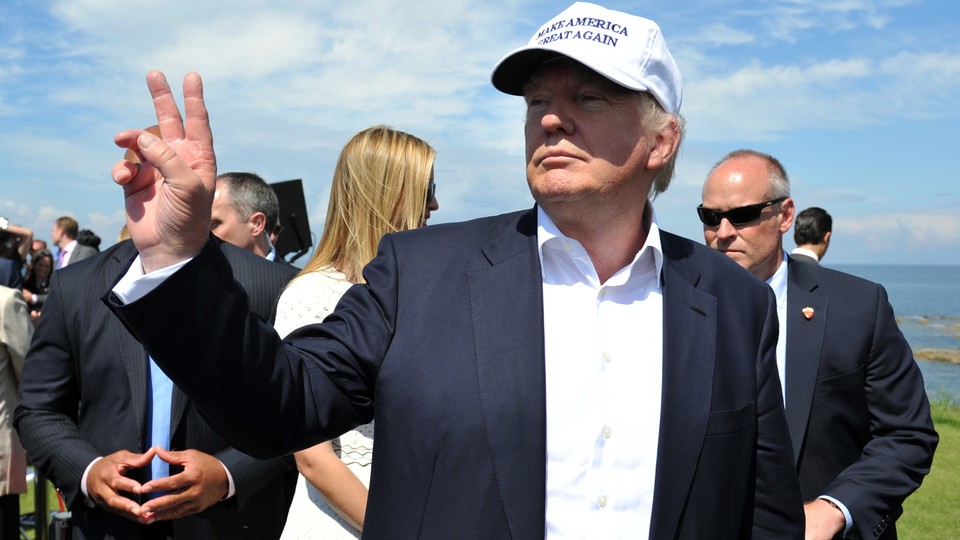 Updated on June 24 at 9:35 a.m. ET
NEWS BRIEF Voters in the United Kingdom have decided to leave the European Union. And Donald Trump, who is on a two-day visit in Scotland, is embracing the move.
"I think it's a great thing that happened," Trump told reporters on Friday. "People are angry, all over the world. People, they're angry." The presumptive Republican nominee is visiting Scotland for the official opening of Trump Turnberry, his new golf course, and he suggested the United Kingdom's break from the European Union may be a boon to his business. "When the pound goes down, more people are coming to Turnberry, frankly," he said during a press conference. "For traveling and for other things, I think it very well could turn out to be a positive."
On Thursday, voters in the United Kingdom headed to the polls for a historic referendum to leave the European Union. Their decision to break from the EU rocked the stock market and elicited a flurry of disappointed responses from world leaders. Prime Minister David Cameron also announced his intention to resign.
Trump had expressed support for the Brexit in the past. On Friday, he likened voters' decision in the U.K. to the U.S. presidential election. "People want to take their country back and have independence. You're going to have many other cases where they want to take their borders back," he said. "They want to take their monetary back. They want to take a lot of things back. They want to be able to have a country again."
When asked about Boris Johnson, the former mayor of London who led the "leave" campaign, Trump appeared to not know who he was. "I don't know him," he said. "I don't know him."
House Speaker Paul Ryan also responded to the United Kingdom's departure from the United Kingdom on Friday, saying in a statement, "I respect the decision made by the people of the United Kingdom. The U.K. is an indispensable ally of the United States, and that special relationship is unaffected by this vote."