Donald Trump and Corey Lewandowski Call It Quits
The campaign's spokeswoman thanked him for his "hard work and dedication."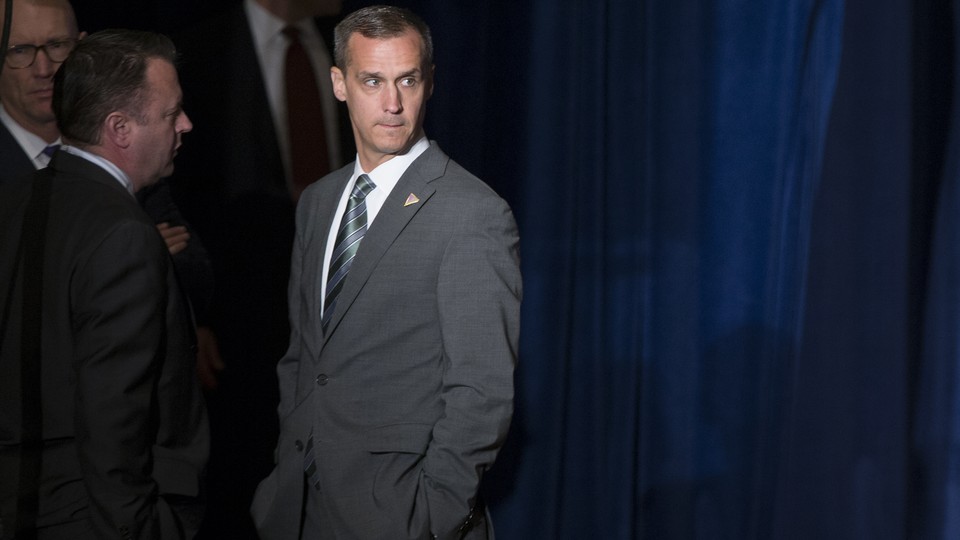 Updated on June 20 at 12:34 p.m. ET
In a major campaign shakeup, Donald Trump is parting ways with campaign manager, Corey Lewandowski, according to a New York Times report.
"The Donald J. Trump Campaign for President, which has set a historic record in the Republican Primary having received almost 14 million votes, has today announced that Corey Lewandowski will no longer be working with the campaign," the campaign spokeswoman, Hope Hicks, said in a statement. "The campaign is grateful to Corey for his hard work and dedication and we wish him the best in the future."
Lewandowski has worked for the Trump campaign since its launch last year. Throughout the campaign, Trump stood by Lewandowski, particularly after Lewandowski was arrested for the battery of Breitbart reporter Michelle Fields, who accused him of yanking her out of the way after a press conference. The prosecutor later decided not to press charges. The bond between Trump and Lewandowski seemed unbreakable then and it's unclear why it has come to an end now. The Times cites the pivot to the general election as possible reason.
CNN reports that Trump's daughter, Ivanka Trump, may have played a role in the decision:
She had been critical of Lewandowski for months and this was not the first time that she had leaned on her father to part ways with his top aide. Contributing to Ivanka Trump's recent dissatisfaction with Lewandowski were intensifying tensions between Lewandowski and Ivanka Trump's husband, Jared Kushner, an influential force behind the scenes. One source said rumors swirled that Lewandowski had attempted to plant negative stories in the press about Kushner -- a final straw for Ivanka Trump.
Trump reached the magic number of 1,237 delegates last month, making him the presumptive Republican nominee. His campaign has hit a series of bumps since, including his controversial remarks about Judge Gonzalo Curiel. According to CNN, "Lewandowski encouraged this behavior, rather than prodding the candidate back on message, one adviser said"—causing concern among people close to Trump. It appears that Lewandowski may not have known that he would be fired on Monday morning, as he participated in a campaign conference call, according to the Times.