House Republicans Abandon One of Their Own
David Jolly isn't unpopular. He's been through no scandals. But after he betrayed his party, GOP leaders aren't interested in supporting his reelection.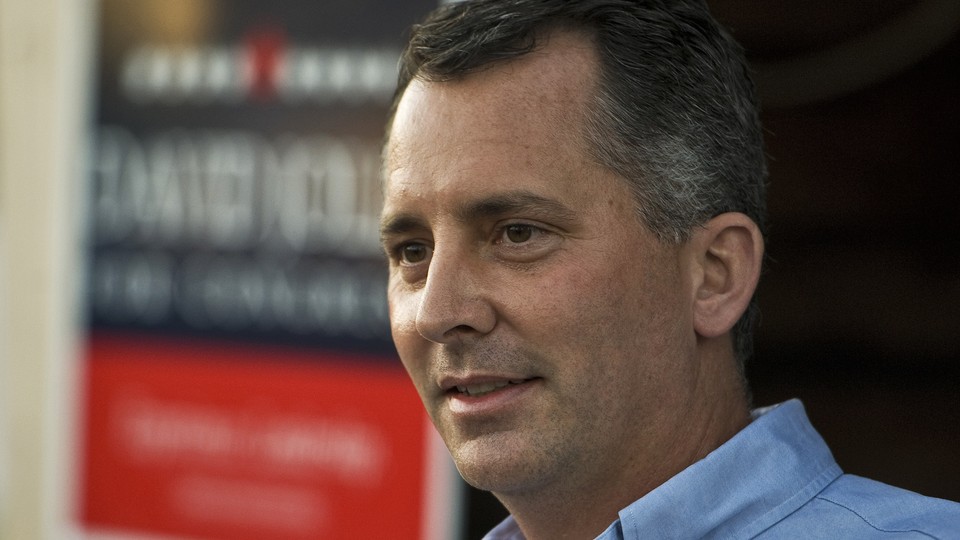 Republican Representative David Jolly of Florida is not under indictment. He has not been implicated in a sex scandal. He hasn't committed some unspeakable gaffe, and he is not particularly unpopular.
So why do GOP leaders want nothing to do with his last-minute bid for reelection to the House—a race that could conceivably help the party keep its majority in a year that will likely favor Democrats?
The answer is money. And loyalty.
Jolly announced on Friday that he would drop his bid for the U.S. Senate and instead run to keep his seat in the House, which he first won during a special election in 2014. The move was a ripple effect of Marco Rubio's imminent decision—which Jolly seemed to preempt—to seek a second term in the Senate after losing his presidential bid. While top Republicans begged Rubio to try to keep his job in the Senate, they couldn't care less about Jolly's effort to do the same in the House.
Consider this statement—first reported by Roll Call—on Friday afternoon from Katie Martin, a spokeswoman for the National Republican Congressional Committee. "The NRCC was not included in his 'deliberations' and has not had any discussions with David about him running for reelection. We do not—and will not—comment about commitments for financial support or anything else."
The NRCC exists to protect and expand the Republican majority in the House and support incumbents against Democratic challengers. It nearly always encourages Republican congressmen to seek reelection, unless they are so politically toxic that a lesser-known candidate would stand a better chance of winning. That even goes for members who desert party leaders in votes on the floor.
Jolly is an incumbent and by all accounts has the best shot against Charlie Crist, the former Florida governor (and ex-Republican) who won the Democratic nomination in his latest bid for a political comeback. A statement that does not even cheer his decision, much less commit support, is remarkable. (The NRCC hadn't endorsed any other candidate while he was running for the Senate, in part because there weren't any other serious Republican contenders.)
The committee helped Jolly win a tough special-election race in early 2014, a victory that presaged the GOP's national gains in November of that year. But a rift emerged in April after 60 Minutes featured Jolly in a profile about his effort to pass legislation that would bar members of Congress from directly soliciting campaign donations. In an interview on the program, Jolly said that right after he was elected, a member of the party leadership sat him down and told him that his "first responsibility" as a new congressman was to raise $18,000 a day to get reelected.
The NRCC denied the meeting took place, and it was particularly angry that CBS was able to get a hidden camera into its "call center" near the Capitol where members dial for dollars. The 60 Minutes piece portrayed Jolly in a glowing light as a political reformer fighting against the odds. But fellow Republicans viewed his participation as a self-serving betrayal of the party and a barely disguised bid to boost his standing in a Senate race in which he was struggling to gain traction—no doubt in part due to poor fund-raising. Even more galling to Republicans was the insinuation that Jolly, a former congressional staffer and lobbyist, didn't know what he was getting into when he arrived in Congress.
Still, the party might be able to forgive all of that, except for one thing: Jolly's seat was never one they planned on contesting, and it might not be winnable even with him in the race. Redistricting made Florida's 13th district more Democratic, and Crist won the area even in the years that he lost statewide. The NRCC was never planning to spend money on the race; Jolly's disloyalty gives the committee an excuse not to support him. While Jolly could certainly use the financial help, his flap with party leaders should help him promote himself as an independent reformer, which might not hurt in a year full of anti-establishment sentiment. Martin's statement was also noncommittal, leaving wiggle room for the NRCC to jump back in if Jolly seems like he has a chance to win in the fall. It wouldn't be the first reversal for the committee, which abandoned Mark Sanford, the scandal-plagued former South Carolina governor, during his comeback bid for a House seat in 2013 when it looked like he would lose. Sanford won the race anyway, and the NRCC was back in his corner the next year when he sought reelection.
So the party could change still its mind about Jolly. It could forgive and forget in a few months, especially if Republicans see an opportunity to knock down Crist, who not only betrayed the party but abandoned it altogether. Yet the GOP coolness shows that members who want its support have to play by its rules. The sin that is hardest to absolve, it seems, is unmasking the money-dominated game that politicians who want to win—and keep—their seats must play.