Crime Is Down, Sort Of
New stats on U.S. imprisonment rates suggest a complicated future for criminal-justice reform.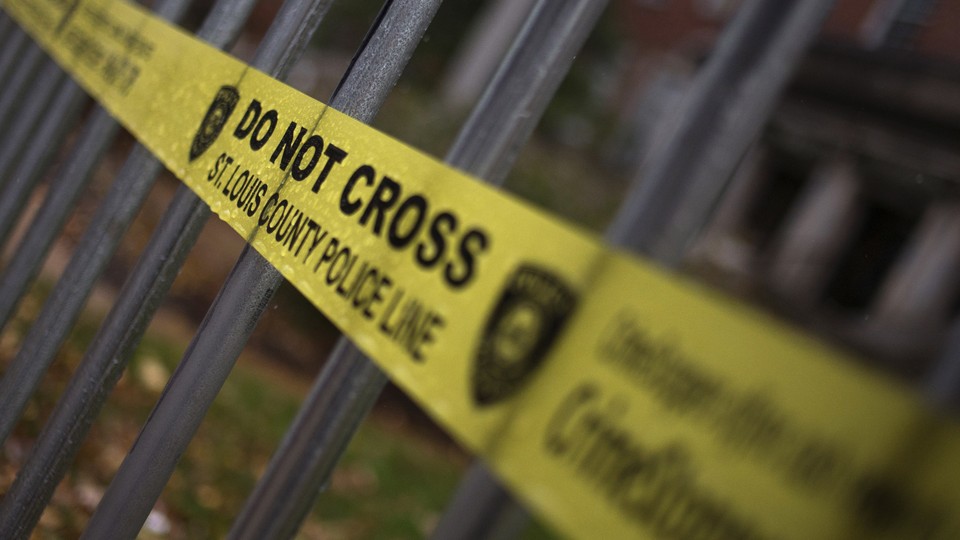 Many Americans might make a basic mathematical error in looking at the country's criminal-justice system: They assume more people in jail or prison always equals less crime, and more crime necessarily calls for putting more people behind bars. Both conclusions are wrong. A new report from the Brennan Center for Justice provides some illuminating data on this point.
"Imprisonment and crime are not consistently negatively correlated," according to another Brennan report. "This contradicts the commonly held notion that prisons always keep down crime." In some instances, crime rates and prison populations can trend in opposite directions. Between 2006 and 2014, 22 states saw an increase in their prison populations while also experiencing an average drop in crime of 20 percent. "An increase in incarceration does not always lead to a decrease in crime," said Inimai Chettiar, the director of the Justice Program at the Brennan Center. "This is because factors other than incarceration are what bring down crime, such as smart policing, more police, an aging population, increased income, and decreased alcohol consumption."
The report's most fascinating finding is that imprisonment and overall crime rates were down 7 percent and 23 percent, respectively, from 2006 to 2014. "States will continue to decrease imprisonment slowly; we might perhaps see crime leveling out," Chettiar said. "Criminologists say we have reached an all-time low in crime. I expect we'll continue to see low crime and lowered imprisonment rates."
In the analysis, high achievers included Rhode Island, New Jersey, Hawaii, Nebraska, Connecticut, California, Colorado, and South Carolina. All saw double-digit drops in their rates of imprisonment per 100,000 residents. That does not necessarily indicate a dramatic drop in the actual number of people behind bars—an overall decrease in the rate at which a state imprisons people can result from many factors, including the release of current inmates, diversion efforts to keep those arrested out of jail, and the reclassification of low-level crimes that may let some offenders bypass custody.
Overall, California had the greatest improvements, with a 27-percent drop in its prison population. "We didn't study what caused the changes in states, but in California I would theorize that the realignment effort and the more recent ballot initiative contributed to the decrease in the incarceration rate," Chettiar said. In 2011, the state passed a law requiring all 33 state prisons to be at or below 137.5 percent of capacity by June 2013 and beyond, providing funds for the effort to be undertaken by counties. Voters also approved Proposition 47 in November 2014, reducing minor, nonviolent crimes to misdemeanors.
South Carolina also had an 18-percent drop, which the report credits to new state laws that eliminated minimum sentences, changed certain low-level property crimes from felonies to misdemeanors, and created a better parole and probation system. The worst state was Arkansas—the state's imprisonment rate has jumped 23 percent since 2006. The state's prison admissions spiked between 2012 and 2014 after a parolee committed a murder—its rate of parole revocations went up 46 percent. Another reason might be structural discrimination, which State Senator Joyce Elliott hinted at when she told a local paper last year that "she would like to look at the ways demographics figure into the trends, noting that blacks make up about 9 percent of the state's general population but about 44 percent of the state's prison population." These rates might change in coming years since Arkansas eased some of its parole rules in 2015 as it faced overcrowded prisons.
Chettiar and her team see the latest findings—intended as an update to their 2015 report, The Reverse Mass Incarceration Act—as a tool for policymakers. "People like to say that the federal government can't do anything, that it's up to states and localities to act. But there is something Congress can do," Chettiar said. Congress annually distributes about $8.3 billion to states for crime fighting and corrections. "We are recommending that Congress pay states to reduce imprisonment by more than 7 percent, the national average," she said.
In terms of overall crime, Vermont, Minnesota, Pennsylvania, North Carolina, Illinois, Maryland, and Louisiana reduced their rates most. Each saw a decrease of 30 percent or more in their crime rates per 100,000 residents. States such as New Hampshire, North Dakota, and South Dakota each saw big increases in their in crime rates, all 30 percent or higher.
As policymakers are paying increased attention to the shortcomings of the criminal-justice system and more citizens seem to accept the need for policy changes, these facts suggest reform will look very different in different states—and above all, it will be complicated.