Could Congress Have Stopped Omar Mateen From Getting His Guns?
Democrats say yes. Here's their case for a firearms restriction on people on the terrorist watch list.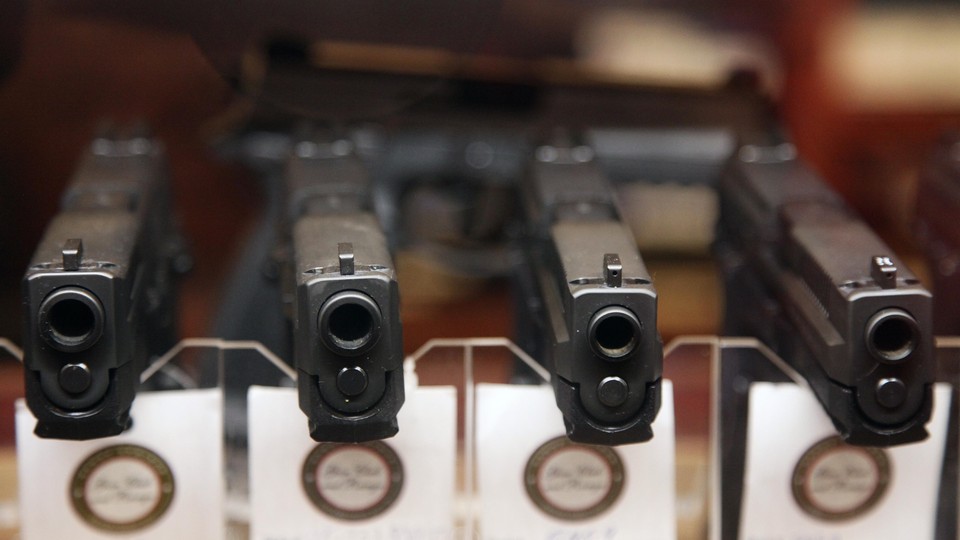 Could legislation now stalled in Congress have stopped Omar Mateen from buying the guns he used to murder 49 people at a gay nightclub in Orlando early Sunday morning? Democrats made that case aggressively on Monday as they renewed their push for a bill that would block people on the terrorist watch list from being able to purchase firearms.
It's not clear that this is true, however. Mateen was under FBI investigation for connections to terrorism two separate times in 2013 and 2014, the agency's director, James Comey, confirmed on Monday. During that time, the government placed him in the Terrorist Screening Database, more commonly known as the terror watch list. (The no-fly list is a smaller subset of this list that forbids suspected individuals from boarding a commercial plane.) When those inquires ended, the government removed him from the list, the Los Angeles Times reported. Even if the legislation had been enacted, it would not have ensured that the FBI would have flagged Mateen when he went to buy an assault-style rifle and handgun in the days before Sunday's massacre.
As it happened, Mateen was a security guard licensed to carry concealed weapons in Florida, and he passed the necessary background checks to legally buy the guns he used. Beginning in May 2013, the FBI's Miami field office investigated Mateen for 10 months, Comey said, based on reports that he made statements that were "inflammatory and contradictory" concerning his coworkers and terrorism while working as a contract security guard at a local courthouse. During that first investigation, officials questioned him twice, placed him under surveillance, and "introduced confidential sources to him" to determine if he was a terrorist. At one point, his colleagues said, he claimed family ties to al-Qaeda. At another, Comey said, he voiced support for Hezbollah and said he wanted law enforcement to raid his home and assault his family so he could be martyred.
Mateen told investigators he made the statements out of anger, and the FBI closed the inquiry. Two months later, however, his name surfaced again when the FBI learned that Mateen had "casually" known an American citizen who had committed a suicide bombing for the al-Nusra front in Syria. "But our investigation turned up no ties of consequence between the two of them," Comey said. Another witness told investigators he was concerned about Mateen because he mentioned the recruitment videos of the notorious American imam, Anwar al-Awlaki. But after Mateen turned his life around, got married, and secured a job, the witness said, he was no longer worried.
Since the ISIS-inspired mass shooting in San Bernardino last fall, Democrats on Capitol Hill have seized on the watch-list issue as both an anti-terrorism policy and a politically savvy way to pressure Republicans to move on gun control. Legislation sponsored by Senator Dianne Feinstein of California would allow the attorney general to block sales of firearms or explosives to people as long as there is "a reasonable belief that such individual may use a firearm or explosive in connection with terrorism."
The bill failed on a party-line vote in December. Democrats said they would try to attach the measure as an amendment to an appropriations bill on the Senate floor later this month, hoping the Orlando attack will jostle a few more Republicans running for reelection this fall. Hillary Clinton reiterated her support for the effort during a speech in Cleveland on Monday. "If the FBI is watching you for suspected terrorist links, you shouldn't be able to just go buy a gun with no questions asked," she said. "You shouldn't be able to exploit loopholes and evade criminal background checks by buying online or at a gun show. And yes, if you're too dangerous to get on a plane, you are too dangerous to buy a gun in America."
Clinton also pushed to reinstate the ban on assault weapons—a move that might have more direct relevance to the Orlando shooting. But despite their agreement on the policy, Senate Democrats downplayed the effort as a matter of legislative strategy. "It is my move that in terms of terrorism, this is the most effective legislation that could pass," Senator Charles Schumer of New York told reporters of the watch-list bill.
Republicans and the National Rifle Association have argued that the measure short-circuits due process and gives added legal weight to a flawed, sprawling list that once flagged Ted Kennedy as a threat. As David Graham wrote last year, the politics of the watch list have pretty much flipped in the decade-and-a-half since 9/11. Democrats said Feinstein's bill is virtually identical to one proposed by the Bush administration in 2007, and they countered the GOP's due-process concerns by noting that the legislation provided for "a quick and speedy appeals process." Feinstein cited a report from the Government Accountability Office finding that 265 people in the terrorist database had passed a background check to buy a gun. "Our laws are riddled with loopholes," she said. "A background check really isn't enough."
More than anything else, the Democratic senators—as well as Clinton and President Obama—were venting a frustration with a Republican-controlled Congress that, they complained, had done nothing in the face of repeated gun-related atrocities. "Congress, in a sense, has been complicit in these mass killings," said Senator Richard Blumenthal of Connecticut, where the massacre at Sandy Hook Elementary School spurred the most recent push for tighter gun restrictions.
Yet while lawmakers argued that their legislation would prevent future massacres, they had no definitive answer for whether it would have stopped the killing in Orlando, or whether the FBI had simply let Mateen slip through its screening procedures. Senator Bill Nelson of Florida said the FBI had been doing a great job but had been "handicapped," and congressional aides said Feinstein's bill would have allowed the attorney general to block Mateen's gun purchases even if he were no longer under formal investigation.
It wouldn't have required the government to stop him, though. On Monday, Comey gave no indication that his agents were hampered by loopholes in the law. The FBI is now going over its history with Mateen to determine if it should have taken its inquiry further. "So far the honest answer is, I don't think so," the director said. "I don't see anything in reviewing our work that our agents should have done differently."