Clinton Goes After Trump
In a speech on Tuesday, the Democrat criticized her Republican opponent's business practices.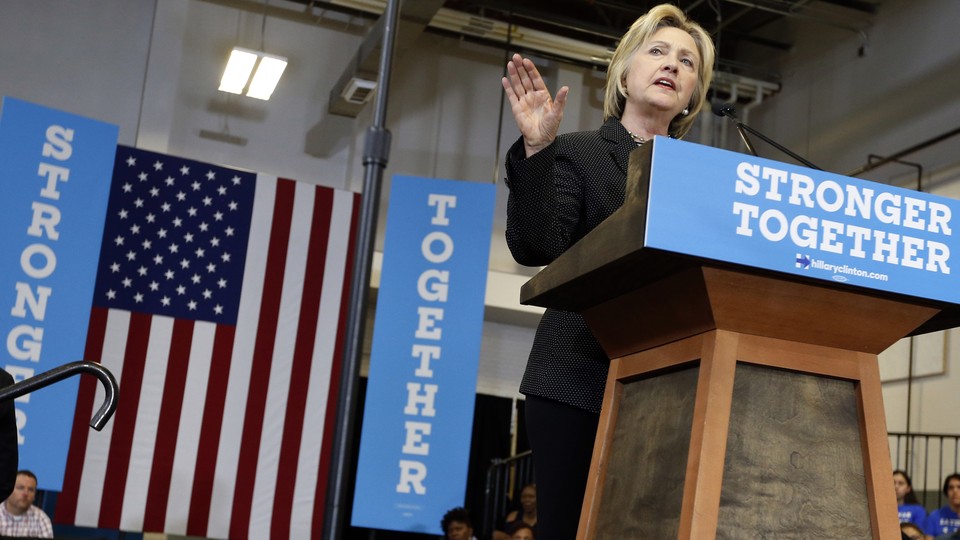 Hillary Clinton is not holding back. In a pointed attack on Tuesday, she blasted Donald Trump's economic platform, criticizing his business record and calling him a threat to the U.S. economy. "The United States of America doesn't do business Trump's way," she said.
During her remarks in Columbus, Ohio, Clinton sought to discredit her Republican rival's plan for the economy, from how he'd pay off the national debt to his tax plan. The speech took on a similar tone to another earlier this month focused on foreign policy: "Just like he shouldn't have his finger on the button, he shouldn't have his hands on our economy," Clinton said.
Among the litany of Clinton's criticisms was how a Trump administration could lead to a recession. Clinton cited one of John McCain's former economic advisors who described how that might happen. "We would lose 3.5 million jobs, incomes would stagnate, debt would explode, and stock prices would plummet," she said, also highlighting an analysis by the Economist Intelligence Unit that named Trump "as a risk to the global economy." Clinton also slammed Trump's tax plan, noting that Trump hasn't released his tax returns. "Maybe he isn't as rich as he claims," she said. She also raised the lawsuit against Trump University.
Clinton argued that her criticisms go beyond party lines. "Liberals and conservatives say Trump's ideas would be disastrous," she said. "The Chamber of Commerce and labor unions. Mitt Romney and Elizabeth Warren. Economists on the right and the left and the center all agree: Trump would throw us back into recession."
Trump has long touted his business record as a strength of his candidacy, and he continued to do so on Twitter during Clinton's speech:
I am "the king of debt."That has been great for me as a businessman, but is bad for the country. I made a fortune off of debt, will fix U.S.

— Donald J. Trump (@realDonaldTrump) June 21, 2016
Americans appear to have greater confidence in how Trump would handle the economy than Clinton. According to a CNN / ORC poll, 51 percent of registered voters think Donald Trump would handle the economy better of the two candidates, compared to Clinton's 43 percent.
Clinton said her plans for the economy are "a little wonky," but noted that a presidential candidate should detail his or her plans. "I actually sweat the specifics because they matter," she added. But the way that claim resonates with voters is what will matter in the general election.